Orvis Fabarm Elos 12 Gauge O/U Shotgun, Part One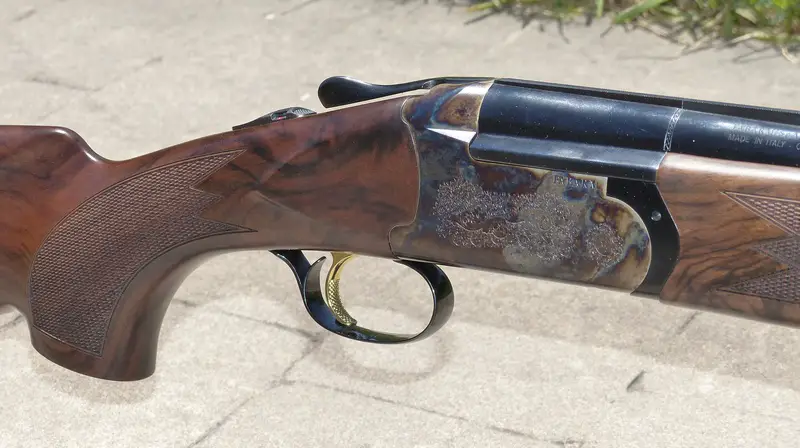 This shotgun, one hundred percent in Italy by Fabarm, is an Orvis exclusive. They are sold exclusively through the Orvis gunroom: http://www.orvis.com/shotguns-for-sale .
The tested Orvis Elos 12 gauge is has a 28 inch barrel set, as do all of the Orvis Elos models. It weighs 7 pounds 7 ounces, with the triggers breaking at about 4.5 lbs. The currently published specifications are as follows.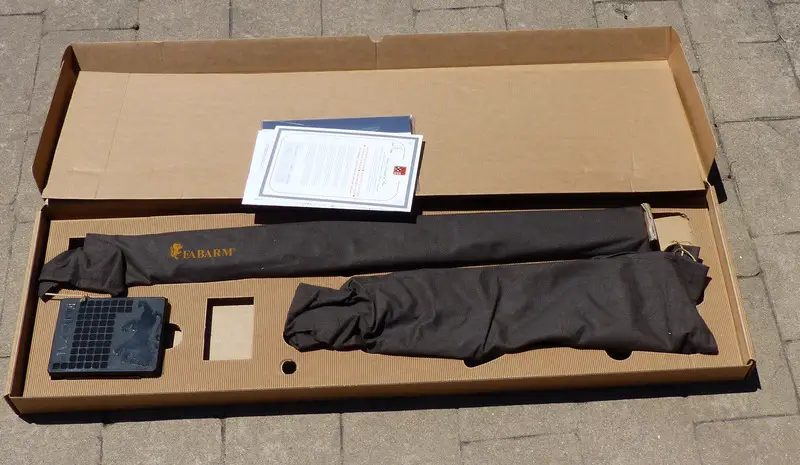 | MODEL | ORVIS ELOS |
| --- | --- |
| GAUGES | 12, 20, 28 |
| BARREL LENGTH | 28" |
| AVERAGE WEIGHT | 6 lbs. 8oz |
| RECEIVER FINISH | Color case hardened with Invisalloy® coating. "ORVIS" logo and scroll engraving |
| STOCK DESIGN | Pistol grip (ELOS) |
| STOCK FINISH | Triwood® enhanced |
| STOCK SPEC. | 14.5" |
| CHECKERING | Standard (ELOS) |
| RECOIL PAD | Interchangeable gel compound |
| CHAMBER | 3" on the 12, 20 and 2 ¾" on the 28 gauge |
| TOP RIB HEIGHT | Ventilated |
| CENTER RIB | Solid (non-ventilated) |
| FORCING CONES | Standard length |
| AVERAGE BORE | Tribore® |
| CHOKES | 5 Nickle-plated chokes |
| SIGHT(S) | Brass (gold) bead |
| FOREND | English walnut, semi-Schnabel design (ELOS) |
| SAFETY | Blued. Auto Safety option included. |

The only Fabarm O/U I've tested previously was an Elos Deluxe 20 gauge, which fared extremely well. The Orvis organization has been using their Orvis Elos models as rental guns for some time at their renowned shooting grounds in Millbrook, New York and Sylacauga, Alabama for some time and they have proved to be tough, durable vertical doubles as a result. When you purchase an Orvis Elos, it comes with the five-year Fabarm USA warranty. Beyond that, it comes with the Orvis "Satisfaction Guaranteed" written warranty which is as good as it gets.

The Orvis Elos does come standard with a particular feature I personally have great disdain for: the safety auto-resets. It can be removed as it is invariably a simple little pusher rod that pushes the safety rearward as you break open the shotgun. It isn't unusual for Italian field guns to have this feature, but it makes it no less obnoxious, worthless, and regrettable.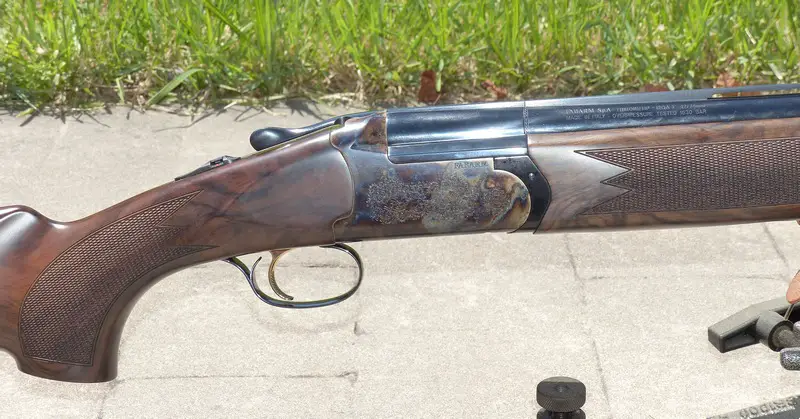 The configuration of this gun is the "all-around" type compromise platform. While a 7-1/2 pound 12 gauge is not heavy enough, or the barrels long enough to comport to the notion of a dedicated "no-hunting" clays gun, it is smooth enough for casual clays, some skeet, and some sporting clays particularly with 1 oz. loads. If significant walking is required for flushing game, the 20 gauge makes a bit more sense. The prior Elos 28 inch 20 gauge I reviewed weighed in at 6-3/4 lbs., shaving about three quarters of a pound off of the 12 gauge. So, if you are looking for an attractive O/U to practice with some clays with to keep in shape, then want to use the same gun you've become proficient with on the dove field or for preserve shooting, that's where this gun fits.
The Orvis Elos has a raised safety that gives good purchase as opposed to the more flush, excessively slippery Beretta safety that does little except save the lives of evil, Chinese communist pheasants. The Elos does have Fabarm TriBore barrels and five flush choke tubes are supplied. You can use steel shot regardless of constriction with Tribore barrels. The gold-plated trigger face is stippled, a touch that I appreciate.

The case-coloring is attractive as is the Fabarm Triwood. Although "Triwood" is in the category of enhanced walnut, it is weatherproof and, unlike conventional dips, it can be cut for the addition of recoil pads, adjustable combs, and so forth without issue. Triwood is tough, it looks good and the Triwood stocks are all a bit different, so they do not have the unforunate clone-type cookie-cutter affliction. 
The Orvis Elos shotguns are available exclusively from Orvis. You can e-mail the Orvis Gun Room at carpiniellog@orvis.com or just call 802-362-2580. The Orvis Elos models sell for $2395 as of this writing. More to follow in Part Two.

Copyright 2016 by Randy Wakeman. All Rights Reserved.

Custom Search