Thompson / Center Compass 6.5 Creedmoor Bolt Action Rifle: The Bargain of 2017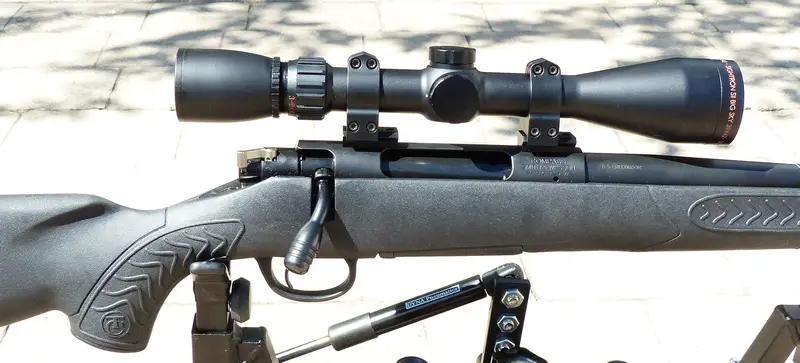 At a surprisingly low price ($399 MSRP), the T/C Compass has a lot to offer. It joins a very crowded field of low-priced bolt-action centerfire rifles, but offers several features that might well sway you.
Manufacturer: Thompson Center Arms
Model: Compass 11703
Caliber:  6.5 Creedmoor
Capacity: 5+1 Detachable Magazine
Barrel Length: 22", Threaded 1/2x28
Finish/Stock: Blued/Black Composite 
Rate of Twist: 1 in 8" 5R Rifling
Length of Pull: 12.5"-13.5"
Overall Length: 41"
Weight: 7.25 lbs.
Unlike many bolt-action rifles, the T/C Compass has a three-position safety. With the three-position wing-type (Mauser) safety fully engaged, the bolt will not open, so an angry branch or thicker cover will not open your rifle for you.
It does have a thermoplastic stock, but a well-designed one with a cheek-piece and a soft durometer recoil pad. The muzzle is threaded, so this gun is compensator / muzzle break ready. The rotary magazine fits flush with stock. It weighs right at 7-1/4 lbs.
My only quibble with the supplied rifle is the trigger that, out of the box, breaks at a heavy 5-1/2 lbs. While it is technically "user adjustable," it is a lot more than just turning a screw. Pages 24-27 of the T/C Compass owners manual are devoted to adjusting the trigger. "You will need two (thin) 1/4", open-end wrenches, and a small screwdriver. Also, have a bottle of finger nail polish handy to "lock" the screw and nuts in place after you have finished all the adjustments," is straight from the owners manual. You'll also need a generous supply of patience.
Even with the heavy trigger, my example shot MOA quite easily with Hornady 120 grain rounds, so there isn't anything to carp about in the accuracy department. You can get the T/C Compass today for about $300 or so street price, there is a $75 rebate until the end of 2017, and that makes this rifle a screaming deal according to everyone and anyone.
The T/C Compass is a lifetime warranty, MOA guaranteed bolt action rifle for a net price right now of $225. That deserves and gets a "Best Buy Award" from me and should from everyone. It has never been easier to outfit the entire family with new, American made hunting rifles.
I should also mention that the excellent T/C Strike muzzleloader has a $50 rebate as well until the end of 2017. It is an outstandingly good muzzleloader as is: the rebate just makes things a bit sweeter yet.
Copyright 2017 by Randy Wakeman. All Rights Reserved.
Custom Search