Do you need a Sig ROMEO5 Red Dot Sight?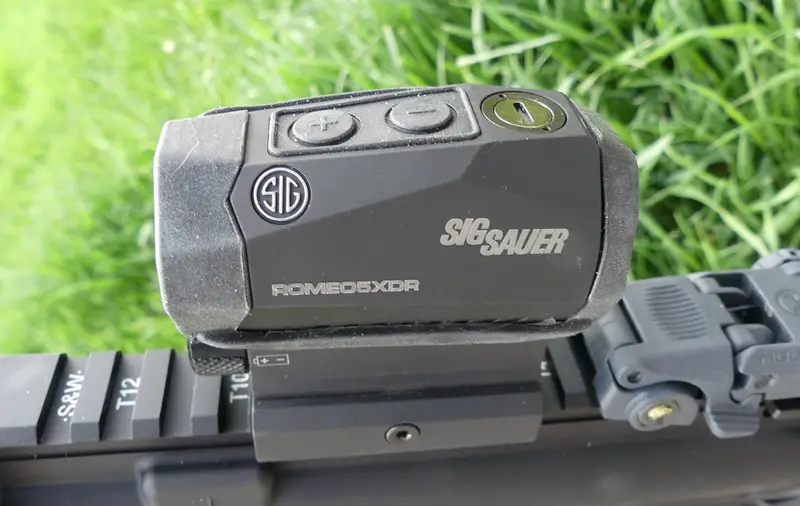 If your rifle (or handgun or shotgun) has an M1913 Picatinny Rail, you very well might. The tested example is item number SOR52101, ROMEO5 X COMPACT RED DOT SIGHT, 1X20MM, 2 MOA RED DOT, 0.5 MOA ADJ, AAA, M1913, BLACK.
From Sig:
-2 MOA Red-Dot provides 10 illumination settings (8 daylight plus 2 NV) for visibility in all light conditions
-MOTAC™ (Motion Activated Illumination) powers up when it senses motion and powers down when it does not. Provides for optimum operational safety and enhanced 50,000+ hour battery life
-Integrated M1913 Picatinny interface provides industry-standard mounting options for a wide range of applications
-Dependable waterproof (IPX-7 rated for complete water immersion up to 1 meter) and fog-proof performance
-Includes a M1913 Picatinny low mount riser and a co-witness 1.41" riser mount
This Sig unit has a lot going for it, certainly compared to the many tube and mounting ring type red dots I've used over the years. It is relatively compact, a 1x no-magnification sight with a 20mm objective. It is an extremely tough unit that easily attaches to your rail with a reassuringly sturdy integral metal mount. Above, it is mounted on my S&W M&P 15 in absolute co-witness mode. If you prefer the lower 1/3 co-witness instead, no problem: the spacer is included.
The "SIG SAUER® Electro-Optic Infinite Guarantee™" is a guarantee that isn't. That refers only to the body, while the electronics have a 5 year warranty from date of manufacture, with no easy way to tell when it was manufactured. Having a more candid 4 or 5 year warranty from date of purchase would be more straightforward.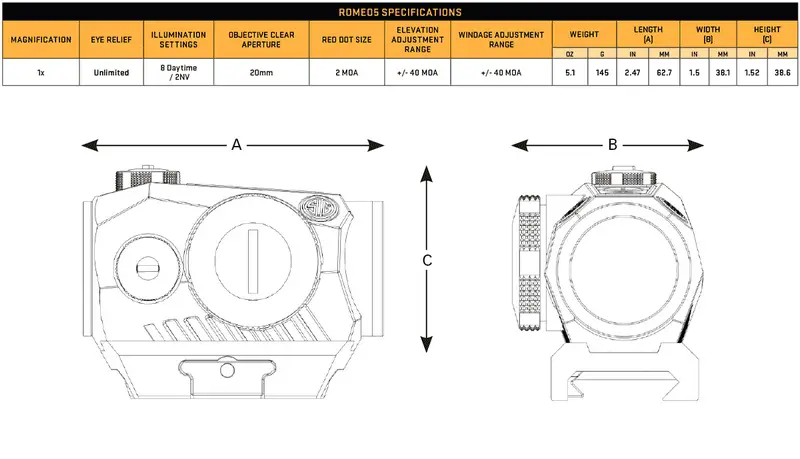 The 50,000 hour battery life from one AAA battery is impressive, as is the built in motion sensor that turns it on. The buttons for illumination adjustment are generous and very easy to use. Unlike some red dot sights, the ROMEO5 is plenty bright enough for use in broad daylight and dims down nicely for after sunset or night-time use. It has ten levels of brightness where some other models have only three. It is IPX-7 rated, so you'll not have to worry about the unit flooding out in heavy rain.
Somebody at Sig did some spectacularly good design work here, for everything including the bikini covers is thought through. The included Torx wrench for mounting the unit has a flat on one side that fits the windage and elevation adjustment slots perfectly. It is hard to get MOA accuracy out of a 10 MOA device: several red dot sights have dots that are too coarse: 10 MOA and 8 MOA sights are common. The 2 MOA dot of the Sig Romeo5 is more precise.
This is an outstandingly good red dot. Its use is limited by your imagination. Certainly, on an Armalite-platform rifle it is ideal, on a shotgun for turkey hunting, or essentially anything that has a Picatinny rail. It sells for far,far less than some of the premium options, like Aimpoint, but as far as functionality in most applications, it is as good if not better. It is a superb red dot that goes for about $200.
Copyright 2018 by Randy Wakeman. All Rights Reserved.
Custom Search