---

Woodman Arms Reignites the Hunting Muzzleloader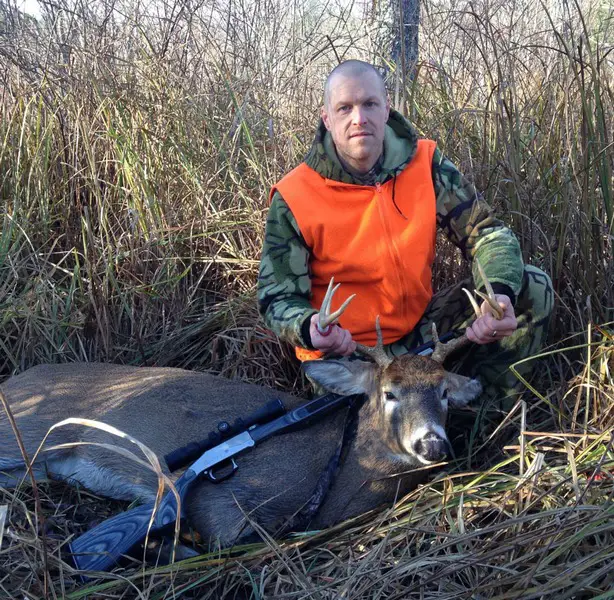 Mark Woodman, above, has been perfecting his new Patriot muzzleloader over the last couple of years, and it is available today.

Woodman Arms of Fremont, New Hampshire has released an impressive new inline muzzleloader called the Patriot. It is the answer to what many folks find unappealing about some .50 caliber muzzleloaders: excessive weight. Indeed, my .50 caliber example of the Woodman Patriot weighs 5 lbs., 15 ounces unscoped and unloaded.
It is available in .45 or .50 caliber: in fact, you can order an extra barrel if you wish if you want to use both. The Woodman Patriot features a 24 inch McGowen 416 stainless steel barrel, coated with Melonite QPB. The .50 caliber has a 1:28 twist, while the .45 caliber version has a 1:24 rate of twist.
The Woodman has its own, patented break-action and it is an exceptionally well-thought out design. To open the gun, you pull the front of the trigger guard towards yourself, and the action falls open. The gun is not yet cocked: you continue to pull on the trigger guard, and that cocks the action. With no external hammer, you don't have the unwanted mechanical click to spook game, nor is fussing with scope interference a problem. You also have faster lock-time than on a hammer gun: it is simply silently push off the familiar cross-bolt safety, and take your animal. The trigger on my example as measured is just over 2-1/2 pounds.
The Patriot was designed to give excellent ignition with Blackhorn 209 from its inception. With a 300 grain Parker Ballistic Extreme and 100 grains by volume of Blackhorn 209, you can expect about 1850 fps muzzle velocity and with the maximum load of 120 grains by volume, about 2050 fps MV. In practical terms, that means sight in your rifle 3 inches high at 100 yards and hold center of the body on your animal to about 200 yards: pull the trigger and go pick him up.
You'll love the weight and the handling of this rifle. If you stalk game or walk much at all, the low weight and slim lines of the Patriot is going to bring a smile to your eyes with every step you take. For example, my Remington 700 Ultimate weighs 8 lbs., 12.5 ounces out of the box. The Woodman Patriot sheds 2-3/4 lbs. from this and is also a clean 1-1/2 pounds lighter than the T/C Strike.
Starting off with slightly under 6 lb. Woodman Patriot, by the time it is scoped and slinged, it is roughly 7-1/4 pounds in ready to hunt condition: a weight that many will find ideal. With Melonite coated stainless and using Blackhorn 209, the corrosion concern associated with muzzleloading is a thing of the past. It is just load and shoot, load and shoot, and when you're done just a couple of patches of Hoppe's No. 9 and your gun is ready for the cabinet or safe.
It is readily apparent that no shortcuts were taken in the production of this rifle. It is stainless steel construction throughout, a custom-quality barrel, and a well-done weatherproof laminated stock: gray in my example, but other stock options are available. The Woodman Patriot is available today for $899 and is the high-quality, hassle-free muzzleloader that many folks would choose to have custom-built for themselves. Much more to follow as testing proceeds. To get yours today, contact Woodman Arms.

Copyright 2017 by Randy Wakeman. All Rights Reserved.
Custom Search