Trigger Job: Before and After, Mossberg SA-20 20 Gauge
The Mossberg SA-20, just like the majority of mass-produced repeating shotguns produced today, has a trigger that is in dire need of improvement. When a firearm is reviewed here, the trigger pulls are recorded by both a Lyman digital trigger gauge and a conventional RCBS spring type trigger gauge.

Some triggers are more tolerable than others, for in the case of the Weatherby PA-08 twenty gauge shown above, the trigger is close to 12 lbs., a ridiculously heavy and unusable level. Triggers are one area that are not conducive to full automation, so it is up to the respective manufacturers to apply the standards, if indeed there are any at all. No one I know would tolerate this ridiculous level of trigger in a center-fire rifle, or most any other firearm for that matter.
Some fifteen years ago, Savage Arms changed the industry, in a good way, with their introduction of their Accu-Trigger in their center-fires. Repeating shotguns, by and large, get no such love in the trigger department. There was a time when you could expect a quality field autoloader (Browning Automatic-Five) to have a crisp 4-1/4 lb. trigger as a matter of course.
Some years back, Stanley M. wrote:
Randy,
First, thank you so much for sharing your knowledge with all of us in your writings. Yesterday, I picked up my new Browning Maxus shotgun. The reason I bought a Maxus is first, because of brand loyalty and second, because I shot one and liked it. As I expected, based on your articles, the trigger was heavy. In fact, it was unreasonable, measuring over 7 lbs with my RCBS trigger pull scale. I called Browning and Val (not Val Browning!) told me in an apologetic fashion that they have to ship them that way for liability reasons. I asked him if they would at least bring it down to between 5 and 6 lbs and he told me I would have to find a competent gunsmith.
As I mentioned to Stanley, the horse manure you have been told about "liability" is ridiculous. When you pull a trigger, it is supposed to fire the gun. Now, really, where is the liability? How is it that Browning spouts "liability" as a lame excuse for their poor triggers? The advice to just go to a gunsmith is beyond odd, as well. By what theory could Browning be liable, but a good local gunsmith is not? It must be truly embarrassing for a major brand name of firearms to admit that their customer service department really has no "qualified gunsmiths," so they are forced to tell you to just go find one on your own.
Of course, Browning is far from alone. The recent Browning Citori 725s (at least the three that I've tested) have all had excellent, crisp, light triggers. It normally is the work of an intoxicated legal staff to claim a proper trigger on a pump or an autoloader mysteriously creates liability, but 725 Citori's are somehow immune from this mysterious liability malady as are Browning X-Bolt rifles that have light triggers. Browning (like many major manufacturers, including Ruger) has no written warranty. It would be another strange invention to claim that trigger work would void a non-existent warranty from Browning, even if it existed, on an unrelated part of the gun. They have already told you "too bad, so sad" on your defectively heavy trigger (over 7 lbs.) on your Maxus, so it can't get much worse than that.
To be fair about this, the recently tested Benelli Ethos has a sub-standard trigger. And other Benelli's that are often used by me (Vinci and an M2 20 gauge), both went back to Benelli to have their triggers lightened.
I don't expect a competition-grade trigger on a hunting autoloading shotgun, like you get with a Fabarm XLR-5 Velocity for example. But, a reasonable trigger in the 4 – 4-1/2 lb. area is only reasonable, and every factory Browning Auto-Five and Double Auto I've had has had a factory trigger at least that good. Browning has no problem with triggers 60 years ago, but they do today.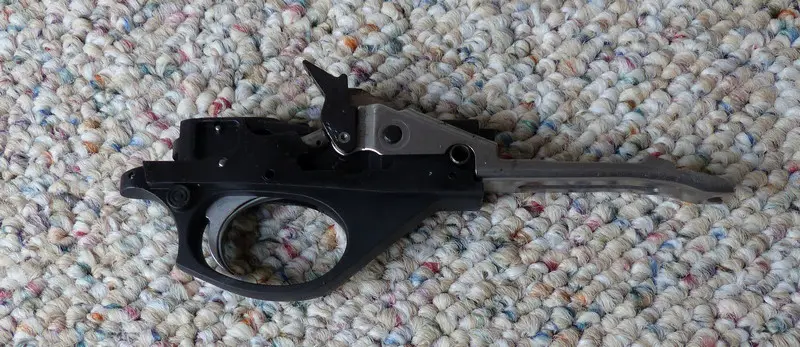 The Mossberg SA-20, a tremendous value in a twenty gauge auto, came with a 6-3/4 lb. trigger with some grit and creep as well. Whenever the break weight of a trigger exceeds the weight of the entire gun, it is obnoxious. On a nine pound goose-blaster, a 6 or 7 lb. trigger pull it isn't quite as bothersome, but it still is a negative.
Bob at Precision Sports did a fine job with several triggers for me, but Bob retired to chase women, race motocross bikes, or his own unique combination of the two.
Dave Sommerfeldt purchased Precision Sports, and now Precision Sports is known both by Precision and The Firearms Specialists, LLC. Dave does triggers for all Benelli semi-autos, all current production Franchi semi-autos, Browning Maxus, Gold, Silver, the new A5, the Winchester SX2, SX3, SX4, FNH SLP, Mossberg SA-20, CZ semi-autos, Remington 1100, 11-87, 870, and anything in the same category.
This was the very first Mossberg SA-20 trigger that Dave has worked on and he found it to be a very easy trigger to work with. The grit and creep is all gone and now it breaks just under five pounds according to my gauges after being re-installed in the gun. Dave can go lighter: out of the gun, the trigger now breaks at 4-1/4 lbs., getting a bit heavier while in the gun, something that isn't unusual. It makes a world of difference in the Mossberg SA-20, feeling like a brand new gun. Getting rid of the creep and grit is just as important to a good trigger feel as is the break weight itself, if not more-so.
Dave charges $85 for the work, including return shipping. Turnaround time this time of year (June) is only a day or two, and even at peak season Dave keeps it at two weeks or less. The contact information follows.
The Firearms Specialists, LLC
Dave Sommerfeldt
4717 State Road 44
Oshkosh, WI 54904
Phone number for any questions: 920-230-GUNS .
If you are after an expeditious, quality solution to nasty factory trigger pollution on your autoloader, Dave does a fine job and I'm quite happy to recommend him.
Copyright 2017 by Randy Wakeman. All Rights Reserved.

Custom Search