---


Thompson / Center Strike Muzzleloader: The Best for the Bucks? Part One

About four years ago, the LHR Redemption muzzleloader appeared on the scene. It did terrifically well in my testing. There wasn't much not to like about the Redemption. Cocking is quieter than on any hammer gun, with noticeably faster lock-time, the gun shoots extremely clean, the internal barrel threads and associated breechplug nonsense that has been a headache for inline muzzleloaders are now gone for good. You no longer have to be bothered with scope clearance issues for any exposed hammer, or fight the hammer with goofy swiveling attempts or garish hammer extensions so you can cock your gun. The "Armornite" Melonite QPQ internal and external barrel coating obsoletes stainless steel as a muzzleloader barrel material; there never was any good reason to carry shiny, reflective stuff into the hunting woods in the first place. Back then, I called it the most innovative muzzleloader introduced in over a decade and one that is blissfully hassle-free.
The challenges of starting up a brand new company are daunting, particularly when you have just one model of firearm to offer, and combined with the lackluster economy of the U.S. at the time, it proved to be too much for LHR to continue. The LHR Redemption was far, far too good of a rifle to go away, though, and thankfully it was Thompson / Center / Smith & Wesson that stepped in to save it for good. It is now the T/C Strike and it is better than ever.
Caliber : .50
Finish/Stock : Armornite™/Walnut
Barrel Length : 24" w/QLA®
Breech Plug : Adapt™ Breech System
Capacity : Single Shot
Length of Pull : 13.5"
Overall Length : 41"
Weight : 7.5 lbs.
Rate of Twist : 1:28
Ignition : 209 Primer
Sights : ADJ. F.O.
Model # : 10293
MSRP : $599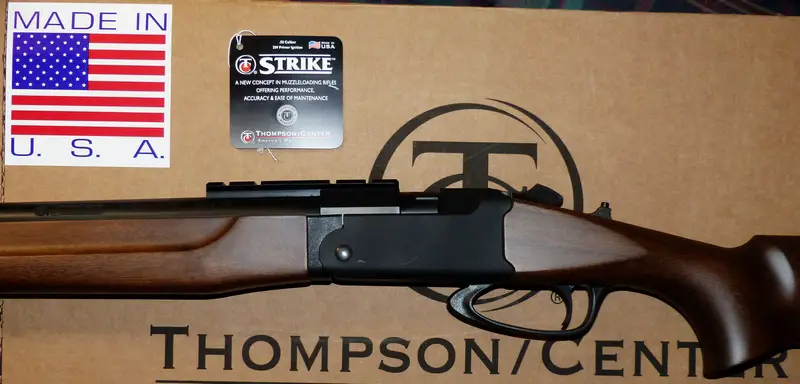 The T/C Strike comes with the Weaver base already installed, so it is just a matter of scoping it up, sighting it in, and then go hunting. As the Strike is striker-fired, there are no hammer clearance issues.

My walnut T/C Strike weighs 7-1/2 lbs. on the nose, including the supplied ramrod in the gun and the pre-installed Weaver rail. While the Redemption walnut retailed for $799, the T/C Strike walnut has a MSRP of just $599 and comes with the T/C Lifetime Warranty. The black synthetic version retails for $100 less and the camo version is $549 MSRP. Street prices seem to run $475 - $520 or so, of course the individual retailer sets the price.
The trigger on the T/C Strike is superb, breaking at 3 lbs., 2 ounces. This is one of those muzzleloaders that takes everything you always hated about muzzleloaders and gets rid of it. There are no more breechplug hassles, for the threads are on the outside of the barrel. The Armornite finish is the Melonite QPQ process, with a low coefficient of friction, smooth finish, low light reflection, and far better corrosion resistance than stainless steel.
With Blackhorn 209, it is just load and shoot, load and shoot, no swabbing ever, and cleanup is effortless when you are through: a few patches of Hoppe's No. 9 up and down the bore and you're done. Cleaning the T/C Strike takes little more than one minute. The forearm sling stud is removed and that takes the Redemption into its two main assemblies, the barrel and the receiver / buttstock. The finger removable retaining collar for the primer adapter really is finger removable with no tools. Knock out the primer adapter, run two patches of Hoppe's through the barrel and you are essentially done. It is the easiest to clean muzzleloader on the market today, something you'll appreciate more and more as time goes on: I already do.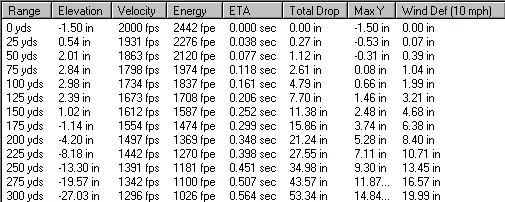 Estimated T/C Strike exterior ballistics are shown, assuming a standard atmosphere, a 2000 fps MV, with the Parker 275 Ballistic Extreme. As always, you'll need to shoot to confirm. Three inches high @ 100 yards equates to center of the body hold to about 192 yards with a six inch diameter kill zone.

Above are Blackhorn 209 laboratory velocities from a 24 inch fixtured test barrel. 56 grains by weight, 70 grains, and 84 grains. Blackpowder volumetric powder measures vary, but this approximately equates to 80 grains volume, 100 grains, and 120 grains. The approximate conversion from "volumetric units" is .70. I.E., 100 grains volume X .70 = 70 grains actual weight. The sweet spot for velocity with accuracy has historically been 110 - 115 grains vol. or 77 - 80.5 grains weight.
Thompson has done a very good job with their T/C Strike. You now get two primer adapter holders, one for "everything" (designated as universal according to the manual) and a dished out version for loose powder. Both have worked well for me with Blackhorn 209. As loose powder is all I ever hunt with, I leave the loose powder adapter in. The Strike has the traditional Thompson QLA section at the muzzle for easier loading of snug-fitting sabots.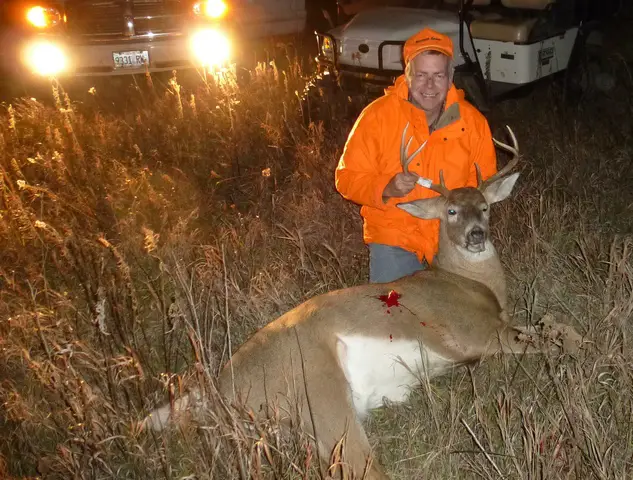 I took this Iowa buck at 157 yards with 100 gr. by volume of Blackhorn 209, a Thompson muzzleloader, and a 300 grain Parker Ballistic Extreme. The exit wound is shown.

Over the years, I've had some bad batches of Winchester primers, so all I use are Federal 209A primers with never a problem. The most consistent bullet / sabot combination is generally the Parker Ballistic Extreme 300 grain with the short, black MMP sabot. Your individual rifle might like something else, of course, but with essentially all good 1:28 rate of twist barrels, the Parker 300 grain Ballistic Extreme is a winner. And, it makes two holes.
There is no need to start at the max load and work up, a silly approach. As a matter of fact, just 80 grains by volume of Blackhorn 209 will flatten most anything you'll hunt in North America to 175 yards or so. Using 80 grains by volume of Blackhorn 209 nets you better velocities than 100 grains by volume of FFg blackpowder or Pyrodex. If you want your wife, your daughter, or your son to have really good time practicing with the Strike, use 80 grains by volume of Blackhorn 209. You'll laugh at the lack of recoil, yet you have far better range than any commercial 12 or 20 gauge slug gun load on the market today. 100 grains of Blackhorn 209 by volume and the 300 grain Parker Ballistic Extreme takes anything to 200 yards or so. If you still want more velocity, 110 grains by volume is generally the sweet spot for consistent MOA accuracy or thereabouts without punishing or stressing sabots.
The T/C Strike is the hassle-free muzzleloader, ridiculously easy to use and maintain. It is Made in the USA, it has a lifetime warranty, a superb trigger, it is easily the best muzzleloader you can buy in the $500 price class, and virtually anyone would be delighted to find it under the Christmas tree.
http://www.parkerproductionsinc.com/
Copyright 2016 by Randy Wakeman. All Rights Reserved.
Custom Search