Smoke Your Turkey with BOSS Shotshells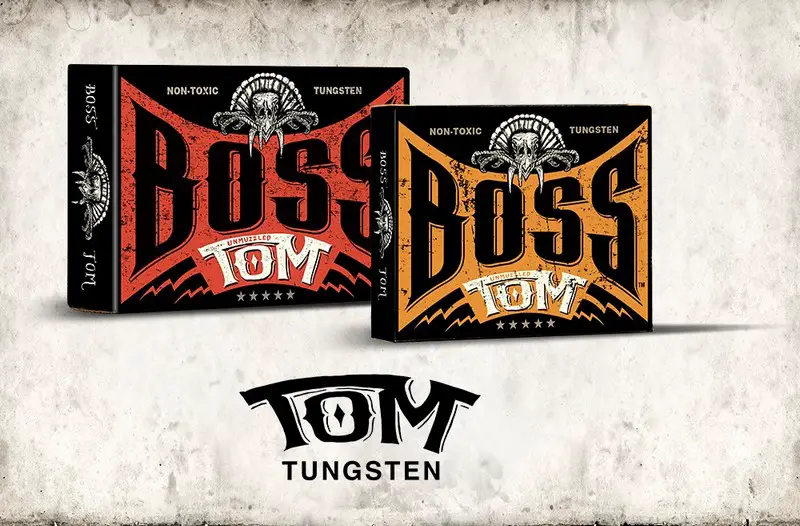 Boss shotshells are extremely high-quality hunting loads made in Bridgman, Michigan. They sell and ship direct to the consumer and shipping is free on orders over a hundred bucks. Boss has a full line of tungsten turkey loads named BOSS TOM, and also have a full line of bismuth loads for waterfowl or any application where you cannot use lead.

They have put a lot of thought into their Boss Tom turkey loads, using denser than lead (13 gram/cc) #6-1/2 tungsten based shot. It is a superb choice for wild turkey, as the #6-1/2 shot they use has better penetration than #5 lead and a significantly higher pellet count per ounce than #5 lead as well: it really is the best of both worlds.
In 12 gauge, you have your choice of 1-3/4 oz or 2 oz. three inch shells, both loaded to a velocity of 1150 fps. In 20 gauge, it is a 1-1/2 oz. payload of #6-1/2 shot at the same 1150 fps velocity.
Unlike some of the really nasty shot offerings out there, Boss takes their molded tungsten pellets and tumbles them, getting rid of the pronounced "Rings of Saturn" you see on other shotshells. The worst offender has long been the fraudulently named "Hevi-Shot." When you have really odd-shaped shot, not only is it an aerodynamic handicap, some of the shot tends to embed itself into the wad and never has the chance to form a pattern. The patterns with random sized shot vary all over the place, so you really don't know what the next shot is going to produce.
The tumbling of the Boss shot solves this problem and beyond that, the shells are buffered with crushed walnut shells to further improve patterns. For spring turkey hunting, I generally have decoys at 20 yards or so and rarely need to take a shot beyond 30 – 35 yards: many being closer than that.
The Remington 870 DM Predator 12 gauge that I have comes with a Trulock "Turkey Predator" extended choke that has an exit diameter of .670 inch. That's an ideal constriction of about .060 inch for Boss Tom 12 gauge shells and gives you far denser patterns than you need for spring turkey hunting. In fact, inside 50 yards there really isn't any reason to use the 2 oz. loads: using the 1-3/4 oz. loads, you'll save on both recoil and price. It is your choice, see https://bossshotshells.com/ .
You can certainly choke these shells tighter than .060 inch if you wish. If you are looking for a new turkey choke this year, here are the Trulock part numbers for Trulock Precision Hunter extended chokes that likely will give you the most satisfying patterns.
Beretta and Benelli Mobil style- PHBER12660
Beretta Optima Plus-PHOP12668
Benelli Crio Plus-PHCRP12660
Browning Invector-PHWIN12665
Browning Invector Plus-PHIP12670
Remington Rem Choke-PHREM12665
Winchester Win Choke- PHWIN12665
You can certainly spend eight or nine dollars a shell if you want to, even a bit more, but Boss Tom loads make lead (and most other) loads look really sad and produce extremely dense, instantly lethal patterns at essentially all reasonable hunting ranges. Boss, in addition to the tumbling of their shot, has also put in the load development time to get you the cleanest-burning, most consistent shells possible. Boss also has an extensive line of Bismuth shotshells, for the performance-minded hunter.
For more info:
https://bossshotshells.com/

https://trulockchokes.com/
Copyright 2019 by Randy Wakeman. All Rights Reserved.

Custom Search