SIG SAUER 7x25 KILO2200MR Laser Range Rangefinder: The Best Rangefinder on the Market?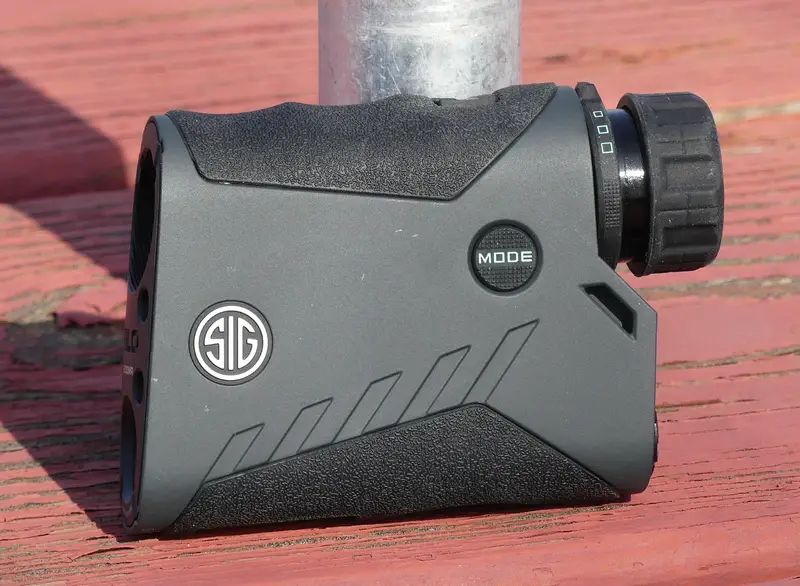 Over the years I've tested and used countless rangefinders from Leica, Bushnell, Nikon, Vortex, and others. Back in 2003, I tested and evaluated five models: the Leica LRF 900 Scan, Nikon Laser800, Nikon Laser400, Bushnell Yardage Pro 500, and the Bushnell Yardage Pro Scout. Today, I consider all of these models essentially obsolete except for the Leica, which is still a good, basic, line of sight rangefinder today.
In 2009, nine years ago, I tested the then-new Leupold RX-1000 rangefinder. It instantly became my favorite laser rangefinder and has been on every hunt with since then. Back then, I mentioned that it takes a lot of combinatorial features to make a good rangefinder, even more to make a truly outstanding one. At the time, it was the best rangefinder I'd ever evaluated in terms of practical, real-world field use. The RX-1000 soared to the top based on size, ease of use, an outstanding LED display, and outstandingly good image quality. It was a privilege to test an item that good.
The later Leupold RX-1200i claims 1200 yards on a reflective target, 900 yards on trees, and 800 yards on deer. Optically, the monocular of the Vortex Ranger 1500 is good, but equivalent to the Leupold units and others that are fully multicoated with 22mm objectives. There is essentially no difference that I can detect. I'll cite the Vortex specifications for reasons that should be apparent in a bit.
| | |
| --- | --- |
| Range Reflective | 9-1500 yards |
| Range Deer | 9-750 yards |
| Accuracy | + / - 3 yards @ 1000 yards |
| Max Angle Reading | +/- 60 degrees |
| Magnification | 6 x |
| Objective Lens Diameter | 22 mm |
The SIG SAUER 7x25 KILO2200MR has the following specifications.
Prism Type

Roof

Magnification

7x

Objective Lens Diameter

25mm

Angle of View

6.8°, actual

Field of View

357.0' @ 1000 yd / 11.9 m @ 100 m

Laser Type

Class 1M eye-safe IR
Beam Divergence: 1.3 MRAD

Metering Range

2 miles / 3.2 km, max to reflective surface
1300 yd / 1188 m, max to a deer
1600 yd / 1463 m, max to trees

Accuracy

0.1 yd / m, under 100 yd / m

Exit Pupil Diameter

3.6 mm

Eye Relief

15.0 mm

Weatherproofing

IPX4-rated, protected against splashing water

Tripod Socket

None

Power Source

1 x CR2 battery

Dimensions

4.2 x 3.0 x 1.3" / 10.7 x 7.6 x 3.3 cm

Weight

7.5 oz / 212.6 g, with battery
This Sig is a moderately upscale rangefinder, selling at $399 from B&H Photo. The Leica 7x24 Rangemaster CRF 1600-R sells for $599 from B&H, what I would call a hefty premium. This is mentioned here as the Leica is the most similar model on the market, to this Sig.
There are a couple things about the Sig that made it a standout to me. The OLED display self-adjusts to ambient light, and that is huge leap forward from rangefinders that you have to manually adjust. As much as I've used my Leupold, after sunset the red display can blow you out of the reticle. Using the Sig Kilo2200MR along side of it, the red OLED display was just about perfect: crisp, visible, and it self-adjusted instantly without me having to bother to do anything. Half an hour after sunset is just about the worst possible time for me to be fiddling with anything and the Sig removes that hassle.
I generally take manufacturer's stated ranging abilities with a grain of salt, for ambient conditions and in particular, the amount of dust and particulate matter in the air can change things dramatically. I ranged a windmill at a repeatable 1966 yards with the Sig, even though I'm not going to be hunting windmills anytime soon, meaning never.
The accuracy of the Sig Kilo2200MR is stated as within 1 yard at 1000 yards, 2 yards at 1000 yards: better than most, like the Vortex that claims within 6 yards at 1000 yards. It is also extremely fast, .25 seconds to range an object.
I am confused by the Sig Warranty, for this rangefinder comes with "INFINITE GUARANTEE™ SIG SAUER Electro-Optics are guaranteed forever. It's an unlimited lifetime guarantee. Unlimited Lifetime Guarantee." Except, not really, for Sig proclaims on the same page:
" 5 YEAR WARRANTY
(Electronic Component Limited 5 Year Warranty) Covers any defects in materials and workmanship in the electronic and Tritium components of illuminated riflescopes/sights, pistol sights, electronic sights, flashlights, lasers, binoculars, spotting scopes and rangefinders for five years from date of manufacture."
If the electronic component of a rangefinder doesn't work, you don't have a rangefinder. This tells me that the actual warranty is up to five years, not really five years, as it is five years "from date of manufacture." I have no idea when the tested unit was made and there is no way to tell from the serial number. That leaves me not knowing what that warranty is, although as it is a new model I'd guess that I have four years or so left from when it was made. This confusing lifetime / 4 years from date of manufacture stuff gives me a slight headache. It is roughly twice as good as the 2 years you get from Leupold or Leica, but is not nearly as good as the true lifetime warranty you get from Vortex. I'd be far happier of Sig lost the double-talk and just gave a 5 year warranty from date of purchase.
This Sig Kilo2200MR ranged at 5.6 yards, better short-range capability than most rangefinders on the market. I like the design of the Kilo2200 that has a nice gripping texture on the top and bottom of the unit. The 7x power monocular is more appropriate than 6x for longer ranging, and the ranging circle is a bit smaller than on other units, including the Kilo2000 that this unit displaces. With a built-in inclinometer, you have Line of Sight and the "shoot as if" modes. Sig refers to their incline-compensated mode as AMR, or Angle Modified Range." Aside from the basic, uncluttered circle OLED reticle that I prefer, you can switch to your choice of two milling reticles, one that is horizontal and one that has both horizontal and vertical milling lines.
The Sig Kilo2200MR does not have a built-in tripod adapter, something that I feel it should have. You can use a tripod, but you have to buy a $99.99 tripod adapter sleeve to do so. It would be far better if a standard tripod mount was integral to the housing. The lack of a tripod mount and the strange lifetime warranty that isn't are my only two niggles with this product.
All in all, yes, the Sig Kilo2200MR is the best rangefinder I've tested to date, based on the excellent, blazing-fast ranging performance, its ease of use, the very comfortable to hold textured housing, and the wondrously superb ambient light compensating OLED reticle. It is the only rangefinder most hunters will ever need or want.
Copyright 2018 by Randy Wakeman. All Rights Reserved.
Custom Search