SAVAGE 10ML-II LOADS November 2015
SUMMARY, WITH 300 GRAIN SABOTED BULLETS, SAVAGE 10ML-II ONLY, FEDERAL 209A PRIMERS
Low Recoil Loads:
36 grains Accurate 5744 or 80 grains volume (56 grains weight) Blackhorn 209.
General Purpose 2000 fps Load:
42 grains Accurate 5744 or 85 grains by weight Blackhorn 209
Higher Velocity Loads
70 grains Accurate 2015 @ 2194 fps (65 grain start load)
65 grains Reloder 7 @ 2244 fps (62 grain start load)
67 grains Reloder 7 @ 2303 fps (62 grain start load)
In the "Blackpowder Substitute" realm, use Blackhorn 209.
The longest range load is the 300 grain Parker Match Hunter 300 grain pushed by Alliant Reloder 7.
For 200 yards and in, or for low recoil, use Accurate 5744 and 300 grain Parker Ballistic Extremes.
You'll get the most reliable ignition with Reloder 7 and Blackhorn 209 by using my though-hardened ventliners: http://randywakeman.com/savage0.htm . Representative exterior ballistics with 67 grains Reloder 7 and the 300 grain Parker Match Hunter are shown below.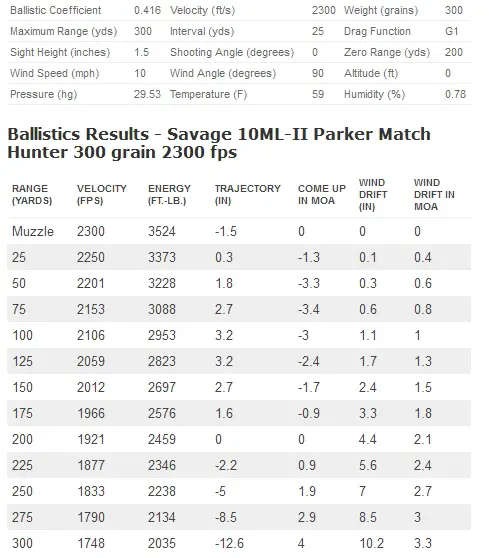 As of 10/22/2012 Savage is no longer accepting orders for the 10ML-II muzzleloader.
PLEASE ADDRESS ALL QUESTIONS OR CORRESPONDENCE TO:
Savage Arms
100 Springdale Road
Westfield, MA 01085
(413) 642-4261 for Instruction Manuals
(413) 568-7001 for Parts and Service
Copyright 2015 by Randy Wakeman. All Rights Reserved.
Please Note: Randy Wakeman, his agents, heirs and assigns, hereby disclaim all possible liability for damages including actual, incidental and consequential, resulting from usage of the information or advice contained in these articles. Use the data and advice at your own risk, and with extreme caution.
---
Custom Search