Review: Smith & Wesson M&P 15 MOE SL Semi-Auto
Part One
The Armalite rifle is hardly news. It was designed in 1957, a downsized version of the AR-10, and has been around since 1958. It was originally a target rifle for the U.S. Air Force. It impressed General Curtis LeMay by destroying watermelons at a 4th of July picnic. Over the early years, the AR-15 deservedly received a poor reputation from a tragic comedy of errors: ammunition issues, cost-cutting issues, jamming issues, barrel rate of twist issues, and so forth. The original versions just plain sucked.
The "AR" design was filed for patent by Eugene Stoner back on Aug 14, 1956. In September, 1960, US Patent #2951424 was granted. In the last fifty years, the M16 has seen its ups and downs, with more downs than ups. While Fairchild Armalite sold its rights to the AR-10 and AR-15 back in 1959, the AR15 went from a light, sub- 6 pound rifle to a bloated 9 pounds or more with all the goodies hanging off of it. The original AR-15 had a 1:14 rate of twist barrel, changed to 1:12, and changed again to 1:7 in the M16A2 (Colt Model 645). Now, 60 years later, this rifle has been designed, redesigned, modified, and re-modified (over 47 times) and has become the most popular rifle in the United States.
It is the current every man's ranch and utility rifle. Some years back, the Winchester Model 1894 ('Model 94') lever action served essentially the same purpose. Chambered in 30-30 primarily, it sold over 7.5 million units. With a 20 inch barrel for the most part, it weighs 6-3/4 to 7 lbs. It is still made today by Miroku of Japan for the Winchester trade name leased by Herstal Group from Olin Chemical. The 20 inch barreled Model 94 "Short Rifle" of today has a MSRP of $1229.99, a 7 round capacity, and weighs 6-3/4 lbs. It was and is a popular short to moderate range deer and black bear rifle, and has been used for home defense, predator control, you name it.
The 94 in 30-30 handles well and has moderate recoil. The AR-15 Armalite platform of today is America's rifle, fulfilling the same utilitarian roles as the vintage Model 94, while be more adept at varmint control and target shooting. The .223 Remington / 5.56 NATO is considered a bit on the weak side for deer and similar, it is less lethal the old 30-30. However, ammunition improvements, such as the 60 grain Nosler Partition factory loads, have greatly helped out the .223 for feral hogs and lighter, medium game. There are more ammunition choices with the .223 as well today than back in the day, for factory loads with projectile weights from 40 to 77 grains are common.
For the owner, a rifle like the M&P 15 MOE is a bit safer to use than some of the vintage utility exposed hammer rifles, for they cannot "go off half-cocked." It is also a lot more convenient and quicker to completely unload an Armalite rifle than one with a tubular magazine.
The Smith & Wesson M&P MOE can be the ideal home defense arm, easy to use for women, senior citizens, and most everyone: with moderate recoil, and far greater accuracy than possible from a handgun. It is a far better threat deterrent than any handgun or shotgun, and is simply a better tool for the legal defense of self and others than most platforms. The persons who have the most need for 30 round magazines are those who would have great difficulty changing a magazine — such as elderly persons or persons with disabilities. Although one can quickly change magazines, persons being attacked by criminals will typically prefer not to spend even a few seconds for a magazine change.
It was only a matter of weeks ago when, not far from here, in Oswego, Illinois, an AR-15 was put to good use. A maniac started stabbing someone to death (a pregnant woman) and a quick-thinking neighbor grabbed his AR-15 and confronted the mad stabber in progress, with words to the effect of "stop killing people or you are going to get shot." The stabbing instantly ceased, the victim is recovering, and the suspect is in custody. Not a shot was fired. This is a story that repeats itself constantly in the United States, and shows exactly how responsible armed citizens save lives. Unarmed citizens cannot do very much to protect themselves and others. Regular, common, armed citizens can and do . . . over 500,000 annually.
SKU: 11553
Model: M&P®15 MOE SL® Mid Magpul® Spec Series™ Stealth Gray
Caliber: 5.56mm NATO/.223
Capacity: 30
Safety: Manual Safety on Lower
Barrel Length: 16"
Overall Length: 37.0"
Front Sight: Adj. A2 Post
Rear Sight: Folding Magpul® MBUS®
Action: Gas Operated Semi-Auto
Grip: Magpul® MOE® SL
Weight: 107.2 oz / 3,039.1g
Barrel Material: 4140
Barrel Rate of Twist: 1:8 (5R rifling)
Purpose: Home Protection, Hunting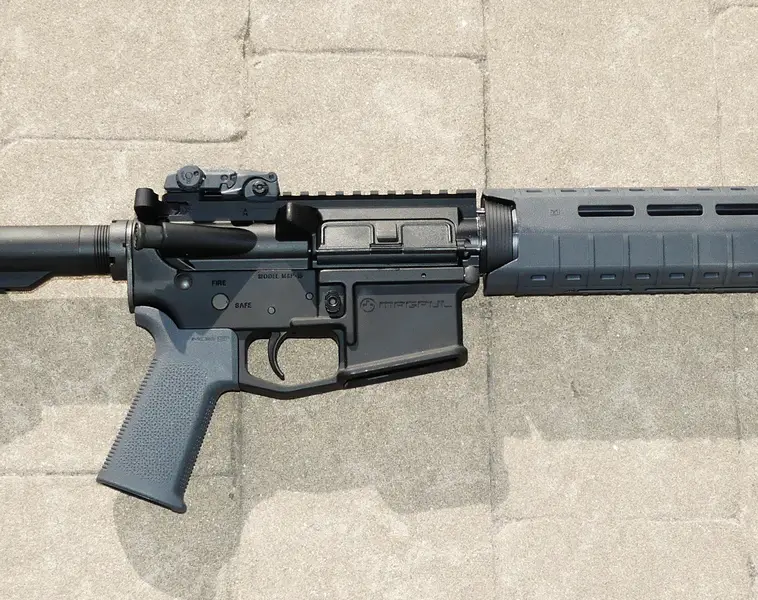 The 6-3/4 lb. S & W MOE is one of the most satisfying AR-15 rifles I've tested in a good long while. Without the magazine, the "MOE" weighs in at 6 lbs., 9 oz. The trigger is better than on a run-of-mill AR, breaking at 5-1/2 lbs. crisply and with very little take-up. The Ruger AR-556 previously tested had an 8 lb. trigger.
Smith & Wesson's version of "Liquid Salt Bath Ferritic Nitrocarburizing Non-Cyanide Bath" (Melonite) is called Armornite. It is quite durable, based on my experience with the Thompson/Center Strike muzzleloader and several S&W pistols that have the same inside and out corrosion-resistant treatment.
The Magpul stock has the following features, as listed by Magpul.
1) Sloping cheek weld combines a slim profile with user comfort.
2) Dual-side release latch provides easy adjustment while remaining anti-snag.
3) Premium chrome-silicon lock spring provides positive locking and long service life.
4) Internal anti-rattle feature minimizes wobble on receiver extension tube.
5) Rubber butt-pad offers an anti-slip surface and increases impact protection.
The buttstock addresses one of my long-standing niggles about many AR-15 rifles. They tend to shoot loose, with an annoying wobbly feel. The Magpul stock on the M&P 15 MOE gives this rifle a more satisfying, solid feel than other Armalite rifles.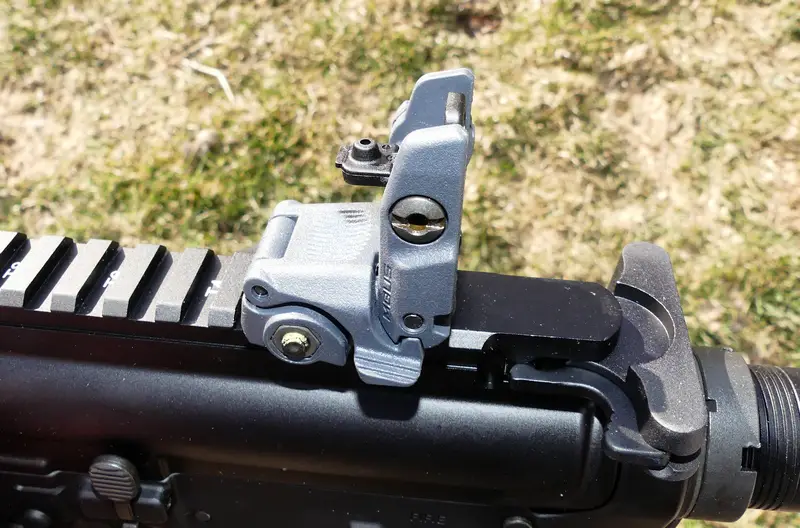 The Magpul forearm, pistol grip, and buttstock all combine to make this a very pleasant, fun, easy to handle family rifle. The "Stealth Gray" is a very dark, almost blackish gray that still sets off the rifle nicely. The "Magpul® MBUS® Rear Sight" has two aperture sizes. For the larger aperture, you just push the insert down with your nail as shown above: again, nicely done. This rifle is ready to shoot right out of the box without adding anything.
The A2 front sight is of course a coarse sight. I've not added any optics yet, but I do have a ROMEO5 1x20mm 2 MOA Red Dot incoming that should co-witness well with the front sight and brags of 50,000 hours of life with one CR2032 battery.
Street price on this rifle runs in the $1050 area. Smith & Wesson has an extensive line of M&P 15 rifles, and models such as the M&P 15 Sport II can be had for the impressively low cost of $650 or even a bit less. However, this S&W / Magpul collaboration is an exceptional one, and looks to be about the only do-it-all family rifle many would ever need or want.
Back in 1998, I bought a Bushmaster 1978-1998 20th Anniversary AR-15 for what I felt was a pretty penny. Yet, AR-15 models skyrocketed in price around that time and stayed that way for years Today, you can get a model such as this M&P 15 MOE for a fraction of what some older AR-15 platform rifles sold for, and you get a far better product. The current M&P MOE has a noticeably more comfortable stock and forearm set, a better trigger, a better grip, far better corrosion-resistance and coatings in general, and the result is a steadier-shooting, more practical household rifle with a Lifetime Service Policy to boot.
More to follow in Part Two.
Copyright 2018 by Randy Wakeman. All Rights Reserved.
Custom Search