Review: Nikon Monarch 5 3-15 x 42 Side Focus Riflescope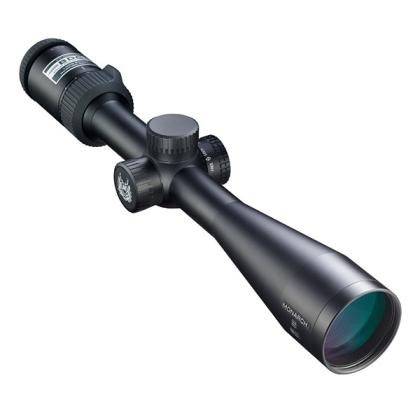 Originally, I had planned on covering a Monarch 3, 4-12 x 42 scope for an updated big game scope round up. That model was temporarily out of stock so as a result I'm reviewing this "Monarch 5" model instead. The "5" indicates an approximate 5x zoom range.
The Monarch 5 3-15 x 42mm has a ballistic reticle. Like essentially all second focal plane reticles, the ballistic reticle "works" only at one setting: in this case, 14.8x which is cranked all the way up. That's too much magnification, for me, under normal hunting conditions, and at the highest power, the exit pupil is too small for low-light conditions at 2.8mm.
However, all is not lost, by any means, for Nikon has spent a good deal of time with their Spot On software: http://spoton.nikonsportoptics.com/spoton/spoton.html#:4 . It is quite easy to pick the magnification (or magnifications) that you want to use the ballistic reticle with, and the specific cartridge, and Nikon quickly gives you an excellent starting point that you can confirm on paper and fine-tune prior to your hunt.
Here, I've decided to use 10x magnification, as that yields a decent 4.2mm exit pupil. Using a .270 Winchester, Hornady 130 grain Full Boar ammo, and a 200 yard zero, here is what it looks like.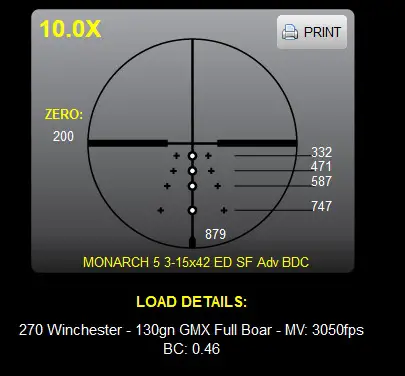 This is about a $595 street price scope. The Nikon line is huge, with one retailer alone offering 152 different Nikon models. For general big game hunting alone, the Monarch 5 2-10 x 42mm is likely a more practical choice, as it has a 4.3mm reticle at full power (9.8x). Regardless of manufacturer, regardless of scope, it is exit pupil diameter than determines its apparent brightness in low light, more than any other factor.
Specifications

Reticle:

Advanced BDC

Finish:

Matte

Actual Magnification:

3x - 14.8x

Effective Objective Diameter:

42mm

Objective Outer Diameter:

49.3mm

Eyepiece Outer Diameter:

44mm

Exit Pupil:

2.8mm (at 14.8x)

Eye Relief:

3.9 - 3.5in.

Field of View (ft @ 100yds):

32.8 - 6.8ft

Tube Diameter:

1in.

Reticle Adjustment (1 click):

1/4" @ 100yds

Max. Internal Adjustment:

65 MOA

Parallax Setting:

50 yds - ∞

Length:

13.7in.

Weight:

18.5oz
Where this particular model fits perfectly would be extended ranges during daylight hours where you can steady yourself up, such as pronghorn, where the full measure of the scope magnification can be used. Of course, off of the bench you will enjoy the ballistic reticle at 14.8x, and this scope can easily be used with the ballistic reticle at other magnifications as shown above, thanks to Nikon's Spot-On software.
This Nikon Monarch 5 has a lot going for it, in general. The adjustments are crisp, metal on metal, the side focus gives you a clear view at all magnifications, and the side focus is lockable as well. The anodizing on the tube is well-applied, and the scope comes complete with caps, an etched reticle, and is generally good quality throughout. It is also a longer scope than many, and as a result is easier to mount than the shorter, stubbier models as well. Nikon has both a Limited Lifetime Warranty and a No Fault repair / replacement policy, so you'll only have to buy the right scope for your rifle once in a row.
Copyright 2017 by Randy Wakeman. All Rights Reserved.
Custom Search