Review: Hawke Optics Red Dot Reflex Sight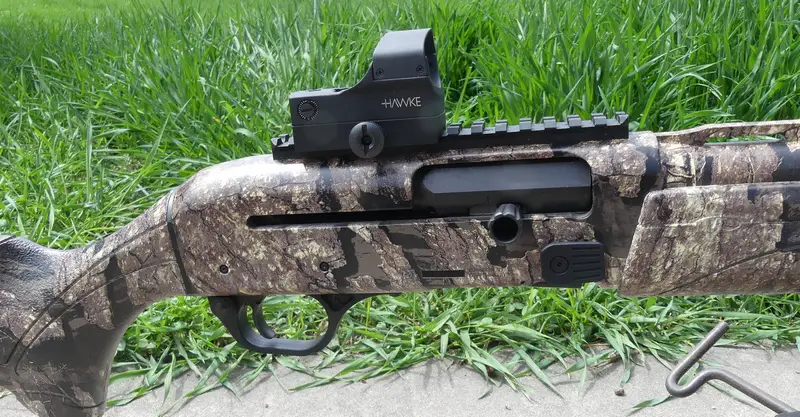 I have an uneven history with electronic sights: I'm generally a perpetual skeptic when it comes to them. It doesn't mean I've not used them, for I have taken hogs and sheep with 1X tube style red dots mounted on a revolver and have experiment with various Holosight / Eotech sights, Sightron, Aimpoint, and others. The advantage is the single sighting plane, the disadvantages can be bulk, dead batteries, some are easy to leave on, some red dots never get bright enough, some never get dark enough, some have very sloppy adjustments, some don't hold their zero, and so it goes.
Yet, more and more shotguns, handguns, and rifles come with Picatinny or Weaver style rails, so mounting one is extremely easy. Savage, for example, has just released 12 and 20 gauge bolt action smooth-bore turkey models. They come with Picatinny rails installed, there is no front bead, so you'll need to install some type of sight in order to use it.
The recently reviewed Remington V3 Turkey Pro comes with a TruGlo Red Dot / Green Dot 1x tube sight pre-installed. Surprisingly, so far, it has been problem-free except that the scope caps fly off easily. Still, it is bulky, and you need a scoped rifle style case to slip your shotgun into as a result. It also has some parallax, so you need to keep the red dot centered for best accuracy, although this isn't much of a problem.
The tested Hawke Red Dot Reflex Sight is what Hawke refers to as "Wide View" Weaver style, Part #12 134. You cab buy one today from Hawke for $169: https://us.hawkeoptics.com/reflex-sight-wide-view-weaver.html .
The sight area is a generous 36mm wide, it has a 5 MOA dot, and the lens is fully multi-coated coated with 25 layers of coatings. There are five levels of brightness, according to Hawke, but my example actually has eight illumination levels. It takes just a push of a button to turn it on or off, and it will automatically turn itself off after five minutes if its built-in motion sensor detects no movement to extend battery life, then instantly turns itself back on if you move the gun. The sight weighs 4.5 ounces.
You're going to love this sight, period, and for the under $200 price, you'll love it more. There are several options out there, but many folks are extremely proud of the red-dots. For example, an Aimpoint tube type H-2 can run you $675, with an Aimpoint H-1 at $490. That's more than most folks are willing to pay to pop a turkey, much less many other applications like rimfire plinking and paintball guns.
This Hawke comes well-represented with a CR2032 battery installed, and extra CR2032 battery as well, a lens cleaning cloth, and a form-fitting booty than completely covers the unit when not in use. There is an auto-brightness 1x25 model for $159, a standard 1x25 model as well $149), but for a rifle or shotgun this $169 30mm wide view model is the pick of the litter.
According to Hawke's testing in nearby Fort Wayne, Indiana, you have (at least) 100 MOA adjustment vertically and horizontally. Battery life in actual use is 300 - 400 hours or so. If you remember to turn the unit off by pressing the button for three seconds, there is essentially no battery drain so you might want to replace the inexpensive CR2032 battery once a year whether it needs it or not.
This is excellent product: well-made, well-featured, and well-priced with a two year warranty from Hawke.
Copyright 2019 by Randy Wakeman. All Rights Reserved.
Custom Search