Review: Hawke Optics Endurance 4-12×42 LER LR Dot Riflescope, the Best for the Dollar?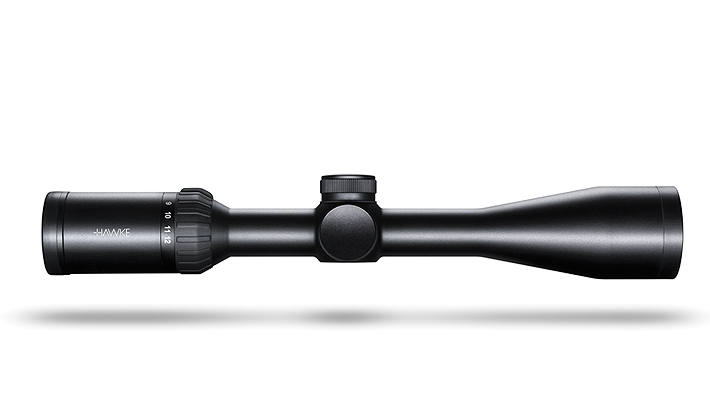 Chassis: 1″ Mono-tube
Optical System: 4-12x
Objective: 42mm
Reticle: LR Dot
Illumination: Red - Stepless
Field of View: m @100m / ft @100yds 7.7 - 2.5m / 23.1 - 7.5ft
Eye relief: 114mm / 4.5″
Length: 325mm / 12.8″
Weight: 510g / 18 oz.
Scope price creep has set in on several familiar models. Some of the basic hunting scopes like the Bushnell Elite 3200 3-12 x 40mm used to run in the $165 area, not that long ago. Now, that same scope is the Elite 3500 and runs $250 - $275. It is sometimes hard to get a full-featured hunting scope for $225, but this Hawke Endurance 4-12×42 LER LR Dot Riflescope is the very pleasant exception.
This Hawke Endurance LER model has just about everything you'd want in a big game hunting scope. It retails for $259.99 and it sells for about $240. It has long eye relief of 4.5 inches on average, an illuminated dot, and its ballistic reticle is designed to be used as the same magnification as your binoculars: 8x. At 18 ounces, it isn't overly heavy, the reticle is etched, it has quick focus, and the fully-multi-coated lenses are coated 16 times.
The eye relief is good enough where you can use it on both harsher-recoiling rifles, and you can also pop it on your turkey shotgun. The stepless rheostat of the red dot means you can turn it out without getting your eyes blown out by excessive brightness before dawn and after sunset. Hawke also has their excellent X-Act ballistic reticle software http://www.hawkeoptics.com/x-act.html , that you can use on your PC or as an app on your smartphone.
This scope has a lot going for it, to make an understatement. It can be a drag when you have to scope several rifles, you want a noticeable upgrade from the "deer-rifle in a box" supplied scopes and the $69.95 in the bubble pack genre of fodder, yet aren't willing to take a $500 wallet-punch either, certainly not several wallet gut punches at that level. Many scopes run out of visible reticle prior to running out of light, and the red dot takes care of that issue at its lowest setting, but also gets plenty bright enough so you can use it in broad daylight as well if you wish.
Scope-eye is not a problem for many applications such as rimfire rifles or heavy range guns. But for lightweight hunting rifles and certainly shotguns, short eye relief scopes can be a problem and this scope doesn't have it. On the basis of the very good eye relief, excellent etched ballistic reticle design, the slightly larger (than 40mm) 42mm objective, outstanding stepless illuminated red dot, better than average 75MOA internal adjustment range, reasonable weight, and reasonable price this scope rates a "Best Buy" in its category with no hesitation.
Copyright 2017 by Randy Wakeman. All Rights Reserved.
Custom Search