Review: 2020 Fabarm USA Elos N2 Allsport XL

The new for 2020 Elos N2 Allsport XL builds upon the quite successful Allsport introduced last year. The standard Allsport has somewhat compact stock dimensions including a smaller radius pistol grip. Fabarm says, "Fabarm Elos N2 Allsport is the most versatile target shotgun ever created. This impressive model is able to convert into a high rib trap gun, a low rib sporting clays gun and a skeet gun in a matter of minutes. The revolutionary interchangeable rib system, that includes two QRR (Quick Release Ribs) one 50/50 and one 65/35 and the Micro Metric adjustable stock allow you to fine tune the gun to your own measurements resulting in a better fit. The XL models featured our full sized stock dimensions." Left-hand versions are also available.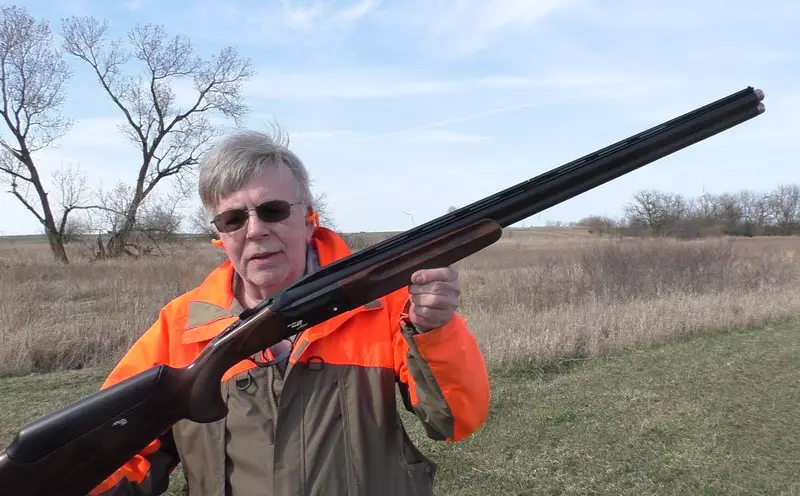 You have your choice of 30 inch or 32 inch barrel sets. An adjustable comb is standard, and included are two quick-release ribs, the Fabarm QRR system. This is the clays guns designed for all clay shooting: trap, skeet, sporting, and so forth. The stock is Fabarm's patented Tri-Wood. It begins with Turkish walnut, then it is enhanced with ink, finally finished off with acrylic. It is the best of the enhanced wood finishes, with no seams, it can be machined, and it is more weatherproof than standard finishes.
The tested example has a 30 inch barrel set, and weighs about 8 lbs. unloaded: 7 lbs., 15 oz. Naturally, it is an extremely soft shooter, as you would expect from an 8 pound class shotgun. The triggers are very light on my example, breaking at about 2 lbs. after initial take-up. The stock dimensions are as follows:
| | |
| --- | --- |
| Length of pull** | 14.75" |
| Drop at comb | 1.5" |
| Drop at Monte Carlo | 1.75" |
| Drop at heel | 2.5" |
| Cast at toe | 0.25" |
| Pitch | 5° |
| Cast at heel | 0.125" |
| Breech to comb | 7.5" |
The adjustable length of pull is accomplished both by the movable trigger and / or merely by switching recoil pads. The 22mm is supplied and installed. 12mm and 27mm pads are available. N2 Allsport XL has a pleasing, hand-filling palm swell as well. The N2 Allsport XL has all of the attributes of the Elos N2 Sporting (introduced in 2018), covered here: https://www.randywakeman.com/ReviewFABARMELOSN2Sporting.htm. It adds the Monte Carlo comb and the QRR rib system. Five Exis HP extended choke tubes are included, along with a lockable hard case.
The commonality of the entire Elos N2 Sporting line is lighter, more responsive barrels, improved triggers, the adjustable comb, the palm swell, and improved forearm lock-up. None of them are $6000 guns. In fact, although the dealer sets the price, the MSRP of the Allsport XL is $3125 including the two QRR ribs, lockable hard case, and extended choke tubes. The standard Elos N2 Sporting has a $2895 sticker price.
If your clays interest is primarily sporting clays and skeet, the standard Elos N2 Sporting will meet your needs. The ladies aren't left out, for the Syren Elos N2 Sporting is the essentially same gun, stocked for women. Syren also offers their Elevate model with the QRR rib system.
If you are interested in trap as well, the 65/35 rib of the Allsport models gets you there. A 65/35 point of impact is about 4-1/2 inches high at 40 yards. In that case, it is just a matter of deciding between the 14 inch LOP stock of the Allsport or the 14.75 LOP full-sized stock of this Allsport XL. You also may prefer the Monte Carlo comb and semi-beaver tail forearm of the Allsports vs. the standard comb and Schnabel of the N2 Sporting.
One of my readers, Jody, already has a Allsport XL, remarking "Best fitting gun I have ever shot! Adjustable stock was the change I really needed." Although all of the Elos N2 Sporting shotguns have adjustable combs, the Allsport XL has the Monte Carlo comb that is favored more by trap and skeet shooters. Bruce Buck wrote that "the gun that I shoot best at trap, skeet and sporting has a Monte Carlo." Fred Etchen and Rudy Etchen popularized Monte Carlo stocks long ago. That's really the main question the individual has to decide: "Do I prefer a Monte Carlo stock, or not?" Like a lot of things, there is no right or wrong answer, it is just a matter of what is right for you.
As I write this, Illinois is under a "stay at home" order. I've been asked (and wondered myself) how Italy's national quarantine might affect future shipments. The Italian government ordered, over this weekend, the closure of all industrial production and almost all private and public offices. Shipping delays seem highly likely. If the Allsport XL is the gun for you, you might want to get one while you can.
All of the 100% Made in Italy Fabarm USA Elos N2 Sporting shotguns allow you to compete with anything on the market. What no one seems to be able to compete with is the quality and adjustment capabilities of the Elos N2 Sportings at anywhere near the price.
Copyright 2020 by Randy Wakeman. All Rights Reserved.