Review: 2019 Remington V3 Turkey Pro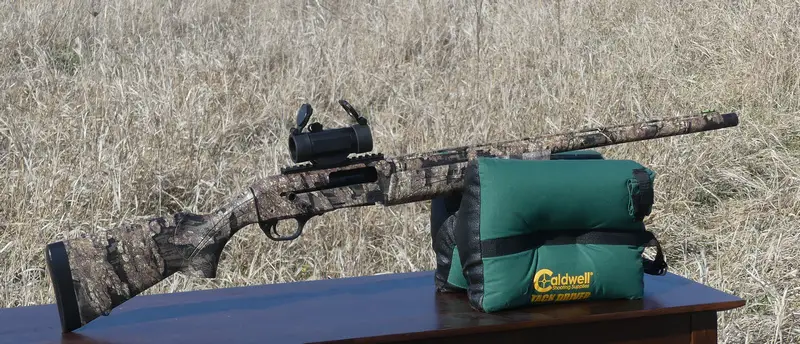 From the 2016 U. S. Fish and Wildlife survey, among big game species, deer was the most popular animal pursued, attracting 8.1 million hunters for 115 million days. Wild turkey attracted 2.0 million hunters for 13 million days, while elk drew 712 thousand for 6 million days.
Among small game species, squirrels were the most popular quarry with 1.5 million small game hunters hunting them 11 million days in 2016. Rabbits were hunted by 1.3 million participants for 20 million days. Quail were flushed by 958 thousand hunters on 7 million days, while pheasants were hunted by 726 thousand hunters on 5 million days.
Grouse and/or prairie chicken were pursued by 438 thousand hunters on 4 million days. In addition, 131 thousand hunters spent 726 thousand days hunting other small game animals. Among those hunting migratory birds, 1.2 million pursued ducks for 9 million days. There were 1.2 million hunters who pursued dove on 5 million days. On 5 million days, 793 thousand hunters hunted geese in 2016.
Turkeys are classified as "big game" in the survey, and at 2,000,000 hunters there are more turkey hunters than anything in the survey except deer hunters, beating out rabbits, squirrel, and ducks, and dove. That shows that the dedicated turkey gun market is a huge one.
The Remington V3 Turkey Pro is designed to be the easiest, most hassle-free turkey gun ever released. It comes with a pre-installed Picatinny rail, a pre-mounted TruGlo Red Dot / Green dot sight, and a Truglo turkey choke. Regardless of the shooters size or weight, it is a matter of just add ammo and go hunting.
The 22 inch barrel makes the gun easy to handle in a blind, the redesigned receiver has a beveled loading port for easier loading, the over-sized bolt release is extremely well-done, and the larger cocking handle makes it easy to operate with cold or gloved hands. The V3 Turkey Pro comes with stock adjustment shims for cast or drop, and the 13 inch length of pull butt stock can be easily lengthened to 13-1/2 inch, 13-3/4 inch, or 14 inches with the included length of pull kit that includes two ¼ inch spacers and one ½ inch spacer. The whole shebang sell for about $930 street price, currently, and comes with a Lifetime Written Warranty as do all V3 shotguns. The new receiver and excellent over-sized controls are scheduled to be on the already announced V3 Waterfowl Pro that is being released this summer.
WHAT MAKES A GOOD TURKEY GUN?
That's an open question. A goodly number of spring turkeys are taken with modified chokes and standard hunting loads of #5 or #6 lead shot. If you hunt the way I do, your decoys are at about 20 yards or so, and a typical shot is 15 – 25 yards. The pattern board shows that 1-1/4 oz. of #6 lead, choked appropriately, is all that is required at 25 yards and in.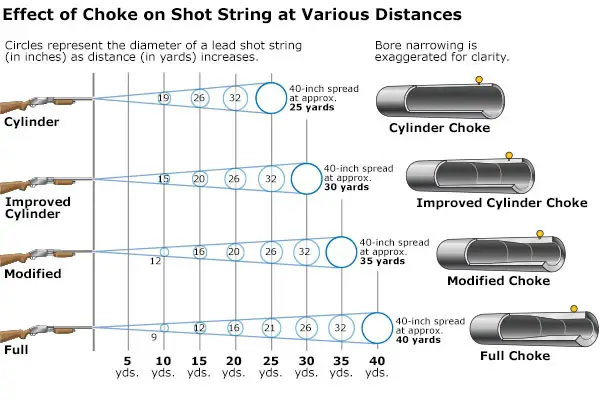 Even though it is only one shot, gas-operated shotguns rule the day by virtue of less recoil. I go through far, far more shells patterning and experimenting with turkey loads than actual hunting and my shoulder informs me that it gets old. A good turkey gun is also a good predator gun, as you are also using heavy payloads and tighter chokes than for typical wingshooting. In either application, a reasonably light, crisp trigger is important and the Remington V3 has that.
As far as the supplied TruGlo Red Dot, so far it works quite well except that the scope caps blow off easily. I'll either glue them on or just not use them. I am a perpetual skeptic when it comes to inexpensive Red Dot scopes. Too many don't hold their zero, are too bright or not bright enough, some fog, some are easy to leave on, some have erratic battery life, and so it goes. It is beyond the scope (pun int.) of this review to torture test or destructively test this Truglo Red Dot. So far, with a variety of loads up to 2 oz. payloads, it has held its zero and it is plenty bright enough for full daylight use. Out of the box, this V3 was dead on at 40 yards with no adjustments made whatsoever.
THE BEST TURKEY LOADS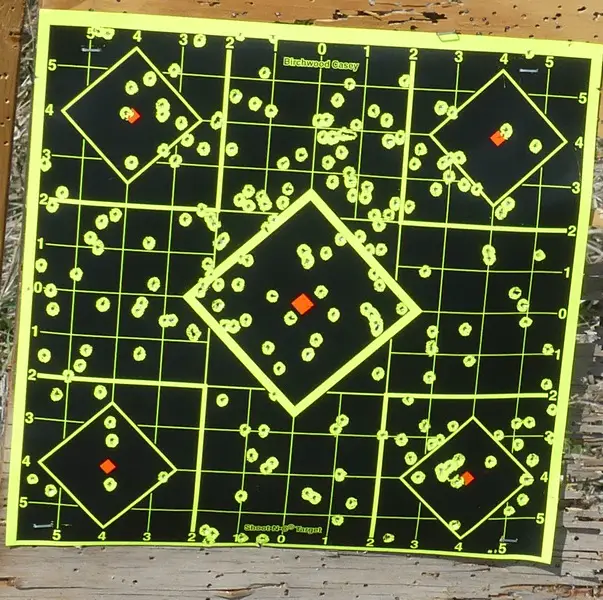 The best lead loads I've ever tested are the Winchester Longbeard XR loads, the 1-3/4 oz. #5 1200 fps load being my favorite. There are even more efficient loads if you want to go the tungsten route. I'm particularly pleased with the 1-3/4 oz. Boss Tom load (shown above at 35.5 yards), although Boss also makes a 2 oz. three inch 12 gauge load as well for those that prefer more recoil. The Trulock .670 exit diameter choke out of the Remington V3 is what I'm most happy with.
I had to chuckle with a recent "testimonial" that I read: "3-1/2" 5 shot 2 ounce. Patterned really well at 20 & 40 yards. Shooting a XX with XX choke (.650) also with the Burris Fastfire 3 red dot. I was able to take a Tom at about 15 yards. Dropped him with one shot, very lethal round."

Well, smashing a turkey's neck at 15 yards isn't much of a thing. But, it is good to remember that the tightest 50 yard pattern is the worst pattern at 15 yards. I don't recall ever taking a turkey at 40 yards: My longest shot was all of 37 yards. Your hunting conditions may be different, but if you might take a bird at 15 yards or 40 yards, it is good to know what pattern diameter you have at both ranges.
BACK TO THE V3 TURKEY PRO
With all the stock spacers installed and an extended Trulock choke installed, the tested V3 Turkey Pro weighs right at 7-1/2 lbs. The V3's trigger is spectacularly good, breaking crisply at 3 lbs. 2 oz. on average. It is the best factory trigger on a hunting autoloader I've tested in decades . . . perhaps, ever.
The enlarged / beveled loading port, the extended bolt release, the re-profiled safety, and the chubby charging handle are all welcome advancements . . . something you can enjoy in this model and the "V3 Waterfowl Pro" as well. As it sits, I'm quite satisfied with the TruGlo Red Dot so far. The red dot looks crisper and more defined to me than the green dot does, on my example.
If I can't blow it up prior to next month's hunt, that's what I be using. If I can successfully destroy it, or its zero wanders, then I'll replace it with one of my Sig Romeo5 1 x 20mm Red Dots . . . a more compact optic that I personally have much more confidence in, and one that automatically turns itself on and off.
FINALLY
Two million turkey hunters is a lot of hunters, to be sure. With the V3 Turkey Pro, you have the softest-shooting shotgun on the planet, with an exceptionally good trigger. With its standard 13 inch length of pull, you can take your young son or daughter out for youth season, yet pop in the appropriate spacers for Mom or Dad later on. It is very low-maintenance, with a well-applied RealTree Timber camo finish. It is a similar configuration to what many prefer for predator and deer hunting as well. With its 22 inch barrel, you can screw in a flush cylinder choke and use it year-round as a home defense arm if you'd like: it is a lot more than a one-trick pony.
I've long said that the Remington V3 is the best autoloader that Remington has ever made. The V3 Turkey Pro takes a great gun and with new receiver and over-sized controls, Remington has made it even better.
Copyright 2019 by Randy Wakeman. All Rights Reserved.

Custom Search