Review: 2018 Ruger PC9 9mm Carbine

Above: the original Ruger PC9

Pistol caliber carbines often have the attributes of economical shooting and low recoil. Over the years, the most quality time I have spent with a 9mm pistol carbine was with the Marlin Camp 9, which took Smith & Wesson Model 59 magazines. Aside from just general target shooting, I used it to clear out a goodly pile of ground hogs that were doing tremendous damage.
For a time, 9mm carbines were trendy. The very cheaply made Hi-Point has been reasonably popular, and Ruger themselves entered the market back in 1996 with their PC4 (.40 S&W) and the original PC9 9mm models that were discontinued in 2006. At the time, Ruger cited "low demand" as the reason they were dropped from the line. Well, it seems that they are popular once again, as is the tactical theme.
If there is such thing as an average accuracy, something in the range of 3-1/2 inches at 25 yards is what I get out of a run of the mill striker-fired 9mm pistol. What you can expect out of this Ruger PC9 is more like 3-1/4 inches at 50 yards, on average. In very rough terms, as a generalization, the Ruger PC9 carbine is more than twice as accurate as many handguns and there is a substantial velocity gain to be had with the longer barrel of the PC9 as well.

Although I do not have a vintage Ruger "Police Carbine" here to directly compare with the new Ruger PC9, it seems apparent that the new model owes a great deal to the quite successful Ruger 10/22 take down models. Although the new PC9 is terminally ugly, like its predecessor and like many rifles in this category, it is well built and works extremely well.
The trigger on my example breaks cleanly at 4-1/2 lbs. It has an excellent feel and is a big jump up from the old mushy Marlin Camp 9 fire control and the original Ruger. Ruger has really thought the new PC9 out: it has stock spacers to adjust the length of pull, the charging handle can be attached to either size of the bolt, and the magazine release is reversible as well.
The factory ghost ring aperture sights are just plain excellent and all most would need or want as a home defense, plinking, or small game rifle. However, a Picatinny rail is built in to the receiver as well, so you can easily add optics of your choice. You get a 17 round Ruger SR series magazine with the rifle, but a Glock magazine well adapter is included also. Already some enterprising individuals have machined notches in their S&W M&P magazines to use in this rifle, so it wouldn't be at all surprising to see more magazine adapters being made available.
My personal opinion of this is not universally held, but although some may get excited over magazine well inserts, I'm not one of them. Ruger SR-9 17 round magazines are widely available for $15 or so. Rather than the insert and switching magazines, it would be far more sensible to skip this entirely and just include three or four magazines with this $649 MSRP rifle. One of my few quibbles about this rifle is that the magazines themselves fit loosely, on the first PC9 models that I fired and also this test rifle. It does not affect function, but I don't particularly care for parts that wobble or rattle on any firearm, regardless.
WHAT IS THIS RIFLE FOR?
Good question, and there is no easy answer. For inexpensive, fun plinking, any number of rimfires are cheaper to feed, more accurate, less costly to shoot, and have essentially no recoil worth talking about. You can shoot rimfire for a nickel a shot, 9mm for 15 cents a shot, .223 for around 20 cents a shot. Nothing much beats a .22 LR for cheap, fun shooting.
At the same time, for similar dollars, you can pick up any number of AR-15 rifles that are more accurate, similar or lighter in weight, and are better at essentially everything than a 9mm or 40 S&W rifle. There is no question than pistol ammo has improved over the years, but .223 ammunition has as well, in a big way. If you don't have a drawer full of 30 round Magpul AR-15 magazines, your neighbor does and you don't need to change magazine wells to use them. Stock length of pull adjustment shims are fine, but again . . . how many AR-15's already have six position buttstocks?
FINALLY
Model Number: 19100
Stock Black Synthetic

Capacity17

Barrel Length16.12"

Overall Length 34.37"

Barrel Feature Threaded, Fluted
Front Sight Protected Blade

Rear Sight Adjustable Ghost Ring

Thread Pattern 1/2"-28

Weight 6.8 lb.
Length of Pull 12.62" - 14.12"

Material Aluminum Alloy

Finish Type III Hardcoat Anodized

Twist 1:10" RH

Grooves 6

Suggested Retail $649.00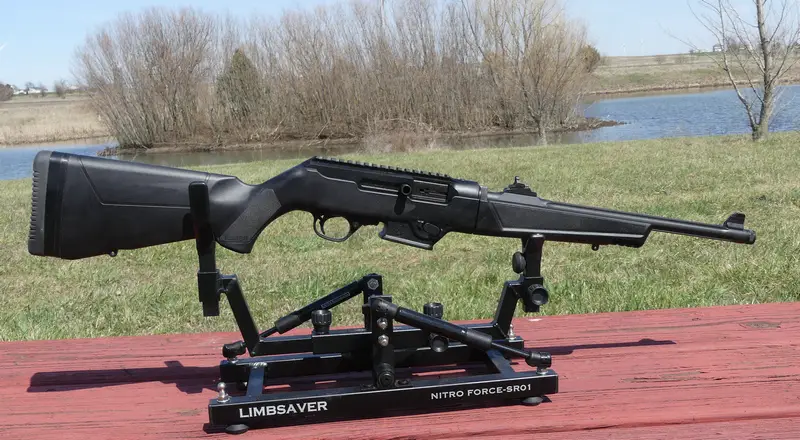 Though no fault of this platform or Ruger, the 9mm Luger is a severely underpowered round to make any 9mm carbine particularly practical or versatile as compared to a decent AR-15. With the right ammo, the .223 Remington / 5.56 NATO has a good track record for feral hogs and lighter deer at moderate ranges. I'm referring to the use of bullets such as the 3160 fps 60 grain Nosler Partition load. A huge variety of loads makes the AR-15 a quite good varmint rifle and a great piece of HD equipment as well. No 9mm carbine can rationally compare to it.
As for the Ruger PC9 itself, Ruger has done a very good, thoughtful job. The trigger is excellent, the take-down is instant, the factory sights are outstanding and the stippled texture of the stock is satisfying. If you actually want a 9mm semi-auto rifle, the Ruger deserves to be on anyone's short list.
Copyright 2018 by Randy Wakeman. All Rights Reserved.
Custom Search