Review: 2018 Retay Masai Mara Jet Black 12 Gauge Autoloader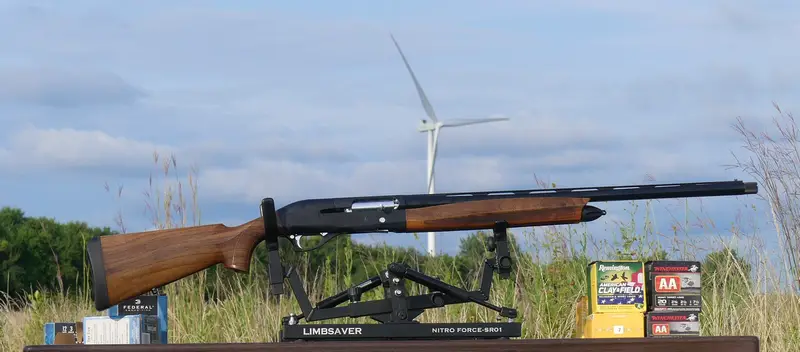 Whenever a new shotgun with general appeal is introduced, I try to do multiple reviews of different examples. This was the case with the Browning Gold / Silver / Maxus line, it was the case with numerous Benelli and Franchi models, Fabarm XLR5 and L4S models, the Remington V3, and that is now the case with the Retay Arms Masai Mara. This oiled walnut / polished blue Masai Mara "Jet Black" with a 24 inch barrel is the fifth example of the Masai Mara line I've spent quality time with.
WHY AN INERTIA GUN?
The so-called inertia autoloading action is quite old, dating back to the Sjögren Inertia Shotgun. The Sjögren was a 12 gauge semi-automatic shotgun designed by the Swedish inventor Carl Axel Theodor Sjögren. Its patents were awarded in 1900, 1903, and 1905, and the Sjögren was produced from 1908-1909. It saw service in World War I, used by Norway, Norway being known as "The Neutral Ally." With 5,000 or so units produced, it was hardly a resounding success and had essentially no commercial success.
The inertia shotgun is, of course, a recoil-operated gun, the name being used in an attempt to differentiate it from the Browning Automatic-Five. The A-5 so-called "long recoil action" of course operates with inertia as well, the inertia of the barrel moving rearward.
The appeal of the modern inertia gun, the Bruno Civolani action, is one of convenience. It requires no user adjustments to cycle different loads, and needs little in the way of cleaning to maintain function. It is also very cheap to make, as there are no gas valves, gas ports in the barrel, and no linkages or action bars needed to move the breech-block. Benelli's have always been severely over-priced, but the whole point of a patented design is so you can hopefully make some money while the patents are in force.
What is not appealing about an inertia gun is that the action does not reduce felt recoil as a gas-operated shotgun can. Along with that are the by now well-known issues of the "Benelli Click" and the "Benelli Thumb" that some folks truly hate but others don't care that much about.
THE MASAI MARA INERTIA PLUS ACTION
The Masai Mara does not have the "Benelli Click," an obvious and clear improvement over the standard Benelli Montefeltro and M2 actions. The Masai Mara is also easier-loading than most Benelli's, although the real thumb-busters have largely been 20 gauge models. Though 3-1/2 inch 12 gauge Masai Mara and 20 gauge models were touted as being available for the 2018 hunting season, they are not available yet. I suspect that they will appear in 2019, but Retay has been silent on the issue.
For those that dislike plastic trigger guards, the all-metal trigger group of the Masai Mara is a nice upgrade from standard Benelli fodder as well. It is also a quick-detachable trigger as well, as you can remove the entire trigger group wih just the push of a button. If nothing else, it is convenient, as there are no tools required whatsoever and no pins to knock out to free the trigger group.
The previous Masai Mara models cycled 1 oz. 1180 fps loads right out of the box, but not this one. 1-1/8 oz. 1200 fps loads worked flawlessly, but this example choked on 1180 fps 1 oz. factory loads consistently. My guess as to the culprit is an overly stiff mainspring. After storing the gun after a few outings with the action open (and the mainspring compressed), now it does indeed cycle 1 oz. loads some of the time, but you need 1250 fps+ 1 oz. loads with this individual gun. It took more than a little doing with this specific example, but apparently this specific gun is an outlier, for all of the other examples needed zero break-in. While Retay says, "The Retay Inertia Plus System ™  is capable of cycling lightweight 7/8oz. shotgun shell loads as well as heavy hunting loads . . ." Well, Randy isn't going to say that at all. You should expect your Masai Mara to work well with 1 oz. 1200 fps loads, but the 7/8 oz. bogus claim is the all-too-common hyperbole that has no basis in fact that I can discern.
IS THERE ROOM FOR IMPROVEMENT?
Sure, there is: but not much. The safety is on the small side and with cold or gloved hands, I'd appreciate a bit more generous safety. The recoil pad is well-fitted and better than average, but for heavy loads out of this 6-3/4 lb. gun, a pad along the lines of a Limbsaver would be a clear benefit. Although some may want unsightly sling studs on an oil finished walnut upland gun, I sure don't. The Masai Mara has them, like it or not … and, I like them not. If Retay gets around to releasing their 3-1/2 inch gun, a better recoil pad is going to be mandatory.
From the first Masai Mara I reviewed, the first gun ever to be imported into the United States, there already have been improvements. The big one is the Inertia Plus Action, but the overly large front bead is now smaller, and the forearm nut (alloy, not plastic) is a bit easier to remove. Though Retay has not released any extended choke tubes, Trulock has, they are in stock, and they are tougher than the factory tubes: made from 17-4 stainless steel bar stock and they can be used with steel shot up to the Improved Modified designation.
FINALLY
Retay is a young company as far as firearms companies go, founded in 2006, in Konya, Turkey. They do have a very modern facility with excellent machining capabilities. Their background has been in making replica blank pistols, air rifles, and they currently make a speargun as well, so they are even newer to the real firearms market. The Masai Mara is apparently their first actual firearm, released after several years of development.
This specific model, a polished blue and walnut "Masai Mara Jet Black" with a 24 inch barrel is my favorite of the bunch. 24, 26, 28, and 30 inch barrels are available as well as the "Warden," a home defense / tactical autoloader with the same Inertia Plus action. Shorter barreled autoloaders are generally better-handling, better-balanced shotguns and that is indeed the case with this 24 inch barreled M. M. Jet Black. It is ideal for flushing game.
I have a few quibbles with the Masai Mara, like the sling studs and the smallish safety, but overall . . . there isn't much not to like. Benelli-branded inertia guns have always been pricey, and it just seems to be getting worse. Benelli took their Ethos model, put a bit wider plastic rib on it, ported the barrel, calls it the "Ethos Sporting" and current MSRP is $2269. When companies get greedy to the point where they are shafting prospective buyers, that creates an opening for the majority of people that have a basic sense of value. Another example is the plastic-stocked Benelli "Performance Shop Super Sport" that has a nosebleed $2949 MSRP. This is the type of irrational pricing that is a massive turn-off for me as it is for many others. You get what you pay for and if you choose to buy a nut-job level, tragically overpriced piece of plastic with a barrel, a split bolt, and a few springs . . . that's what you get.
I have confidence in the Masai Mara. It is the best-looking, best finished autoloader you can have for under a thousand dollars, it offers three clear upgrades over the basic inertia action, and is available in a wider variety of barrel lengths and finish combinations than any other autoloader on the market today. It looks great, works great, and cannot be beat in its price category.
The Masai Mara 5-year warranty is handled by Briley. For more info, see https://retayusa.com/ . For Trulock chokes, see https://trulockchokes.com/ .
Copyright 2018 by Randy Wakeman. All Rights Reserved.

Custom Search