Retay Arms Masai Mara 12 Gauge Autoloader, EVO Camo

The tested example is the synthetic edition of the Masai Mara 12 gauge inertia autoloader with a 28 inch barrel. While the previously examined walnut Masai Mara was the first Retay Arms shotgun to be imported into the United States, this example is a complete standard production item that was not handled, over-handled, and marred by the ATF.
This gun weighs 6 lbs., 15 ounces. It (thankfully) has a single bead, and the equipped red tubular bead is an improvement over the first example as it is smaller. Far too many hunting shotguns have annoying, worthless center beads and excessively large front beads, and I'm glad to say that this shotgun is not afflicted in that manner.
The specifications, as published by Retay USA at https://retayusa.com/index.php , are as follows.
Masai Mara Tech Specs
Gauge 12-3"
Chamber 3"
Action RETAY Inertia System with Inertia Plus™ Locking System
Barrel Length
24" , 26" , 28" , 30"
Choke Removable Marapro Chokes™ C-IC-M-IM-F
Rib 8mm
Recoil Pad Sculpted ergonomic Microcell Polyurethane
L.O.P. 14.37"
Drop at Heel 2.16"±.04 adjustable to 1.77"-1.96"-2.36"
Drop at Comb 1.45"±.04"
Weight 6.5 lbs
Frame Aluminum, Anodized or Cerakote® Finish
Stock Luxury Walnut with oil finish, varnish, high gloss varnish, Synthetic in Black, Evo Camo, Max-5 Camo
Magazine Capacity 4+1 - 3" Rounds
Safety Trigger Push Button Intercepter and Removable Trigger System (RTS)
Trigger Guard
Anodized Milled Aluminum Trigger
Removable RTS system, automatic anti-repeat system and automatic locking device
Sight TruGlo® Fiber Optic
The only area that is out of whack from the published specs is the weight: this is not a 6-1/2 lb. shotgun, it is just under 7 lbs. and is about a ¼ pound heavier than the 26 inch barrel walnut model previously tested. It is just a tad lighter than the Franchi Affinity 12 gauge (plastic) that weighs 7 lbs., the 3 inch chambered Benelli Vinci 7.1 lbs., and a bit more than ¼ lb. lighter the Weatherby Element Max-5 camo that I tested at 7-1/4 lbs.
The MM is extremely well-made: it assembles easily and comes apart easily as well. The EVO camo is well-applied, and is suitable for both the woods and the marsh. As before, the MM is extremely well-presented, with a well-designed plastic hard case, five choke tubes, shims, and slings all included. It doesn't rattle, and the recoil pad, unlike many of the strange wedge and curved designs, has a flat interface with the butt so if you want to go with your favorite aftermarket pad, it isn't as drama-filled as it would be with the Franchi Affinity or the Weatherby Element. The choke tubes are the Retay Arms version of the "Benelli Crio Plus" and they are not interchangeable. George Trulock has been working on replacements, I should have them shortly to test out. The crest width and root width on the Retay threads were "several" thousandths different than Crio Plus threads, although the lead did seem to match.
The trigger is not exceptionally light, breaking at 5-1/2 lbs. It is better than average, particularly if your idea of average is a Browning repeater, three-quarters of a pound lighter than the Weatherby Element as tested, but at least for me a 4-1/2 lb. hunting trigger is my version of about right.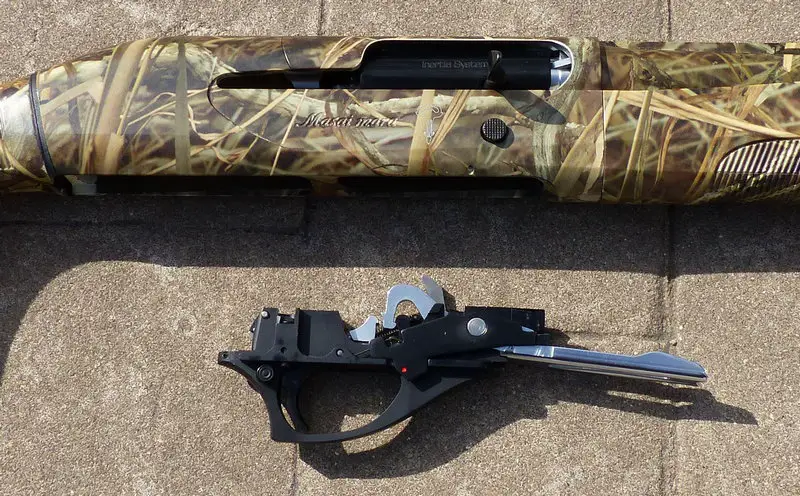 Where the better quality of the Masai Mara is most easily spotted is the trigger assembly itself. No plastic, it is all machined aluminum alloy, as is the trigger guard, and it comes out with the push of a button. The physical trigger itself is also metal, not plastic. I'm not completely certain at this juncture, but the Retay Arms five-year warranty is apparently being handled by Briley.
While, fundamentally, the Civolani action is the Civolani action and yes, an inertia gun is an inertia gun, the Masai Mara is a distinct upgrade in quality over most inertia guns. The trigger assembly is the clearest example of this, but it is also extremely easy to load, comes apart easily into just four pieces, and if you are the type of individual that grades products on its own merits, not just the sticker on the box, you'll very much appreciate the Masai Mara.
The Masai Mara is also not a nose-bleed priced autoloader. It runs from around $850 for the basic synthetic, a touch more for camo, and the knockout walnut / polished blue editions are at roughly $1100. For a do it all, low maintenance, workhorse inertia hunting shotgun, the MM EVO camo at the $850 - $900 price point is as good as there is on the market today. It is a very respectable entry into the United States market from Retay Arms.
For more information, see https://retayusa.com/ .
Copyright 2017 by Randy Wakeman. All Rights Reserved.

Custom Search