Remington V3 Waterfowl Pro goes to Stan Jones Mallard Lodge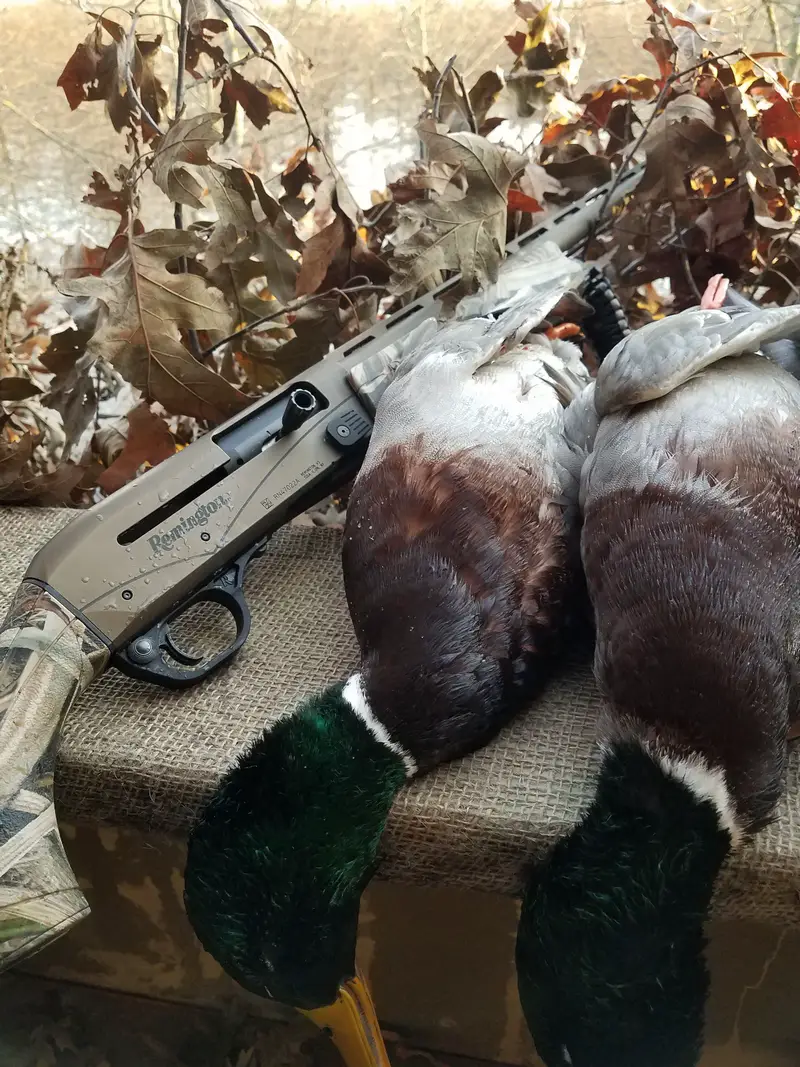 The V3 and mallards: image by Larry Case.
Stan Jones has formed what I feel is the finest duck hunting experience in the United States. Stan hails from Clover Bend, Arkansas, and has been a farmer, hunter, guide for several decades. The big lodge, the new lodge, "Stan Jones Mallard Lodge" is now celebrating its eighth year of operation. It is used not only for duck hunting during the season, but also for weddings and corporate events throughout the year. Stan Jones himself has been a Remington user for many years, with an 870 Wingmaster that he threatens to clean once a year, whether it needs it or not, and a Model 700 .30-06 that he's used for deer over the years.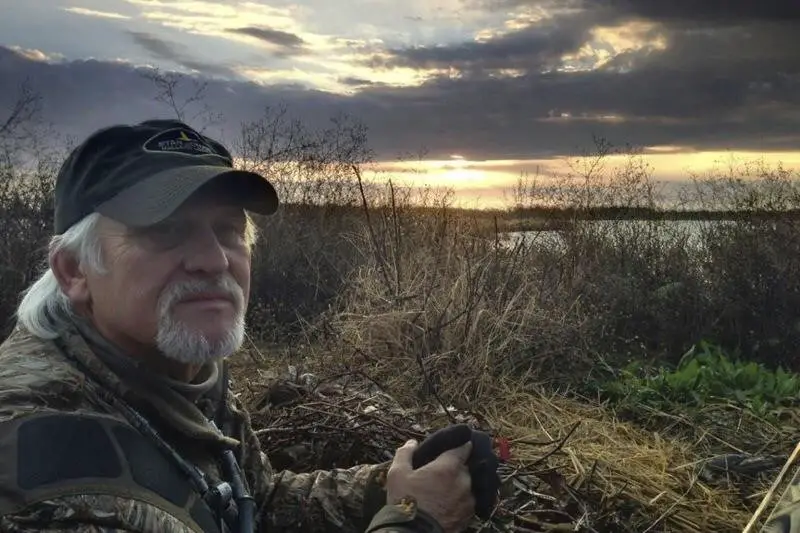 Just what would make a fine, upstanding Arkansas State University football player pursue a dream of forming the world's finest waterfowl lodge? Stan was probably too crazy to know better, but he has certainly been successful at doing just that.
Alicia, Arkansas is right past "resume speed." By commerical air, it is either fly to Memphis or to Little Rock. I've done both: Memphis is a bit closer. According to the lodge, they are 1 hr. 45 min from the Memphis airport, 2 hours from the Little Rock airport, and 10 miles from the Walnut Ridge airport, which can handle any size private aircraft including large jets. "Gas up the Gulfstream, honey, we are off to Arkansas" isn't in my vocabulary, but for some it might be. 
Stan has a huge amount of hunting areas. One of the secrets to his success is not only the hard work and constant scouting of his guide team, but since Stan has so much hunting land, there is no danger of over-hunting. The Stan Jones Mallard Lodge serves fast food, but not at the lodge: the fast food gets shipped to you after the conclusion of the hunting.
According to Ducks Unlimited, "Most waterfowl fly at speeds of 40 to 60 mph, with many species averaging roughly 50 mph. With a 50 mph tail wind, migrating mallards are capable of traveling 800 miles during an eight-hour flight. Studies of duck energetics have shown that a mallard would have to feed and rest for three to seven days to replenish the energy expended during this eight-hour journey. Female wood ducks must ingest 75 grams (2.6 ounces) of invertebrates to obtain enough protein and minerals to produce one egg. To acquire these nutrients, the birds must consume more than 300 invertebrates an hour for eight hours."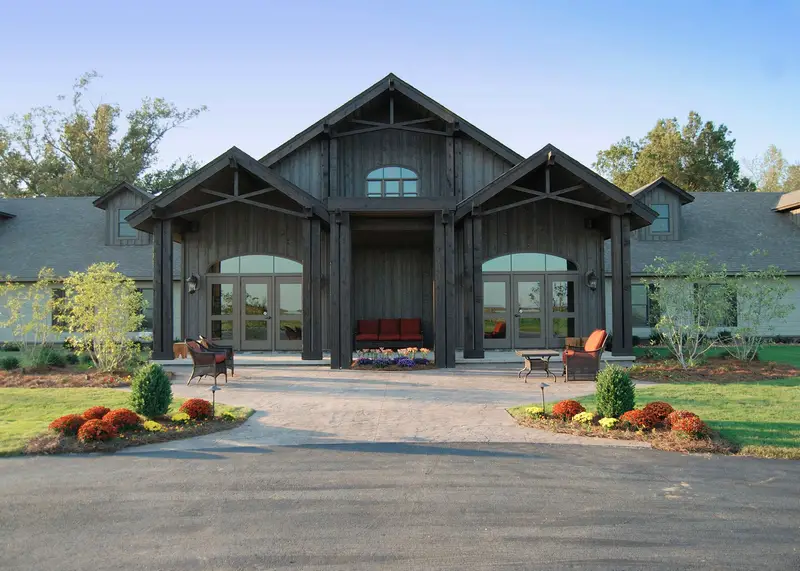 You won't have to worry about ingesting invertebrates at Stan Jones Mallard Lodge, for Chef Jay Taggart and his team make sure that your dinners at Stan Jones are memorable. Chef Jay introduced me to talking wine bottles a few years back. Chef Jay is one of those rare people that has universal appeal to men, women, and animals. After a couple of bites of Jay's triple carrot cake, more than one nubile young lady has attempted to take Jay home with them. Sorry, girls, he's taken: you'll have to bake your own cake. If you were a high quality double pork chop, you would appreciate the high honor and great distinction of being prepared by Chef Jay Taggart.
Christmas came early at Stan Jones Mallard Lodge, for Charlie Holder of Sure Shot Game calls has released an extremely well-presented limited edition 60th Anniversary "Cowboy" Classic Yentzen celebrating the life and career of James "Cowboy" Fernandez. You can get yours here: https://sureshotgamecalls.com/cowboy-classic-signed-and-numbered/ . Charlie Holder is an international man of mystery, sometimes seen with a beard, sometimes without, so the possibility that Charlie really is Santa Claus cannot be ruled out.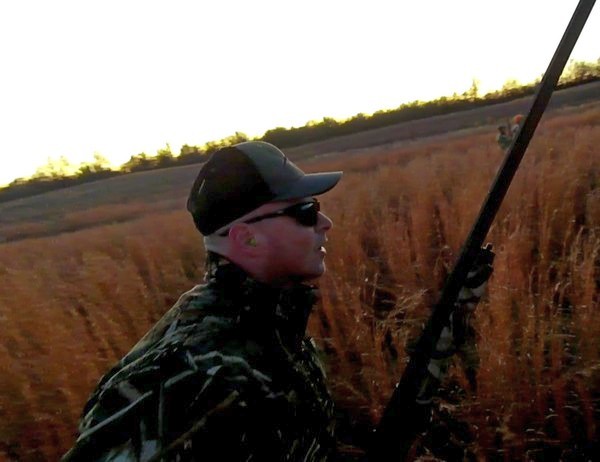 IPSC World Champion Travis Tomasie was on hand, and Travis is fast. Rumor has it, Travis had his pants on and was out the window before she ever had the chance to thank him. I was surprised that Travis even bothered carrying a shotgun during a pheasant shoot, for I expected him to instantly spring into the air, coming down with an evil Communist Chinese pheasant in each hand. Breasted. And zip-locked. On ice. Travis is the only person I've ever met that refers to the cheetah as "not all that quick." Travis is fast, really fast, for I seem to recall him mentioning that Chuck Norris always was "a bit sluggish." Travis wears a sweatshirt that says "Speed and Accuracy" on the front, and "King of Hot Monkey Love" on the back. Whatever Travis has going on, I'm not messing with him. Did I mention that Travis is fast? Travis rarely sees a sunset, as his casual jogging speed exceeds that of the rotation of the earth. 
Larry Case of https://gunsandcornbread.com/ perhaps is endowed with at least as much corn as bread. Among Larry's many interests is the career of Kokomo, Indiana's finest. If you ever wanted to know what The Man Who Shot Liberty Valance, True Grit, Cool Hand Luke, The Wild Bunch, and Kokomo, Indiana had in common, it is Strother Martin. For the answers to other sweet mysteries of life, Strother Martin aficionado Larry Case probably has the answers for you. Larry also has answers to which there are no questions, making a visit with Larry fun for all.
The name of the game is the Remington V3 Waterfowl Pro. Every duck and goose bagged was with V3 Waterfowl Pro models, using the factory Remington extended choke tubes and Remington Hypersonic 1-1/8 oz. loads of #2 steel shot. Every pheasant and chukar bagged was with Remington 28 inch barreled V3 models as well, using Remington 1-1/4 oz. 1400 fps #5 lead loads.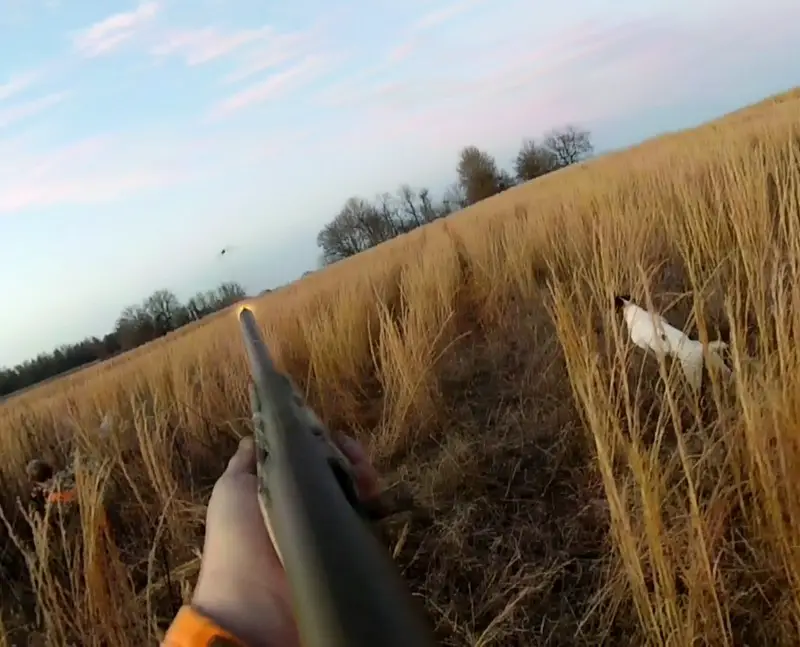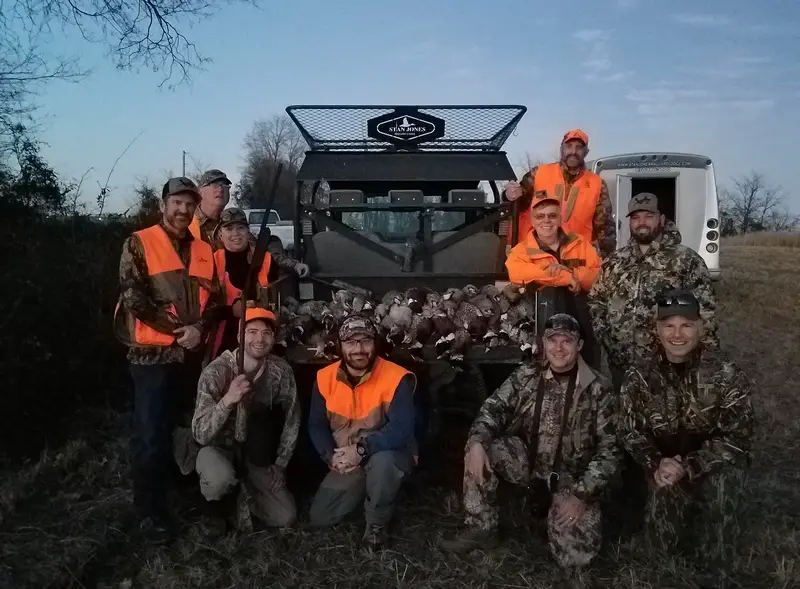 A happy group and a truck full of birds: image by Larry Case.
The last time that I shot 50 rounds of 1-1/4 oz. 1400 fps loads in a very short time frame would be essentially never. With the Remington V3, the recoil is so soft, it felt like I hadn't been shooting at all. Remington has been on fire as of late, with demand for their Marlin line exceeding their production capacity, and the TAC-13 (based on the V3 action) being a runaway hit as well. Ever since working with a V3 prototype in 2014, I felt that the V3 was the best autoloader Remington has ever made. That says a lot, considering the Remington 1100 series is the best-selling autoloading shotgun in the history of the world.
Right now, the V3 series is well-filled out, in 12 gauge. While high-grade V3's are under consideration, and talk of a 20 gauge continues from time to time, nothing official has been announced yet. Let's talk about what differentiates the Pro Series of the V3. There are two lines, the V3 Waterfowl Pro and the V3 Turkey Pro.
With the Pro models, you get extended choke tubes, cast and drop adjustment shims included, an oversized bolt handle, oversized bolt release, a redesigned safety, and a redesigned loading port. The Turkey Pro comes in one flavor, Realtree Timber, with a shorter barrel (22 inch nominal), a Truglo Turkey choke, a stock that is spacer-adjustable for length of pull, and a Truglo Red Dot optic pre-mounted on a Picatinny rail. The Turkey Pro was released a bit too close to some turkey seasons last year, so availability was the issue. There is no such consideration for 2020, as they are readily available right now.
There are three different SKU's for the Waterfowl Pro, all with 28 inch barrels and extended chokes included. The Waterfowl Pro adds Cerakote to the receiver and barrel. Two models are Burnt Bronze, one is Patriot Brown. Remington does their Cerakote in-house. The differences between the two finishes are subtle. All V3 Waterfowl Pros used on this hunt were Burnt Bronze, and I never so much as looked at the barrel . . . or the bead, for that matter.
Lots of things are personal preference. While it seems that the majority of folks prefer 28 inch barrels for waterfowl guns, I strongly prefer a 26 inch barrel. For flushing birds, you may well prefer a shorter barrel yet. Eric Suarez of Remington made it rain pheasants and chukars, using a V3 with a 22 inch barrel and a short stock, for example.
What isn't just preference are the facts about the V3, the shotgun that most folks have said they want: low recoil, low maintenance, excellent trigger (based off of the roller trigger of the 105CTi), a written lifetime warranty, and Made in the USA. The V3 checks all of these boxes quite easily and your investment won't cost you $2000 or even $1500, either. With an MSRP of $1195, the Waterfowl Pro can be found discount-priced at $950 or a tad less, and the standard V3 models cost less yet.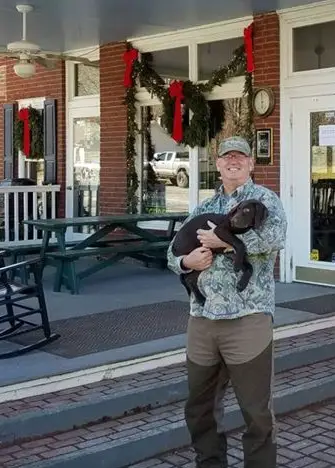 We had a wide variety of shooters on this hunt, from taller earthlings like Larry Case (above) to the feminine side reprented by Barbara Baird of https://www.womensoutdoornews.com/ . Everyone bagged plenty of birds, and no one complained about recoil. Younger (or shorter-armed) shooters might well consider the V3 Compact, that fits most anyone down to a 13 inch length of pull. Spacers are included, so you can change that to 13-1/2, 13-3/4, or 14 inches, as you prefer. Shims are also included with the V3 Compact for cast and drop.
Our early morning duck hunts were spectacular. On the first day, we had a nice taste of flooded timber hunting with no dogs. On the second morning, it was in the middle of a flooded rice field with the sky blackened by birds. Between hunts, you can relax throughout Stan's well-manicured grounds, or enjoy the sporting clays set-up conveniently, an easy walk, behind the lodge.
Stan Jones and his hard-working team (and that includes Nate Dunivan) have created a terrific hunting experience that anyone would thoroughly enjoy and long remember. You owe it to yourself, your bride, your son, and your daughter to splurge a bit next year and experience Arkansas duck hunting at its very highest and most satisfying level: that means https://stanjonesmallardlodge.com/ . 
There is nothing like really being there, but I filmed some of the waterfowl action here https://youtu.be/9LbmMbNDcc4 and some of the pheasant shoot here https://youtu.be/Bmfc_FfSh0g . You can't go wrong with a trip to Stan Jones.
Copyright 2019 by Randy Wakeman. All Rights Reserved.