REVIEW: Savage A17 Autoloading 17 HMR Rifle

Sku: 47001 Caliber:17 HMR
Rate of Twist: 9
Weight: 5.41 lbs
Overall Length: 42" Barrel Length: 22"
Ammo Capacity:10 MSRP: $473.00
The Savage A17 (a 22 WMR version has been announced for 2016) features the .17 Hornady Magnum Rimfire cartridge, the most successful new rimfire cartridge in recent memory. Savage has gone with a 10 round rotary magazine, the best platform for rimfires, and to take care of the issues with prior .17 Hornady Magnum Rimfire attempts by other manufacturers, the action is timed by a delayed blowback system.
The test article came supplied with a pre-mounted Bushnell-branded "Banner" Korean scope, a 3.5 x 10 x 36 with an adjustable objective, and one 10 round detachable magazine. Aesthetically, it would be hard to call the A17 a thing of beauty, for the blow-molded plastic stock prohibits that. It is reminiscent of the Savage Axis, and it is common these days. Perhaps, too common.
It is Accu-Trigger equipped, and the trigger breaks cleanly and crisply at 3.5 lbs. right out of the box: it is an excellent, satisfying rimfire trigger. Savage over the years has done a very good job with their metal finishing and their proprietary media tumbling systems. The A17's black metal oxide finish noticeably has a higher level of polish and gloss than the usual very rough, matte, essentially unfinished genre of finishes, and that's a good thing. Savage calls it "high luster" and that's what it is.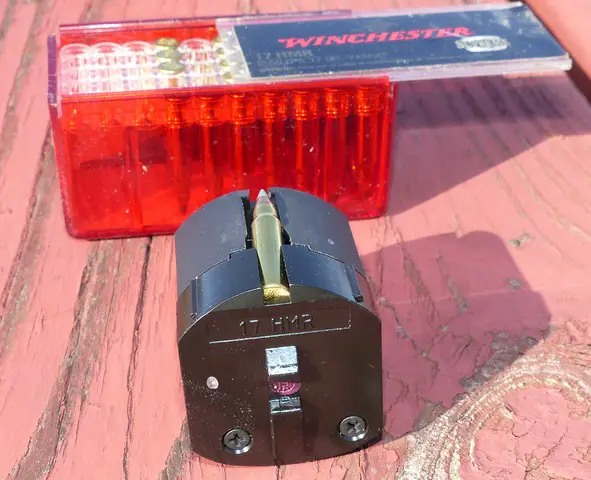 While Vista Outdoor Group does market "CCI A17 ammo," as they own both Savage Arms, CCI, Federal, and so forth, I tested the Savage A17 with what I had on hand: Winchester 17 grain and Winchester 20 grain rounds. The results were not good. With the Winchester 17 grain loads, the Savage A17 jammed numerous times. It ejected properly, but failed to feed the next round. I had no malfunctions with the 20 grain loads. The shooting was done at 50 yards. Although it was a breezy day and not ideal conditions, both rounds had a problem with vertical stringing. Horizontally, there was no great issue, but the vertical stringing was unacceptable. Sadly, the 17 grain rounds (that jammed) were markedly better than the 20 grain rounds that did not fail to feed in this regard.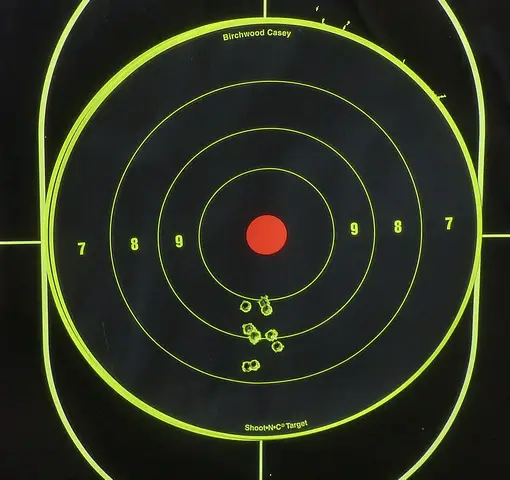 The supplied, premounted Korean scope was clear enough, however the eye relief was overly critical, offering tunnel vision quite easily even at relatively low power (6X). The bolt of the A17 does not stay open after the last shot, so you'll probably find yourself unintentionally clicking on an empty chamber: I did. Back in 2008, I tested a Savage Model 93R17 Classic .17 HMR that shot inside one quarter inch, five shot groups, out of the box at 105 yards. It still shoots just as well today. In general, Savage bolt-action rimfires have been supremely accurate.
Regardless, I can only report on what I have before me. When you have a rimfire self-loader that fails to feed and yields unacceptable accuracy at just 50 yards, it cannot be recommended. This tested Savage A17 is both unreliable and inaccurate, so as supplied . . . it flunks. I know of no one that could possibly purchase this $473 MSRP retail rimfire (sans scope) that has a street price of roughly $400 and in any way be satisfied.
Copyright 2016 by Randy Wakeman. All Rights Reserved.
Custom Search