---
Pilad 3MOA Red Dot Shotgun Sight: A Red Dot that never Needs Batteries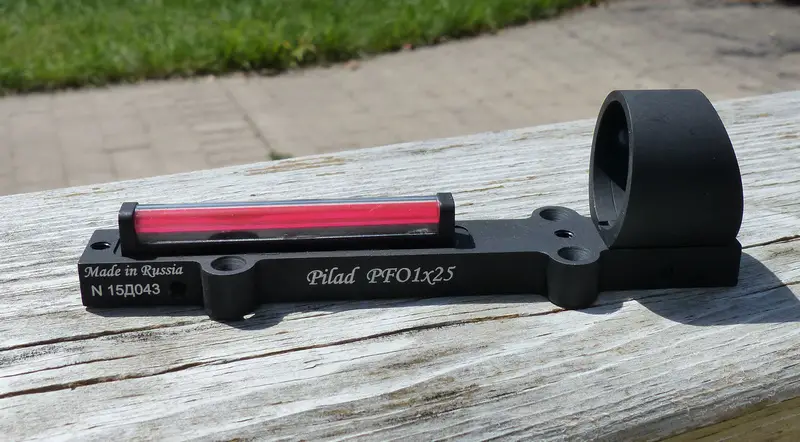 This is one of the more unusual, yet interesting shotgun sighting systems I've ever seen. The Pilad 3MOA sight is, in essence, a light pipe fiber optic sight that projects a 3MOA dot out in front of you. The idea, like battery-operated Heads Up Display sights (see Eotech's holographic weapons sights) is essentially instant target acquisition.
The Pilad 1 x 25 3MOA sight is designed to be attached to the ventilated rib of your shotgun, with a pair of screw-down keeper tabs that keeps it securely in place. The vent rib must be at least 2mm high and should measure between 5.5mm and 10 mm in width.
These are the published specifications:
RED DOT SIGHT WITH LIGHT CONDUCTOR PF01Х25
• No battery required
• Unlimited operation time (at daylight)
• Being installed onto ventilated rib of hunting gun, width of rib 5.5 – 10 mm.
• Light weight
Reticles
Tech specific
Magnification, ratio 1

Field of view angle, ° unlimited

Exit pupil distance, mm unlimited

Diagonal line of entrance window, mm 25

Size of illuminated Dot, ang. min 3 (6,10)

Size of illuminated Dot, ang. min 1,22°

No parallax at distance of 50 m

Colour of reticule red

Working time in the daytime unlimited

Overall dimensions, mm (with mount) 127х31х38

Weight, g 60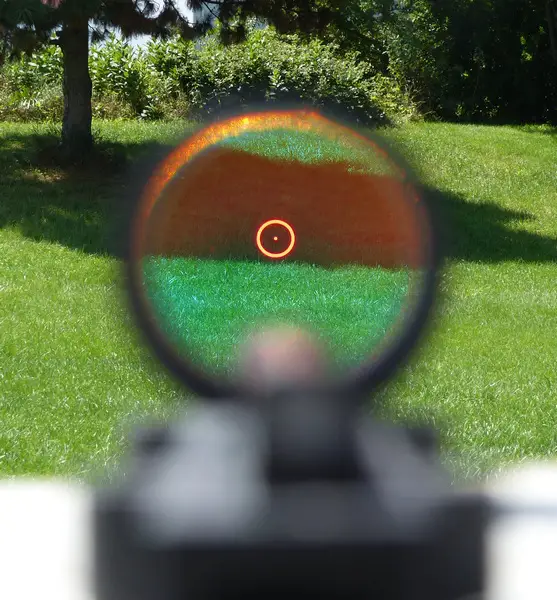 Well, it really, really works. The red dot sight with the circle around it is astonishingly bright and crisp, as you should be able to tell from my photograph. There are a lot of variables with this sight that may make it impractical, however.
There is no provision for adjustment. For example, you might use a red dot tubular sight like the Sightron S33-4R that gives you the choice of four different reticles, click adjustments, and an 11 position rheostat to control the brightness. The Sightron, Eotech units, and others need no ambient light, so they can be used within a dark turkey blind just when the birds come down off the roost, or for deer hunting after sunset whether on a slug gun, revolver, or a center-fire rifle.
The lack of any precise adjustments make the Pilad 3MOA sight quite literally a hit or miss proposition. As a result, to be candid, the Pilad unit is not practical for deer, hogs, or turkey as compared to the well-known Burris Fastfire units, the Eotech, Aimpoints, or the Sightron. The lack of any brightness control can be problematic as well. While I understand that it is extremely light and will never have dead batteries, that doesn't overcome its lack of adjustment and brightness level.
I'm advised that this sight is primarily designed for wingshooting and trapshooting. To be direct, this does not work for me at all. I don't look at the rib or bead on any shotgun when shooting at a flying target: hard focus is always on the bird, not on any bead, rib, or on the barrel. Whether race games, hunting, sporting clays, or what-have-you, the rib and bead are ignored. At most, they are used as a soft-focus peripheral reference point. Anything more than that can turn you into a stop shooter, and several professional clays shooters use no beads at all. In a recent Shooting Sportsman article, seven top shooters were interviewed. Four used very tiny front beads, no one used center beads, no one used fiber-optic sights or light-pipes, and one used no bead at all.
I personally like a small brass bead at the end of the muzzle. That's it, and I never directly focus on it. The Pilad 3MOA sight is an interesting device and it may have some use for 3 gun or similar applications, but is not something I could rationally suggest for most hunting or clays applications. Anything more than a diminutive brass or nickel bead is an unnecessary distraction as far as I'm concerned.
Copyright 2017 by Randy Wakeman. All Rights Reserved.


Custom Search