---
Nikon Wins: BLACK RANGEX 4K Laser Rangefinder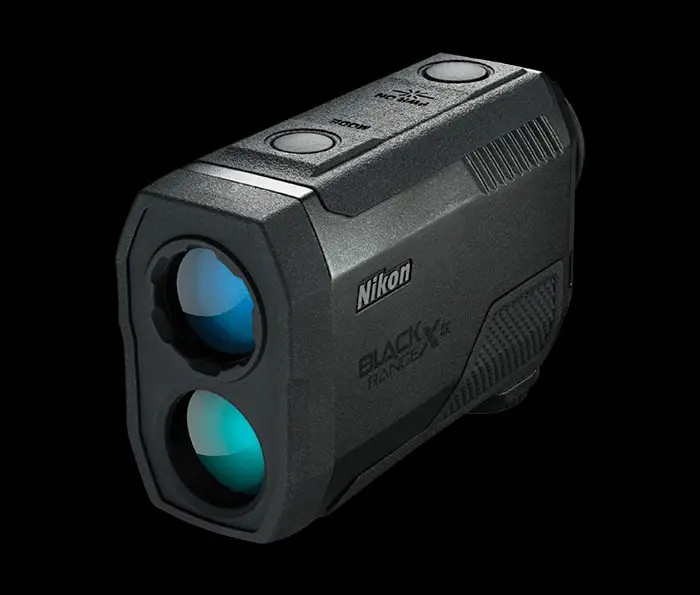 Laser rangefinders are essentially the most important hunting and shooting tools developed in my lifetime. Over the years, I've used several dozen different brands and models. Many of my earlier rangefinders were plagued by dim optics, clumsy controls, poor battery life, weak warranties, confusing modes, loud operation, slow ranging, and poor ranging ability.
Sixteen years ago, in 2003, I tested and evaluated five models: the Leica LRF 900 Scan, Nikon Laser800, Nikon Laser400, Bushnell Yardage Pro 500, and the Bushnell Yardage Pro Scout. Today, I consider all of these models obsolete except for the Leica which I still own. The old, boxy Leica is still a good, basic, line of sight only rangefinder although it really isn't competitive with the better current product models. More recently, I've compared various models from Leupold, Bushnell, Vortex, and Sig.
A rangefinder isn't much good if you can't see well through it. This Nikon Black Rangex has a diopter adjustable 6x monocular with a 21mm objective, netting you 3.5mm exit pupil. The angle compensating capability is an amazing +/- 89 degrees. Its size is 4.3 inches long x 2.9 inches high x 1.6 inches wide.
The maximum reflective range is 4000 yards, 1700 yards for a tree, and 1500 yards for a deer. It weighs just 6.3 ounces without the battery, and has a suggested retail price of $449.95. The OLED display is outstandingly good: you set it on automatic brightness mode or quickly change the brightness to one of five fixed illumination levels. This Nikon is also waterproof up to 3.3 feet for ten minutes. The battery chamber is considered rainproof, not waterproof. The CR2 battery (supplied) is good for about 9000 ranging cycles. The Nikon warranty is quite good for electronics, at five years.
When considering a new rangefinder, you can spend anywhere from a hundred bucks to $1600 for a Gunwerks G7 BR2500 model, with plenty of levels in-between. Some rangefinders are a bit too smart for their own good. By the time you fiddle with all the modes, try to pair it with your smartphone and so forth your deer has probably relocated to a comfortable condominium in San Diego. When it takes longer to read the instruction manual for a rangefinder than to clean your deer, something just isn't right. I'm happy to say that this is distinctly not the case with this Nikon.
The Nikon is light and feels exceptionally stable in the hand. You don't have any odd mode buttons on the side of the unit, just two buttons on top. Hit the button closest to you and bingo, without noise or drama, you instantly have your angle-compensated shooting range. Some rangefinders have troubles with shorter ranges, but this unit as tested ranges at 9.2 yards (Nikon states 10 yards minimum). Bow hunters won't need a different rangefinder, nor will you need anything different for setting up handgun targets at close ranges as well.
The default mode for the Black Rangex is first target priority mode. In the case of heavy brush or ground clutter at longer ranges, with a press of the mode button you get distant target priority mode. That is the only mode you'll probably ever change, although the first target priority mode is all many hunters and shooters will ever need.
While there isn't much that is truly future-proof, this Nikon is going to last you longer than your smartphone or flat screen. Compared to the better rangefinders of times past, the ranging capability of this Nikon has improved by four times, the battery life is better, the unit is faster, quieter, the OLED display is improved, and the warranty is better as well. They have come a long way. To be specific, my old three hundred dollar Nikon Laser800 (from 2003) had a one year warranty, used four AAA batteries, and was good for 1000 ranging cycles.
In 2019 dollars, the Nikon Black Rangex is less money than the old Laser 800, far less money than vintage Leica and other units. A quick street price check shows that you can get one today for right at $400 on Amazon. I do have to laugh (or cry?) when rangefinders are defined as "best for bow hunting," best for target shooting," or "best for rifle hunting" as if you need to buy two or three rangefinders. You certainly do not, as this Nikon is ideal for all hunting and shooting purposes. Nikon also has an available, well-made alloy tripod mount if you have the need.
Nikon has threatened to release an outstandingly good rangefinder for the last couple of years and now they have done just that. It is a big winner, both in performance and price, and everyone will be delighted with this unit. The design team at Nikon has done their homework here and it really shows. Although I have several rangefinders, this Nikon Black Rangex is the only rangefinder I'll be using this year and for many years to come. You'll love it.
Copyright 2019 by Randy Wakeman. All Rights Reserved.


Custom Search