Bushnell Reinvents the Bushnell Riflescope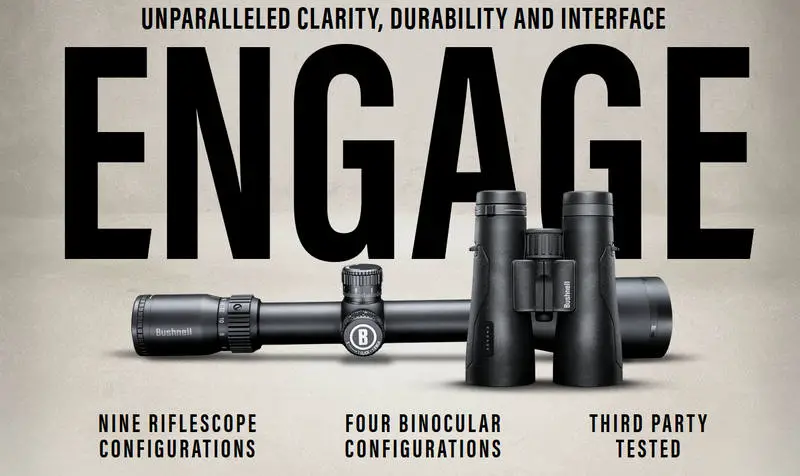 It has been in the works for some time, but now apparently at the 2018 SHOT Show, Bushnell is formally launching gan extensive line of riflescopes and binoculars, the "Engage" line. The scopes run from the $149 retail 2-7 x 36 up to the $449 6-24 x 50mm model. It is a total of nine new riflescopes and four new sets of binoculars.
The premise is ultra-premium featured scopes at a very low price. To accomplish this, the scopes are all made in PRC. One of the best-specified models as far as hunting and general purpose is the Engage 2.5-10x 44mm (part# REN21044DG) that I'll be reviewing shortly. The Engage 2.5-10x 44mm retails for $299. If you buy an Engage 30mm scope, you get a set of Engage 10x42mm binoculars for free until 1/15/2018.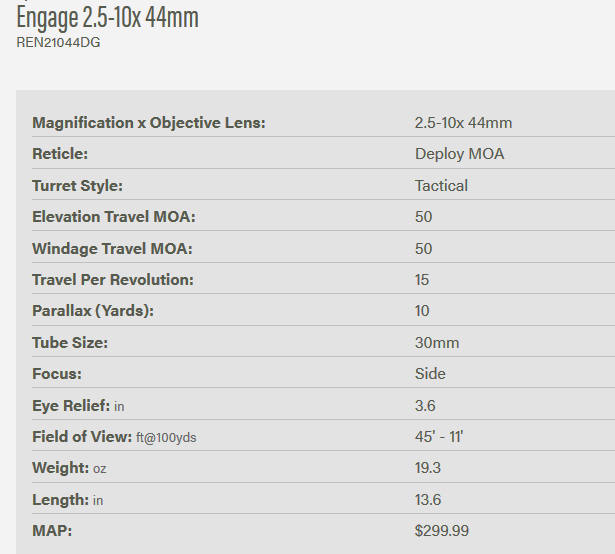 Many of these scopes have side-focus, 30mm tubes, the latest "EXO BARRIER" anti-fog coating, tooless zero reset, and the new "DEPLOY" MOA reticle as well. You can see the entire Engage line of scopes at http://bushnell.com/hunting/rifle-scopes/engage . Bushnell claims that these scopes and binoculars trash their competitors (Vortex, Nikon, etc.)under low contrast conditions in terms of clarity. It will be fun to see how it all shakes out.
Copyright 2017 by Randy Wakeman. All Rights Reserved.
Custom Search