Bushnell Engage 2.5 – 10 x 44mm Riflescope, Bushnell's Best?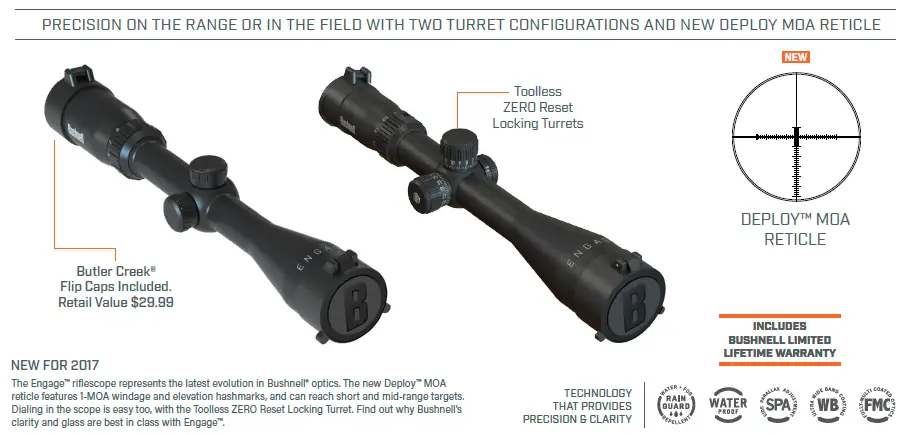 The new Bushnell Engage line of riflescopes and binoculars is extensive. The 2.5 – 10 riflescope has always been one of Bushnell's best-specified hunting scopes: there isn't much you cannot do with this zoom range. The Bushnell Elite 4200 2.5 x 10 has always been a desirable hunting scope, now called the Bushnell Elite 4500. First, the basic specs:
Magnification x Objective Lens: 2.5-10x 44mm

Reticle: Deploy MOA

Turret Style: Tactical

Elevation Travel MOA: 50

Windage Travel MOA: 50

Travel Per Revolution: 15

Parallax (Yards): 10

Tube Size: 30mm

Focus: Side

Eye Relief: in 3.6

Field of View: ft@100yds 45' - 11'

Weight: oz 19.3

Length: in 13.6

MAP: $299.99
This is a whole boat-load of features for the dollar: a strong 30mm tube, side-focus, locking tactical turrets, and included and installed pop-open scope covers. The scope adjustments are clean and crisp with no mushy feel. The interior of the scope is well-blackened, with no hint of unwanted reflection. The ocular end has a fast-focus eyebell.
One of the very few niggles about the Bushnell Elite 4200 and 4500 series 2.5-10 x 40mm is the somewhat cozy eye relief of 3.3 inches, improved to 3.6 inches in the Engage. The Engage 2.5 -10 x 44 adds 3.3 ounces compared to the one inch tube Elite 4200: that isn't much, considering the larger, heavier tube and the larger 44mm objective lens, the tactical turrets, and so forth. We would probably all prefer scopes with massive objectives that weigh a few ounces, but that isn't happening as most of the weight of a scope is the glass.
This is a bright, clear scope: it is bright at 7 AM and it is bright at midnight. The limiting factor of this scope is not the optics, but the reticle. You'll run out of reticle long before you run out of image brightness and clarity. The MOA-based Deploy reticle is easy enough to use, during daylight hours. As a low-light reticle, it does not compare favorably to any number of reticles with thicker or tapered cross-wires, center dots, or illuminated center dots. No one is going to be disappointed with the quality of the image from this scope: you won't be able to tell any difference between the image from this Engage Model and a Leupold VX-6HD 2-12x42mm. The Leupold has an MSRP of $1819.99.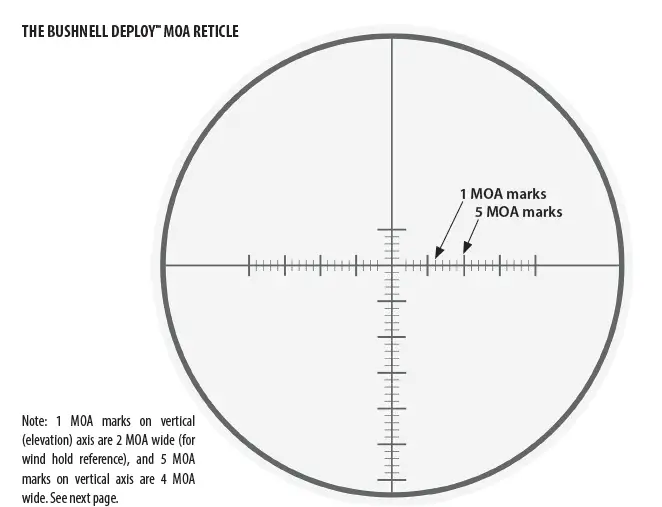 The Deploy MOA reticle is on the second focal plane. Like most second focal plane range-compensating reticles, it only works at one specific magnification, in this case 10x. 10 – 12x is just about all the magnification I'd ever use in a big game hunting scenario. If you can hit what you are shooting at, at 75 yards, 10 times magnification gives you the same image size at 750 yards.
This is an astonishing level of optical performance considering the low price point. For those on a budget, the Engage 3-9 x 40mm model has a MAP of just $149.99, with a 1 inch tube, fixed focus, and an extremely generous 4 inches of eye relief. The entire Engage line has the same, excellent grade of glass and coatings.
Bushnell does break new ground in the price / performance ratio with these riflescopes. For low light hunting, I'd sure like to see better reticle options, the only thing that this line of scopes is currently lacking. The very same reticle, but with am inky black 2 MOA dot in the center of it. would make all the difference at the end of the day. 
Copyright 2018 by Randy Wakeman. All Rights Reserved.
Custom Search