Browning AB3 Hunter Bolt-Action Rifle, 6.5 Creedmoor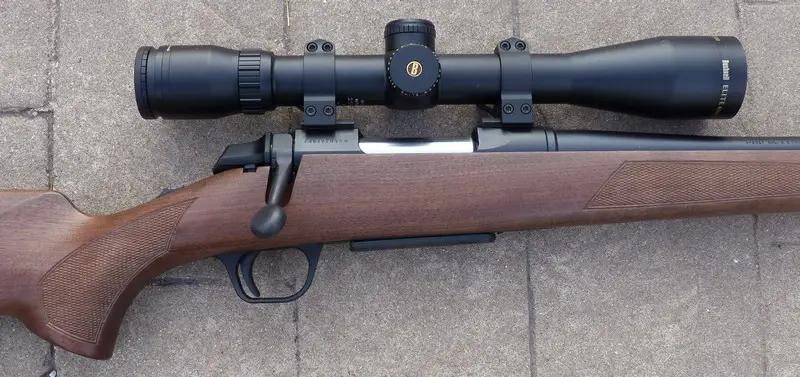 The Browning A-Bolt 3, or just "AB3" is Browning's value bolt-action rifle. Previously tested in .270 Winchester with a plastic stock, it proved to be a one-hole (three shots into 1/10th of an inch) 100 yard gun. In order to lower cost, corners were cut from the better-finished X-Bolt line. Retailing at $689, this rifle has a street price in the $580 range.
This AB3 has a straight-grained walnut stock, with the excellent Browning Inflex pad. Like all AB3 models, this rifle unfortunately has a plastic trigger guard with a sheepishly molded-in Buckmark logo, and a plastic trigger. While the bluing is not supremely highly polished, it is a higher grade of polish than the crude matte finishes that infect many entry level rifles.
On a brighter note, the trigger has an excellent feel, breaking at a crisp 4 pounds. The cut-checkering is deep and supremely functional, and the AB3 has a well-done hand filling palm swell. The AB3 tang safety is excellent: it is high enough to offer excellent purchase, is quiet, and is very easy to engage and disengage. The AB3 bolt locks closed when you engage the safety, another excellent feature, for many (most) bolts do not lock closed which is a negative in a hunting rifle: a bigger negative the brushier the terrain. The AB3 also has a 60 degree bolt lift. This AB3 is about a 6-3/4 lb. rifle, so it does shave over a quarter pound or so away from its .270 Winchester counterpart. Again, unlike many "universal receiver" models, the AB3 does not just take a long action and block off the detachable magazine as needed for short-action cartridges, it qualifies as a short action.
| | |
| --- | --- |
| Item Number 035801282 | UPC 023614442295 |
| Action Length Short Action | Caliber 6.5 Creedmoor |
| Barrel Length 22" | Overall Length 42" |
| Length of Pull 13 5/8" | Drop at Comb 11/16" |
| Drop at Heel 1/2" | Weight 6 lbs 12 oz |
| Magazine Capacity 5 | Twist Rate 8" |
| Barrel Finish Matte Blued | Stock Finish Satin |
| Receiver Finish Matte Blued | Chamber Finish Polished |
| Barrel Material Steel | Barrel Contour Sporter |
| Stock Material Black Walnut | Recoil Pad Polymer |
| Pistol Grip Cap None | Receiver Material Steel |
| Magazine Type Detachable | Trigger Guard Engraving None |
| Drilled and Tapped for Scope Yes | MSRP $669.99 |
The Browning X-Bolt Hunter remains one of my favorite rifles, and since those can currently be had in .270 Winchester for about $720, that $140 nets you a rotary magazine that fits flush, a gold metal trigger that is lighter and crisper yet, a metal trigger guard, and generally cleaner metalwork. I'm as sensitive to price points as anyone, and with the current aggressive rebate situation that complicates the traditional MSRP / street price grading quite a bit.
The 6.5 Creedmoor is remarkably soft-shooting in this rifle: a chambering not yet available in the X-Bolt Hunter. The 7mm-08 and the 6.5 Creedmoor as best I recall use the same barrel profile: that gets you a slightly heavier rifle with a slightly stiffer barrel. With factory loads, the 6.5 Creedmoor tends to be a softer shooter vs. the 7mm-08. 6.5 Creedmoor ammo tends to cost less than 7mm-08 ammo, and you have better sectional density for the same bullet weight (.264 for a 129 grain projectile), higher ballistic coefficients, and less wind drift.
That any deer could live on the difference at 100 yards, 200 yards, or 300 yards would require a special type of delusion. Nevertheless, the mild manners of the 6.5 Creedmoor with a 129 grain bullet at 2820 fps are easy to appreciate. There are hotter loads, but the Hornady American Whitetail 129 grain Interlock for example launches at about 2800 fps and stays above 2000 fps at 400 yards.
Grading the AB3 in a vacuum, it is hard to find great fault with it. It is a sub-MOA rifle with almost everything as you might expect from a Miroku-made centerfire rifle with the Browning brand on it. But, the plain walnut is just that, plain, and in the aesthetics department, the $380 - $390 Mossberg Patriot walnut is clearly the better-looking rifle. Plastic trigger guards on walnut stocked centerfires are hardly the exclusive domain of Browning, for yes, the Mossberg has one, as does the Remington 783 walnut (also $380 - $390). The AB3 is not without its other cosmetic deficiencies, for the bolt handle is sloppily cast with visible casting drip-type wrinkles on the exterior, and the protruding magazine of the AB3 is not my vision of cosmetic elegance.
THE VERDICT
The Browning AB3 Hunter is a fine functioning rifle, but it is not worth a 50% premium in my view over other rifles such as the Mossberg Patriot that are just as suitable for most hunting applications and are more pleasing to the eye. In the same price category as the AB3, it would be hard for anyone to pass up the Weatherby Vanguard Sporter that does have dashing good looks commensurate with the price and significantly more metal and less plastic.
If you want a Browning, the X-Bolt Hunter ($899 MSRP) or the X-Bolt Medallion ($1039) are two models that belong on everyone's short list.
Copyright 2017 by Randy Wakeman. All Rights Reserved.
Custom Search