2018 Fabarm ELOS D2 20 Gauge O/U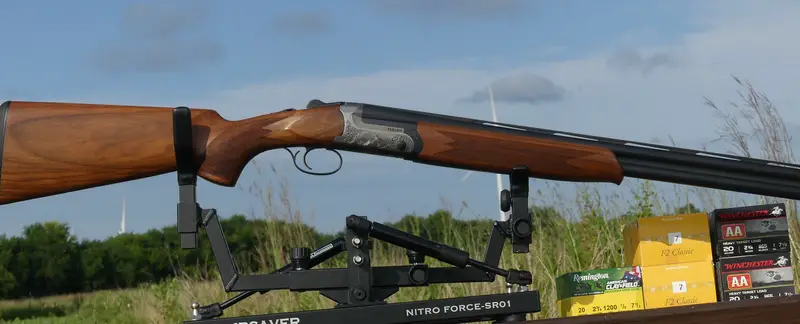 The new for 2018 Elos D2 line is available in 12, 20, and 28 gauge. These are upscale upland hunting shotguns, designed to be light and fast. They have nickel-plated alloy receivers made from Ergal 55, hand-oiled stocks, 6mm wide hunting ribs, and they all have 28 inch barrel sets. The 20 gauges that I hunt with most often are around 6-1/4 lbs. The lightest 20 gauge that I currently own is a 6.0 pound 24 inch barrel Benelli M2, the heaviest is a Miroku-made Browning Auto-Five Magnum Twenty that tips the scales at 8 pounds, 3 ounces.
Catalog weights are often not to be trusted. Here are the actual weights via calibrated digital scale of several 20 gauges that I either own, did own, or have personally tested.
Winchester SX3 Walnut Field, 28 inch, 6.5 pounds.
Benelli M2 APG 24 inch, 6.0 pounds.
Beretta 391 Urika 2 Gold, 26 inch, 6 pounds, six ounces.
Franchi Affinity 26 inch, 6.0 pounds.
CZ 720 28 inch, 6.5 pounds.
Original Browning Gold 20, 26 inch, 7.0 pounds.
Browning Silver Hunter 26 inch, 6.5 pounds.
Browning B-80 alloy, 26 inch, 6-1/4 pounds.
Browning B-80 steel, 26 inch, 7 lbs.
Beretta 303, 26 inch, 6-1/4 pounds.
Remington 1100 Sporting, 28 inch barrel, 8.0 lbs.
Weatherby SA-08 26 inch, 6.0 pounds.
Browning A-5 Magnum 20, 26 inch plain barrel, Belgium, 6.5 pounds.
Browning A-5 Magnum 20, 26 inch Vent Rib Invector, Miroku Mfg., 8 lbs. 3 oz.
Browning Cynergy Field, O/U, 28 inch barrels, 6-3/4 lbs.
Ithaca M37 Featherlight, 26 inch barrel, 6 lbs. 13 oz.
Remington 870 Wingmaster Classic, 26 inch barrel, 6 lbs., 7 oz.
Weatherby Element Deluxe Walnut, 28 inch barrel, 6 lbs., 7 oz.
The Elos D2 20 gauge weighs 5.75 lbs., not just lighter than any 20 gauge shotgun that I own, but lighter than any shotgun that I own. Back in 2007, I used a Cynergy Classic Field O/U with a hard plastic butt-plate that weighed in at 6 lbs. 3.5 oz. That Cynergy was pleasant enough to shoot, but only with 7/8 oz. loads. One ounce loads got old in a hurry. This Elos D2 shaves almost ½ pound of weight from that Cynergy. The Fabarm Elos D2 it is lightest 20 gauge I have ever tested, the lightest O/U I've ever tested, and the lightest shotgun I've ever tested in recent memory.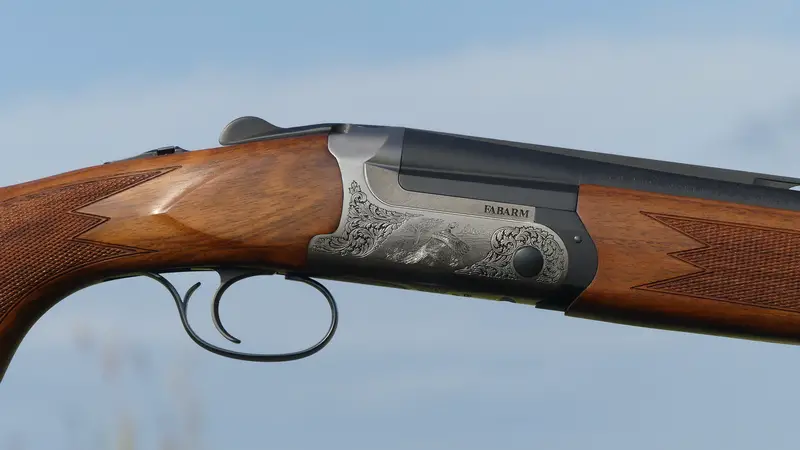 The coil-spring box-lock Elos D2 20 gauge is a gorgeous gun. The oil-finished walnut is well-figured, the pistol grip has a subtle right hand palm swell, and the engraving is crisp and nicely inked. Like most Fabarm shotguns, the Elos D2 20 gauge has Tri-Bore barrels, a 1630 BAR proof level, is 100% Made in Italy, and all choke tubes regardless of constriction are rated for steel. The Elos comes nicely presented in an Integrale hard case. MSRP is $2595 for the D2, regardless of gauge, and dealers normally discount from that level as they see fit.
Who is this gun for? It all depends on your intended use. I use 20 gauges a lot: 1 oz. of #7-1/2 for doves, 1 oz. of #6 for pigeons, and 1-1/4 oz. - 1-5/16 oz. of buffered #5's for wild pheasants. 1-1/4 oz. out of any 5-3/4 lb. shotgun is not going to be the perfect definition of great fun. This gun does have 3 inch chambers, so you can blow 1-1/4 oz., 1-3/8 oz., or even 1-1/2 oz. out of the pipes . . . but you won't want to.
If your typical hunting use is no more than 7/8 oz. payloads, then you are probably in luck. You'll have a shotgun that is lighter than most 28 gauges, with a wider ammo selection and far more economical ammo to choose from as well. Few things substitute for payload, so with high-antimony shotshells (AA, STS, Gold Medal) you can expect better patterns with 7/8 oz. as compared to the classic 3/4 oz. 28 gauge loads as well. For quail and woodcock, 7/8 oz. of #8 shot is about 357 pellets, about 303 pellets in #7-1/2 shot, so you can well-populate a pattern at short to medium ranges.
Yes, the Fabarm Elos D2 20 gauge kicks. It would take a new branch of physics to suggest that a 5-3/4 lb. O/U doesn't kick. Though this gun fits me well, is easy on the eyes, and performs flawlessly, it just isn't for me. While 7/8 oz. loads are quite manageable, the difference in moving incrementally up the intensity scale is easy to feel. 15/16 oz. loads are a little perkier, but 1 oz. loads get old in a hurry. For hunting with a 20 gauge, I rarely use less than 1 oz. for dove and pigeon, and pheasants get 1-1/4 – 1-5/16 oz. loads while turkeys get 1-1/2 oz.
The more you carry this gun and the less you shoot it with heavier loads, the happier you are going to be. Certainly, an ounce of #6 shot does the job for preserve shooting in most cases, but for any significant volume of shooting, you probably won't like anything more than 7/8 oz. 1200 fps loads.
The Fabarm Elos D2 is a beautifully made gun, to be sure, and qualifies as the "joy to carry" genre of shotgun better than many so-called light, feather-light, and super-light models. The triggers are crisp, the ejectors work with authority, and the primer hits are positive. The tang safety has better purchase than most, making it usable with cold or gloved hands. It is easy to get a kick out of this shotgun, quite literally, and although others may well find its extreme light weight appealing, for the typical hunting uses I have for a shotgun, it isn't a practical choice.
Copyright 2018 by Randy Wakeman. All Rights Reserved.

Custom Search