2017 Rangefinder Roundup and the Vortex Ranger 1500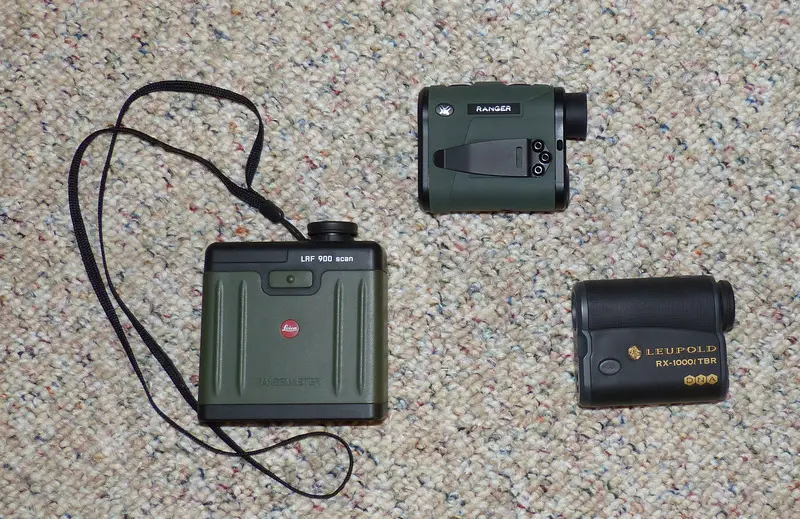 I consider the laser rangefinder one of the most valuable hunting accessories that there is today. The utility junction box that resides in the corner of my lot is not a thing of beauty, but I have gazed at it countless times over the years if for no other reason than, "it's there." I've also shot bags full of pesky ground squirrels and rabbits in that area that enjoy digging and nibbling at things I don't want subjected to such nibbles and digs. Anyway, I always knew that utility box was 35 yards from my porch; I absolutely just knew it. A touch of the button on my first rangefinder instantly displayed 48.0 yards, so much for my knowledge.
The target area that resides across a pond with a generous clay-based backstop has been used to sight-in rifles pre-hunt for years. We all knew it was about 100 yards from our bench. Again, the laser revealed us to be horribly off; it is 120 yards on the nose. Many of us feel our step is about a yard, we certainly felt that when we paced off 75 yards to set up targets. Well, it was a laser-verified 85 yards. I think you get the idea.
Back in 2003, I tested and evaluated five models: the Leica LRF 900 Scan, Nikon Laser800, Nikon Laser400, Bushnell Yardage Pro 500, and the Bushnell Yardage Pro Scout. Today, I consider all of these models obsolete except for the Leica, which is still a good, basic, line of sight rangefinder today.
In 2009, I tested the then-new Leupold RX-1000 rangefinder. It instantly became my favorite laser rangefinder and has been on every hunt with since then. Back then, I mentioned that it takes a lot of combinatorial features to make a good rangefinder, even more to make a truly outstanding one. Leupold had really hit a home run there. It is the best rangefinder I'd ever evaluated in terms of practical, real-world field use. The RX-1000 soared to the top based on size, ease of use, an outstanding LED display, and outstandingly good image quality. It was a privilege to test an item that good.
In 2011, Leupold promised an even better version of the unit: this RX-1000i TBR digital rangefinder. The basic platform and specifications were unchanged from 2009.
Actual Magnification 6x
Max Range (Reflective) 1000 yd / 914.4 m
Max Range (Trees) 700 yd / 640.1 m
Max Range (Deer) 600 yd / 548.6 m
Min Range 10.0 yd / 9.1 m
Linear Field of View (ft/1000 yd) 320
Linear Field of View (m/1000 m) 107
Angular Field of View (degrees) 6.0
Weight 7.8 oz / 221 g
Length 3.8 in /  96.5 mm
Width 1.3 in /  33 mm
Height 2.8 in /  71.1 mm
Obj. Aperture (mm) 22
Exit Pupil (mm) 3.6
Eye Relief (mm) 14
There is a lot of confusing information out there. For example, the Bushnell "Elite 1 Mile ARC" touts 1760 yard ranging performance, but claims 500 yards on a deer, remarkably less than the Vortex claim of 750 yards. There is one additional new model of rangefinder that's piqued my interest: the Nikon MONARCH 7i VR that uses a LCD display, but is the first rangefinder to add image stabilization which Nikon calls "Vibration Reduction." It is in transit and will be covered as soon as possible in its own review.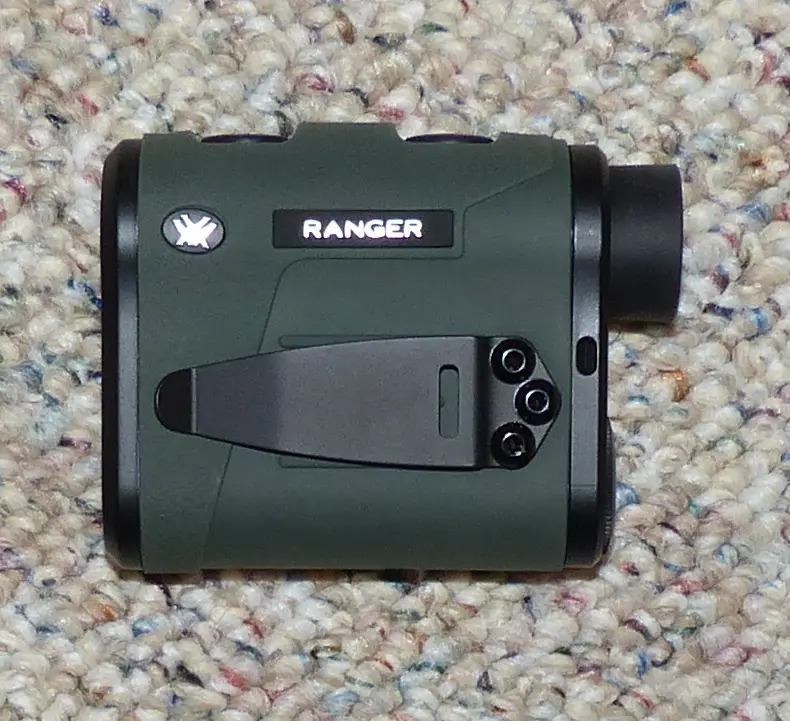 Now comes the Vortex Ranger 1500, very similarly configured with a 6x22mm monocular.
| | |
| --- | --- |
| Range Reflective | 9-1500 yards |
| Range Deer | 9-750 yards |
| Accuracy | + / - 3 yards @ 1000 yards |
| Max Angle Reading | +/- 60 degrees |
| Magnification | 6 x |
| Objective Lens Diameter | 22 mm |
| Linear Field of View | 315 feet/1000 yards |
| Angular Field of View | 6 degrees |
| Eye Relief | 17 mm |
| Length | 3.9 inches |
| Width | 3 inches |
| Weight | 7.7 ounces |
What about the Vortex Ranger 1500, and why would you want it?

For starters, it has the best warranty in the industry, by no small measure: Lifetime, No-Fault, and transferable. That blows every competitor out of the water quite handily. The Vortex VIP Warranty: "Unlimited Lifetime Warranty. Fully transferable. No warranty card to fill out. No receipt needed to hang on to." It is the best in the industry.
Optically, the monocular of the Vortex Ranger 1500 is good, but equivalent to the Leupold units and others that are fully multicoated with 22mm objectives. There is essentially no difference that I can detect.
The Vortex unit ads a tripod adapter that the Leupold and others lack. There are three brightness settings the red display, the same as the Leupold and a few others. The Vortex unit has a clip mount, not something I would use, but you can move it to either side of the unit or remove it completely.
Vortex suggests the use of their "HCD Mode," Horizontal Component Distance, which is the same as the "shoot as if"range or "true ballistic range" by others using an inclinometer. You can use the standard range, the Line of Sight Range" if you prefer. The Leupold has a better, quieter magnetic closure case, and has three reticles to choose from. The Leupold also has more modes, a bow mode, and holdover modes in milliradians or MOA. The current Leupold RX-1200i claims 1200 yards on a reflective target, 900 yards on trees, and 800 yards on deer.
It is apparent that Vortex has gone for ease of use with the Ranger 1500 over other factors. Though these units are closely matched, the Vortex will out-range the Leupold due its tripod mount and what really gives the Vortex the edge is their ridiculously good warranty. The Vortex is a completely worry-free purchase, the only rangefinder most hunters will ever want or need, and could very well be the last rangefinder you ever buy. It is easy to recommend this unit, and I'm quite happy to do just that.
For more info, see http://www.vortexoptics.com/ .
Copyright 2017 by Randy Wakeman. All Rights Reserved.
Custom Search