---
The Savage 10ML-II Muzzleloading DVD is available from Amazon: https://www.createspace.com/383633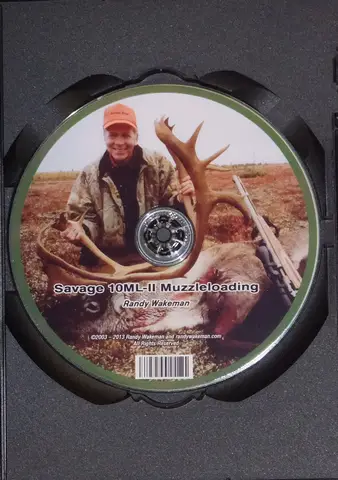 SAVAGE 10ML-II PARTS--- SORRY - No Credit cards accepted. --- Just print out this page, circle what you'd like, and simply send a check or money order along with your order as you prefer. PayPal is accepted for small parts and DVDs only for your convenience-- not for muzzleloaders or stocks. PayPal, owned by Ebay, is loudly anti-gun so it really makes no sense to fund them. So, add 10% for PayPal orders-- and that 10% is going to the Illinois State Rifle Association, see: http://isra.org/ . If it wasn't for the ISRA, there wouldn't be much legal hunting or shooting in Illinois.
PLEASE ADD $7.00 S&H PER ORDER
(not per item, per entire order of breechplugs, ventliners, DVDs, powder vials, etc.)
Powder Vials: $1 each, sold in ten packs. Extra-tough powder vials, with moisture-proof blue caps, ideal for Blackhorn 209 or smokeless charges. Shown above with 80 grains by weight of Blackhorn 209 inside: they are about 3-3/8 inches long including cap. Propellant not included, naturally.
10ML-II breechplugs: The easiest to use muzzleloader on the market just got even easier with the new 3/8 inch socket head breachplug that makes breech plug removal a cinch with no special tools, no loosening of the stock's integral bolt stop screw. $35 each.
10ML-II Ventliners: The most accurate, longest lasting ventliners ever made: 400% the life! 4 pcs. for $35 Half the carbon!
----------------------------------------------------------------------------------------------
STOCKS:
Note: If changing out a synthetic stock to a laminated, you will need a screw set as the thicker laminated stock requires longer screws.
Factory NEW standard Savage 10ML-II LAMINATED STOCKS: $259 + $10 UPS shipping for the lower 48 states, no stock screws supplied. Add $12 for screw sets if needed. Screws are supplied only with stocks. These are fully finished, 100% drop-in factory stocks. Stocks can be shipped to Canada: add $35 shipping and handling.
NOTE: Thumbhole laminated stocks are no longer available.
***Serial number of muzzleloader must be included to get correct stock with proper action screw spacing.*** If your 10ML was made pre-2010, it has the old spacing. If you bought it new in 2010 or later, it may have the NFS action screw spacing. So, yes, now there are a total of eight different 10ML-II stocks in the system. ***
When mailing in an order, please include a note stating what exactly you are ordering, the ship to address, and your complete contact information.
RANDY WAKEMAN, 12362 S. OXFORD LANE, PLAINFIELD, IL 60585
Email: randymagic@aol.com
---
Custom Search