Weatherby Element 12 gauge Inertia Autoloader

Starting with the walnut deluxe versions (I previously reviewed a 20 gauge), Weatherby has expanded their Element inertia gun line into lower price-point models. This is the 26 inch Waterfowl Camo model, with a synthetic stock, that hits the streets at $680 or so, with black synthetic models at $580 or so. The walnut Elements are at $920 street price, approximately.
This 26 inch Element Waterfowl Max 5 Camo autoloader weighs 7-1/4 lbs. and has a 6-1/4 lb. Trigger. It is made in Turkey by ATA Arms, as are the 12 and 20 gauge Weatherby SA-08 gas guns. It comes with three flush standard Invector style chokes, plus a "long Range Steel Waterfowl extended choke and stock shims as well. It is a version of the ATA Neo inertia gun which is essentially the Bruno Civolani inertia gun most often associated with the Benelli brand. A black synthetic Benelli Montefeltro sells for about $1000 the black synthetic Weatherby Element sells for $580 or thereabouts. At 40% less for the Element, it is dramatically less the Montefeltro and still less costly than the black plastic $720 Franchi Affinity.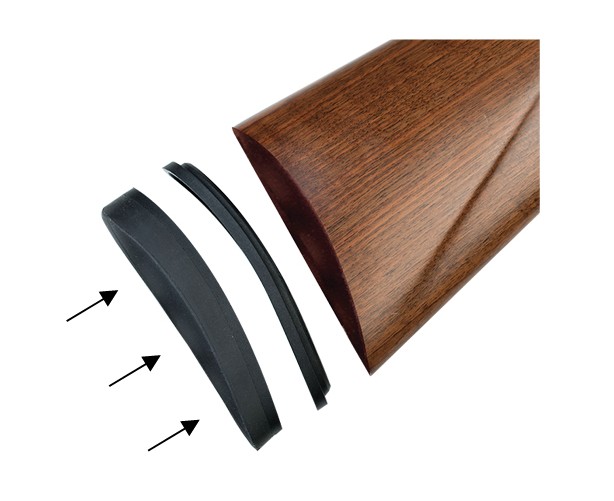 The Weatherby Element Waterfowl Camo is not completely free of areas to quibble about. The trigger guard safety, at the back of the trigger guard, is triangle shaped and is truly dinky: not anyone's first choice for a duck gun. The Weatherby Element also suffers a bit from "Wacky Buttstock Syndrome," as does the Franchi Affinity and numerous other shotguns that have goofy buttstocks for no good reason. The end of the Weatherby Element buttstock is concave, or dished out. The recoil pad is just a piece of solid rubber, convex to mate with the concave butt. It means that replacing the factory pad is problematic or a royal pain, take your pick, for the popular Limbsaver, Kick-EEZ, and Pachmayr replacement pads have little hope of fitting. Some ATA Neo models come with 5mm spacers to adjust the length of pull, but the Weatherby Element does not.
On the plus side, just like on some of the Weatherby Vanguard rifles, the synthetic plastic Griptonite® stock has rubber pistol grip and forend inserts which I like and is a good-looking, comfortable solution to overly-slippery plastic stocks.
This Weatherby Element, right out of the box with no cleaning and no "break-in," functions flawlessly with 1180 fps 1 oz. loads, 1145 fps 1-1/8 oz. loads, and 1230 fps 1-1/8 oz. loads. The recently tested Breda Xanthos Damasco ($2999) jammed repeatedly and consistently with all three of these loads. The Browning A5 "Kinematic Action" 26 in. camo 3 inch 12 gauge retails for $1629.95, yet this Weatherby Element at $680 street price is, overall, a far better shotgun.
According to my shoulder, synthetic-stocked inertia guns are a bit softer-shooting than their walnut-stocked counterparts. The Weatherby Element, in this specific configuration and in 12 gauge, rates as the best in class, the best for the dollar, and one of the best 3 inch inertia hunting guns on the market. The Weatherby Element loads as smoothly as any inertia gun I've tested, better than most, the Griptonite® rubber panels on the forearm and buttstock make it comfortable and easy to hang on to, the sling studs are metal, not the cheap molded-in type as found on a Franchi Affinity or Benelli Montefeltro, and the Element is extremely well-balanced and very smooth-swinging as well.
If Weatherby keeps this up, they are going to put Benelli and Franchi out of business. The Weatherby Element 12 gauge is one of those rare offerings that combines excellent function, excellent machining and assembly, along with a very appealingly low price tag.
Copyright 2016 by Randy Wakeman. All Rights Reserved.

Custom Search