---

Point of View Video for Hunting and the Outdoors
The quest over the last few years for usable wingshooting video has been, in large measure, an exercise in frustration. While dedicated camcorders do a fine job from a blind, when you are constantly on the move a lighter, more compact solution is desirable.
The pinhole type "spycam" glasses offer what I consider unacceptable video quality, as in the i-Kam Xtreme Eyewear and related attempts. The cheaper clip-on cameras, such as the Tachyon OPS Helmet Cam, are better in the general quality department but plagued by poor battery life and non-replaceable batteries. Still, there is often obvious write-lag as our little plastic Chinese friend struggles to keep up with what it is capturing. You can see the stutter, judder, and the fabulously mediocre video quality in this 58 second clip, as Buddy the Wonderdog finds a nervous wild pheasant.
The next step up the food chain was the ContourHD 1080p Wearable Camcorder. The Contour and Drift branded cameras fall into the same general class as the market-leading GoPro Hero series of cameras. The fish-eye effect is not what I consider quality video, a little of it goes a long way. In a head-mounted camera, the wide-angle may annoyingly inject the brim of your hat or the side of your head into the video. The frame grab below is from the ContourHD. I'm actually wearing a blaze orange hat, yet far too much of the image is obscured by it and the image quality in general is forgettable.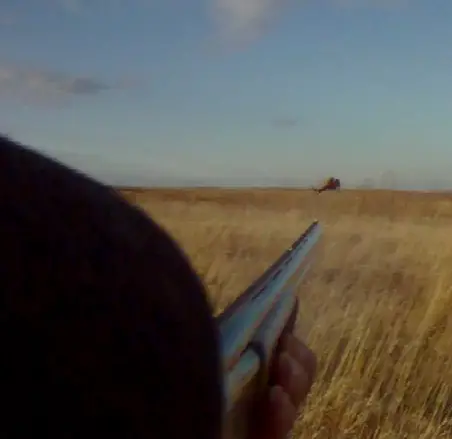 There are other contraptions for the shooter, like the $649 Shotkam that offers low resolution HD (1280 x 720P) at 60 frames per second. There are so many things in hunting and shooting worth capturing other than just a firearm discharging that for me, a camera mounted to the gun isn't a good idea. Anything you want to record to video requires that you actually point your gun at it, it is just exactly what I'm not looking for. You can't possibly capture any sense of the outdoors or the spirit of the hunt just with something solidly affixed to your firearm.
Economical "point and shoot" style still cameras have dramatically improved over the last few years. The move from CCD type sensors to BSI-CMOS sensors has helped the video quality, to the point where now several models offer true HD 1920x1080p 30 fps video, or better. You might wonder why I need 1080p video? The 1920x1080p video is good enough for prints with a frame grab. In fact, some footage can be a pleasing 8 x 10 print. Here's one example, a frame grab from the Panasonic ZS-15. It looks very satisfying as a framed 8 x 10 on my wall.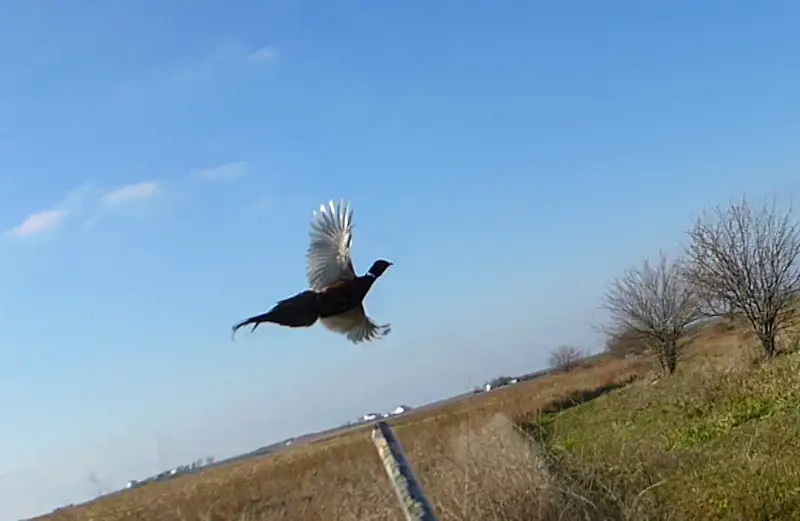 The above video was taken with the Panasonic ZS-15, attached to my cap using its tripod mount. The camera was set to its starting 24mm equivalent wide angle setting. For ease in editing, the video was captured in MP4 format, "FHD" mode which is 1920x1080 to Panasonic. Continuous auto-focus was on and "Wind Cut" mode was engaged.
I don't want to give you the impression that this is the perfect solution; it isn't. MPEG-4 format, considered a jump up from the "Motion JPEG" used in earlier cameras, still has a file size limitation. That file size limitation is about 24 minutes of video @ 1920x1080p, or 4GB file size. It means that your camera will just stop recording after 24 minutes, so you'll have to hit a button to turn the video on and off to start a new capture file. Video capture also eats batteries, so I'm carrying three batteries with me starting out and I also use a 32GB SDHC card . . . good for roughly 3.2 hours of HD video. You'll have a lot of non-eventful footage, I sure do, so the vast majority of the footage is deleted and never transferred to your PC.
The Panasonic ZS-15 is a good choice, reviewed elsewhere on this site. You'll likely want a compact camera no heavier than the ZS-15 (.46 lb.), in general you'll want a 24mm - 25mm wide angle, at least 30 fps frame rate, make sure you can change the battery while the camera is mounted on the tripod mount, make sure the camera is somewhat centered and balanced on the tripod fitting, and battery life is of course an important consideration as well. Not only is video high-drain, but battery life diminishes in concert with colder weather.
The ZS-15 is not part of the class of "rugged" cameras, the adventure type waterproof point and shoot line that claim to be shockproof, dustproof, and freeze-proof. The "freeze-proof" typically does not mean much, 14 degrees F. is a common rating, and the shockproof also is typically just a 6.6 ft. drop. The stated operating range of the ZS-15, many lithium batteries, etc., is 32 degrees F. on the low end. It is overstated, apparently more to keep people from complaining about dead batteries and fogged-up cameras than anything else. Within limits, the biggest consideration is battery life. Other than that, just being generally careful and allowing your camera to warm up slowly after being out in the cold can extend the usefulness of a digital camera significantly before you might start looking at cameras with onboard battery heaters and the like.
The main disadvantage of the "rugged" type of compact digital camera is that you have an extra layer of glass between the lens and what you are trying to image, so quality of the images often takes a very noticeable, unacceptable drop. Inexpensive compacts don't come with fast f/1.4 lense arrays, so they need all the help they can get at dawn or dusk.
Related:
http://randywakeman.com/ReviewPanasonicLumixZS15vCanonSX230HS.htm
http://randywakeman.com/DigitalHuntingandOutdoorsCameras.htm
Copyright 2012 by Randy Wakeman. All Rights Reserved.

---
Custom Search