---


LHR Redemption Inline Muzzleloader, Part One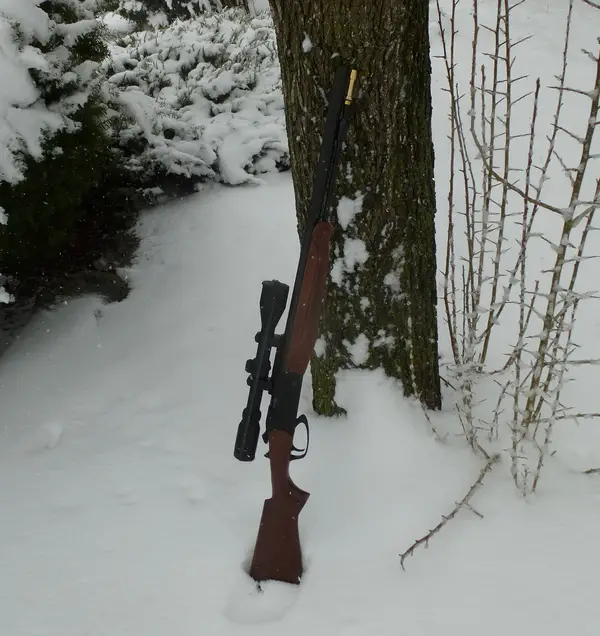 Above: The LHR Redemption in the falling snow, the same day as received. A Burris Signature Select 3-10 x 40mm BallisticPlex riflescope is mounted to the Redemption's supplied and pre-installed Weaver-style one piece base. I used Warne Maxima steel medium height one inch Quick Release rings.
While hunting participation is back on the upswing, innovation in muzzleloading has taken a downswing. Since Thompson was acquired by S & W, it seems that Smith & Wesson has done their level best to destroy the T/C brand and has largely succeeded. The Thompson-Center Arms facility in Rochester, New Hampshire has been closed. T/C sidelocks are no longer in production, and apparently the T/C Omega inline has met the same fate. Savage Arms has suspended production of the 10ML-II while they continue to work on their twenty week backlog. With the loss of the Omega, the most successful modern inline and the Savage 10ML-II, so goes two of an increasingly rare breed: affordable, yet high quality American made muzzleloaders with sealed actions. I've had very positive results with the Omega since it was first released, and the Savage 10ML-II since the Accu-Trigger was added but both have seemingly faded into the sunset.
From the tattered tapestry of Thompson-Center in New Hampshire has emerged LHR Sporting Arms, and with it the first truly innovative inline muzzleloading rifle in more than a decade: the LHR Redemption. Announced late 2012, there were Redemption Limited Walnut Editions offered to kick things off, which have all been recently shipped. There are the basic flavors of the Redemption, the $599 Composite / Armornite, the $649 Camo / Armornite, and the $799 Walnut / Armornite. All three versions come with a Weaver one-piece base pre-installed and Williams Fiber Optic sights are also included that you can pop on if you wish, or if you want a clean barrel just use the included filler screws and go with optics alone. In general, I like to use Warne Maxima Quick Release rings so I'm good to go, regardless.
WHAT IS THE BARREL MADE OF AND WHY SHOULD I CARE?
The Redemption "Armornite" barrel is, at first glance, just a blued barrel. It is actually a lot more than that. The parent material is 41410 Chrome-Moly steel, it has a 1:28 rate of twist. The LHR trademark Armornite is a first-ever in a factory inline muzzleloader, it is treated inside and out with the Melonite process. There are three basic types of Melonite processing, which is a form of molten salt bath ferritic nitrocarburizing.
Melonite Q
Improved Wear Resistance
Improved Running Properties
Increased Fatigue and Rolling Fatigue Strengths
Heat Resistance
Black Color
Melonite QP
lncludes the properties of Melonite Q
Lower coefficient of Friction
Decreased surface roughness
Melonite QPQ
lncludes the properties of Melonite Q and QP
Low Light Reflection
Further Decreased Coefficient of Friction
Enhanced Corrosion Resistance
You might be familiar with the Glock "Tenifer" nitrocarburizing used on their pistol sides and the Ithaca "Perma-Guard" used on Ithaca M37 Waterfowl Models. Ithaca applies Perma-Guard to essentially the entire shotgun, except the hammer, springs and firing pins.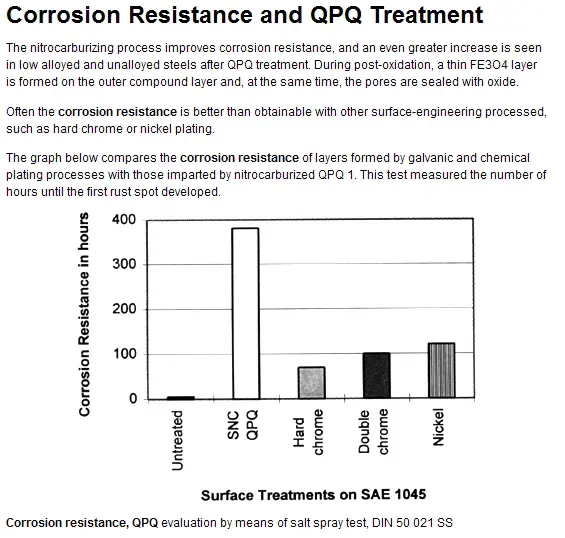 LHR uses the Melonite QPQ process, with a low coefficient of friction, smooth finish, low light reflection, and far better corrosion resistance than stainless steel. I'm familiar with the testing done by Ithaca, inclusive of burying treated parts for over two months with no signs of corrosion, and passing brutal tests for salt spray, submersion and scratch resistance. This has never been done as a factory standard to a muzzleloader before and all I can say is that it is about time. It obsoletes stainless steel as a muzzleloader barrel material with little question. The Melonite QPQ corrosion resistance is compared to other surface treatments via salt spray test in the graphic above.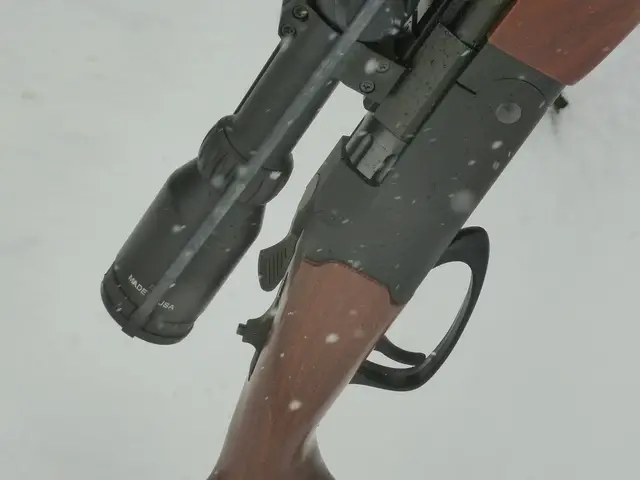 TRIGGER / FIRING MECHANISM
The trigger of the LHR Redemption breaks at 3-1/4 – 3-1/2 pounds with very little take-up, no grit, no sand, just a clean glass-rod break. That alone is remarkable for an out of the box inline muzzleloader and rifles in general.
The LHR Redemption is striker fired. The simplest definition of a striker I can come up with is a firing pin with a spring around it. It means no hammer, external or internal, and very fast locktime. There is no turtle-slow locktime as you find with an external hammer gun, no waiting for a hammer to fall when you pull the trigger.
To cock the Redemption, you push the tang safety forward with your thumb. I'm calling it a tang safety, but LHR refers to it as the "Cocking Slide." It does take more force than just knocking off a conventional safety, it is a very deliberate action. Unlike an exposed hammer gun, it makes no significant noise, no scratchy metallic sounds or loud click. Just because you have move the safety forward and have cocked the gun does not mean that you have to fire it, not at all. Just press on the generous button in the center of the safety (as you can see in the image above) and the Redemption instantly decocks.
USEABLE BARREL LENGTH
Out of the box, the Redemption weighs about 7.1 pounds according to my Lyman trigger gauge. The stated barrel length is 24 inches. Historically, muzzleloading manufacturers have had several unique, puzzling, sometimes baffling ways of measuring their barrels, often including barrel length you can't burn powder in. What counts is actual usable barrel length, as the mile-long interrupted thread breech plugs and various QLA or oversize false muzzles with no rifling consume usable barrel length. The Redemption is fully rifled to the end of the muzzle.
For comparison's sake, the 24 inch barreled Savage 10ML-II has a 22 inch effective barrel length; its factory ramrod that fits flush with the muzzle when inserted into the barrel is 22 inches long. The LHR Redemption's 24 inch barrel has about a 23 inch usable barrel length, as measured by tape measure from the muzzle. My Encore Pro Hunter has a advertised "28 inch barrel" that measures 26 inches from muzzle to breechplug. After that, you can subtract the QLA for a usable barrel length of just over 25 inches. The "shortest usable barrel length award," if there is such a thing, goes to my .50 caliber T/C Contender G2 that has a usable barrel length of 20-3/4 inches.
A more accurate comparison by the part of the barrel you can actually use is T/C Contender G2 @ 20.75 inches, Savage @ 22 inches, LHR Redemption at 23 inches, and the T/C Encore at 25 inches. While it wouldn't be correct to say that barrel length doesn't matter, based on prior testing I can tell you that it matters very little with the more energetic blackpowder replacements after you get to a certain length. I'll record actual muzzle velocities with Blackhorn 209 for you, via Magnetospeed Chronograph, as soon as I can make it out to the field.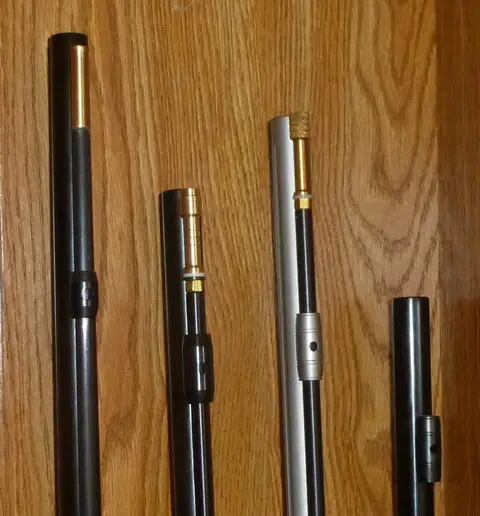 In terms of overall length, here's how a few of my regular test guns stack up. Left to right, Savage 10ML-II, LHR Redemption, T/C Encore Pro Hunter, T/C Contender G2. In a tight tree stand or ground blind, less can sometimes be more.

HANDLING
The three available configurations of the Redemption are all roughly seven pounds with a 41 inch overall length and a 13-1/2 inch length of pull. Those familiar with synthetic stocked versions of the T/C Omega and the Savage 10ML-II will understand why I strongly prefer the laminated stocked versions of both, for they both a "pig on a snow-shovel" type of nose heavy with plastic stocks, but far better balanced with heavier laminated stocks. The Redemption doesn't have that issue as supplied with walnut stocks; I'm told that the balance is similar with its composite stocks as well, though I'll comment directly on that when I get my hands on a sample LHR synthetic stock set to compare. Another issue, for some, is the small trigger guard on the Omega: something to be expected when the trigger group has to drop through the stock. Those with larger paws will be delighted to find that the Redemption trigger guard is comparatively huge.
That about wraps it up for the preliminary discussion of the LHR Redemption. Much more to follow as soon as range conditions cooperate. According to Patrick Hanley of LHR, all three models are available right now. If you can't wait for "the Wakeman" to tunnel through the snow, I well understand that, and you can order yours today directly from http://lhrsportingarms.com/index.html . As for the choice of walnut vs. synthetic, the walnut is all I've seen as of this juncture, but with the prices of walnut these days many will likely opt for the synthetic version which also has molded in checkering. I'll be shooting the Redemption out to 250 yards at least, if not 300.
Apparently Mark Laney has already recorded some 1-1/2 inch, 200 yard groups under ideal range conditions and several consecutive 2 inch, 200 yard groups. Naturally, that isn't going to happen with just anything we feel like to shoving down the muzzle, we have to work up loads as is the case with any muzzleloader, but it all sounds very promising. For more detailed information on the Redemption, you can download the owner's manual directly from the LHR Sporting Arms website that offers more specific information than covered in this introductory article.
The general 3 foot muzzle velocities that can be expected with Blackhorn 209 and a 300 .45 / 50 grain saboted projectile are:
80 gr. Volume BH209 1650 FPS (56 grains weight)
100 gr. Volume BH209 1850 FPS (70 grains weight)
120 gr. Volume BH209 2050 FPS (84 grains weight)
For 250 grain saboted bullets, you can add approximately 100 fps to these numbers.
Continued at: http://randywakeman.com/LHRREDEMPTIONPartTwo.htm
Copyright 2013 by Randy Wakeman. All Rights Reserved.
---
Custom Search