---
North American Arms
Mini-Master Revolver
The North American Arms "Mini-Master" came supplied with twin, interchangeable cylinders (.22 LR and .22 WinMag), a 4 inch barrel, and weighs just over ten ounces. An easy way to look at this piece is as a long barreled version of the popular NAA "Black Widow": same basic platform, but twice the barrel at a 'cost' of less than two ounces in weight gain.
It is a dream to shoot, and shoot accurately. The longer sighting plane, wide flat rib, and adjustable sights makes it instinctive to point and shoot. I didn't expect a very good trigger with this type of ultra-reliable pocket gun-- but, I sure got one. It breaks right at 4-1/4 lbs., crisp and cleanly. Shooting offhand at 10 yards, I was able to keep all five rapid-shots inside the "Pepsi" circle of a can of diet Pepsi with Lapua Hollow point .22 LR ammo-- superb accuracy for a gun of this type. Sadly, I've run out of stuffed "Barney the Dinosaurs"-- my preferred headshot practice target. With the extra barrel length, a goodly number of .22 LR rounds will break 1000 fps muzzle velocity with no trouble.
It is a fun gun to carry and to shoot. Immensely safe to carry as well with the notched cylinder system found on NAA mini-revolvers. It is a snap to set into inert carry position: the cylinder notches on the side of the cylinder are easily positioned so there is a cylinder notch positioned equally to the left and to the right of the top of the frame-- you can also verify this looking at the back of the revolver, quickly noting that the hammer is centered between the web of the cylinder, with brass on both sides of it. With the hammer let down into the safety notch, I suspect you could pound on the Mini-Master's hammer with a sledgehammer without causing the gun to fire. No, I've not tried it. It is clearly a positive, mechanical hammer block.

Perhaps due to more urban residents than rural, many of us are isolated a bit from the way things work. A .22 LR round between the eyes of an adult steer sends then down-- straight down, and for good. Common knowledge on the farm, but something city residents just don't see everyday. (Steer slaughter weight runs from BIF frame score 2 as 850 lb. to BIF frame score 9 as 1550 pounds. Heifers go from 700 to 1400 lb. with the same frame score.)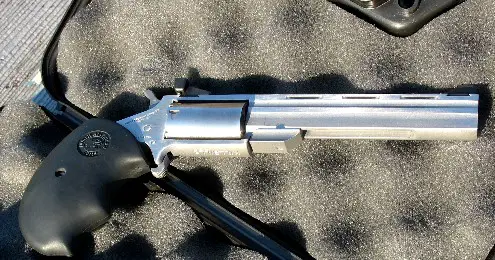 I don't want to give the impression that this is a large or bulky revolver at all-- it certainly isn't.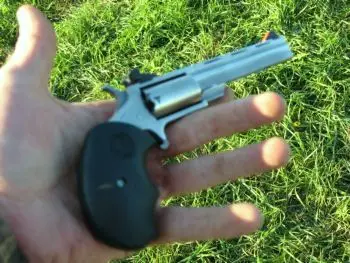 Easy to handle, easy to shoot and shoot well-- built with rugged simplicity with good metallurgy that equates to reliability, this NAA revolver does everything I could expect a handgun of this type to do, and it does it five times without fail. That it fits effortlessly into a glove box, a purse, or a small attaché' (and other places limited only by your imagination) brings back the saying "God made man and woman; Col. Colt made them equal."
For intimate self-protection, it seems that the North American Arms team has done just that.
Added note:
CCI Velocitors have done very well out of this pistol: avg. velocity of 908 fps, with a standard deviation of less than 20 fps.
Copyright 2006 by Randy Wakeman. All Rights Reserved.
---
Custom Search