---
i-Kam Xtreme Eyewear and Tachyon OPS Helmet Cam: Two Video Gadgets for the Outdoors
The falling prices of memory and the low prices of Chinese electronics have given rise to several innovations in cell phones, digital cameras, and video acquisition devices. The I-Kam glasses and the Tachyon OPS minature video camera are two devices I've been experimenting with for the last couple of months.
I-Kam Xtreme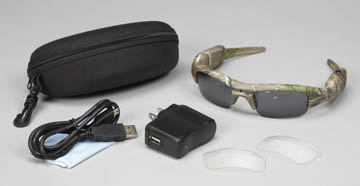 The tested pair of i-Kam glasses was in flat black. They are said to offer "Hands-free video/audio recording in a lightweight pair of glasses. It has 4 GB of built-in memory for two hours of recording. The glasses will also accept a micro SD card for an additional 8 GB of memory. Video can be viewed by hooking the glasses directly to a PC/Mac with the supplied USB cord. Each pair of glasses includes two sets of interchangeable impact-resistant lenses in clear and polarized black, as well as a hard-bodied carrying case, cleaning cloth, AC adapter and instruction manual. Patent pending." They go for about $95 or so at Amazon.com.
There is a pinhole CMOS camera in the center of the unit, it captures AVI format files at 25 frames per second. Playback resolution is at 736 x 480. I did buy an 8 GB Class 6 micro SD card as well to use with this unit. Well, the video quality is extremely poor, as is the audio, the unit constantly jammed, and the additional memory was of no use. The unit jammed constantly, so I never did arrive at any reasonable length of video. I experimented a bit, removing the additional memory thinking (or hoping) that that had something to do with its jam-o-matic proclivities. But, no, that wasn't the case. The i-Kam would jam with great enthusiasm, either way. Putting the camera on pause locked it up. It wouldn't unpause, not would it turn off. So, it would just pathetically remain with its green and blur lights on until the battery blissfully went dead. To reset it, there is a little button you can hit with a paper clip. Unfortunately, you are wearing them, and there is no easy way to know they have just jammed, and out in the field I confess to not always having paper clips.
To "validate" your 90 day warranty, you need to send in your warranty card, proof of purchase, etc., within 15 days. If they agree your unit is defective, they give a refurbished unit or perhaps a new one in exchange. Well, I didn't send in my warranty card and the video quality is so poor that even if it worked properly, I wouldn't be able to recommend this set. The best thing I can suggest is that you not waste your time with this peculiar, pathetic, plastic pantload of a plaything.
Tachyon OPS "World's Smallest Helmet Camera"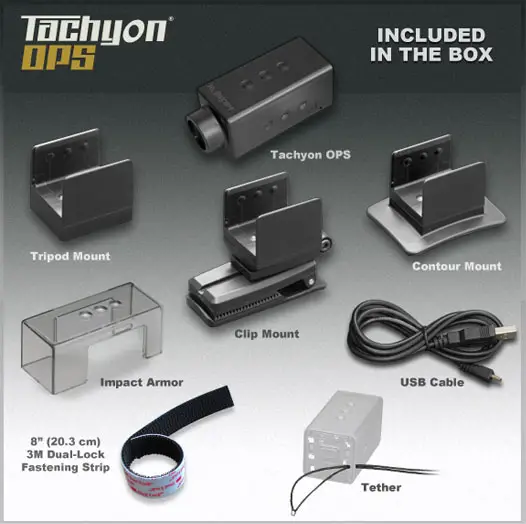 I bought the Tachyon OPS from Amazon for $80. If you buy the Tachyon from the Tachyon website, you get a six month warranty. Buy it anywhere else, you get no warranty at all from Tachyon, according to Tachyon. The instructions state: "Tachyon, Inc.'s warranty policy only covers products purchased directly from Tachyon, Inc." In my opinion, that's a pretty sleazy situation. From Amazon: "Camera & Photo items purchased from Amazon.com and most sellers are easily returned within 30 days of receipt of shipment. These items must be in new condition with original packaging and accessories." The six month warranty is a good enough reason not to do what I did, buy it from Amazon.
I did call Tachyon for clarification. While initially I was told that yes, there is only a warranty if purchased direct, they would "help" owners who purchased this from Amazon. I replied if that was indeed the case, I'd mention that their warranty was extended to Amazon customers in my review on Randy Wakeman Outdoors and G & S Online. I was then told, no, the warranty did not apply to Amazon purchases and not to mention that it did. That the battery life was not as advertised was mentioned, I was told they "might" look at it and would call me right back. That call never came.
This unit is claimed to have a 2.5 hour battery life, "great for cold weather." Well, my example runs about 90-100 minutes max, well short of the 150 minutes promised. That, and the non-existent factory warranty are my two primary gripes. The third is that this unit uses a non-standard USB connector. Apparently the only reason for the non-standard connector is so Tachyon can sell you their $15 battery-powered charger. This charger may or may not work with the HD version of the unit, the Tachyon OPS HD. The instructions suggest it does, the Tachyon website says it does not. Other than these complaints, the Tachyon OPS quickly became a very pleasant surprise. You do get a generous amount of accessories right in the box. The visor clip is extremely well-done and wondrously adjustable.
After about thirty minutes of recording, this little camera pauses for five seconds to write the AVI file to your memory card, then it continues with the next file. The camera also has a time-lapse recording mode that takes a photo every two seconds, the benefit of which is dubious based on the poor battery life. But, it doesn't hurt anything by existing that I can see.
Above is a 57 second production edited from my Tachyon OPS, dropping a wild Illinois rooster with a Benelli M2 twenty gauge.
PROS: Considering the low cost and light weight of this unit (one ounce), the video quality that is full-motion, 30 fps video, is quite good, as is the audio. For general hunting and shooting use, this is an item you'll have a lot of fun with. Based on the low price, the excellent accessory array (particularly the outstanding clip mount), the good video quality, and the ease of use, I'm can recommend this little gem if poor battery life is not a concern. For more info, see: http://www.tachyoninc.com/ .
CONS: They don't seem to have their warranty policy figured out yet, and the defective battery (or sorely misrepresented battery life, take your pick) was enough for me to return my unit to Amazon while I still could, gaining the distinction of being the first product I've returned to Amazon in many years.

Copyright 2011 by Randy Wakeman. All Rights Reserved.

---
Copyright 2011 by Randy Wakeman. All Rights Reserved.
Custom Search