---
Where "American" Pheasants Came From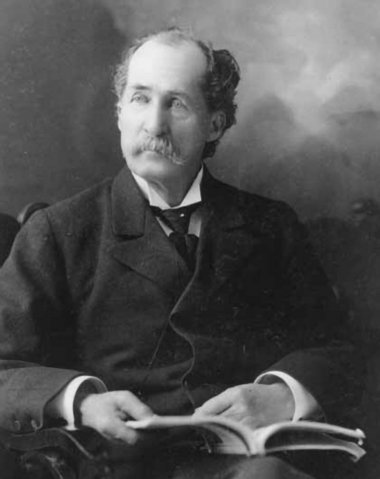 Judge Owen Nickerson Denny. Photo, courtesy of the Oregon Historical Society.
Surprisingly few folks are aware that pheasants and pheasant hunting in the United States are a fairly recent development. Not native to the United States, huntable populations of pheasants didn't exist here much before 1900. Not so, in Europe.
Julius Caesar invaded Britain twice, in 55 B.C. with some 10,000 troops and again in 54 B.C., with 25,000 or so troops. The Romans were responsible for importing numerous animals into Britain for their own consumption. They brought over pheasants, peacocks, guinea fowl and, according to some, fallow deer. The story of the pheasant in North America began much later.
The most notable importation of pheasants didn't happen until Oregon's Owen Nickerson Denny became involved. In 1880, Denny was promoted to U.S. consul general in Shanghai, then the top U.S. diplomatic post in China. In 1881, at the suggestion of his wife, Gertrude, Denny shipped about sixty pheasants across the Pacific, but most didn't make it. The next year, he tried again. Twenty-nine birds landed safely in Portland and were released near the farm of his brother, John Denny, Linn County. The state legislature passed a bill protecting them for 10 years. "Indeed they became pests that drove off farmyard roosters, ate their grain, and even made off with the hens," wrote Don Holm, The Oregonian's outdoor editor. On the first day of the first pheasant season in 1892, hunters reportedly took 50,000 birds in Oregon. Pheasants then spread to Washington, Idaho, California and the Midwest, mostly descendents of "Judge" Denny's original twenty-nine birds.
Many attempts were made to introduce the bird into South Dakota, but the first successful introduction occurred in Spink County in 1908. A.E. Cooper and E.L. Ebbert, adjoining farmers south of Doland, released six pheasants into the wild. In 1943, the ring-necked pheasant became South Dakota's state bird. In 2010, for example, hunters took 1.8 million pheasants in South Dakota alone, the S.D. pheasant population estimated to be eight to twelve million birds.
So, for those who appreciate pheasants and pheasant hunting in the United States, we all owe a debt of gratitude to Gertrude Denny, and to Owen Denny for listening to his wife.
Copyright 2011 by Randy Wakeman. All Rights Reserved.

---
Custom Search