---

Weaver's Best Scope? The New Grand Slam 2-8 x 36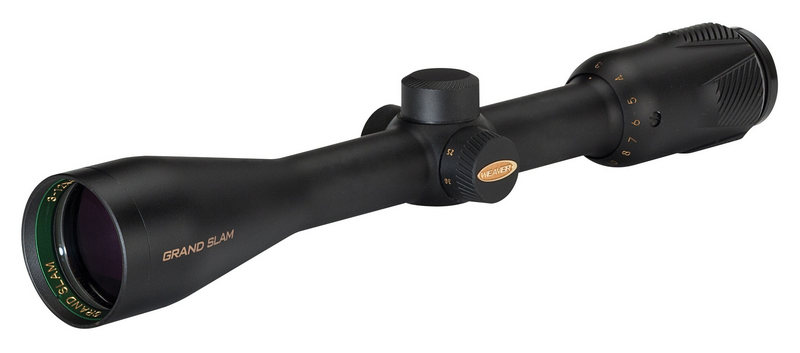 Weaver has reinvented the "Grand Slam" riflescope in 2-8, the side-focus 3-12 (above), and a side-focus 4-16. The 2-8 x 36mm is the most versatile, practical, and enjoyable big game hunting scope from Weaver, for most applications.

The new Weaver Grand Slam 2-8 x 36mm riflescope is Weaver's best riflescope to date, in my opinion, with a few caveats. By "best," I mean the best-specified big-game hunting scope. The reviewed item is the Model 800612 with the "SH/MZ EB-X" reticle. It is one of three reticle choices that you have with the Grand Slam 2-8 x 36mm, and it is a confusing one. For starters, here are basic specs common to the scope regardless of the reticle you decide upon.
Tube Diameter: 1"
Adjustment Click Value: 1/4 MOA
Adjustment Type: Click
Finger Adjustable Turrets: Yes
Lens Coating: Fully Multi-coated
Warranty: Limited Lifetime
Power Variability: 2-8x
Min power: 2x
Max power: 8x
Reticle Focal Plane Location: 2nd
Finish: Matte Black
Waterproof/Fogproof: Yes
Shockproof: Yes
Eye Relief: 3.46-3.31"
Exit Pupil Diameter: 13.7-4.6 mm
Weight: (as tested) 16 oz.
Max Internal Adjustment:
Windage: 80 MOA
Elevation: 80 MOA
Field of View at 100 Yards:
49.1' @ 2x
12.6' @ 8x
The four times range erector system, 2x – 8x, covers a huge variety of hunting situations. Black bear hunting in your lucky tree, or deep woods close range work, you'll appreciate the 2x power setting and its huge field of view. For sighting-in and longer ranges, you'll like the 8x end of the spectrum that still retains an exit pupil large enough to be ideal for the adult human eye. For years, a fixed 4 power scope was the norm east of the Mississippi and 6 power was the "out West" riflescope magnification. This scope gives you both and substantially more on both ends, in a slim, well-finished, one pound package.
It is a very good-looking scope, with the matte finish evenly applied, a quick focus eyepiece, and confidence-inspiring metal on metal click adjustments. There are a couple of other features that set this Grand Slam scope apart from the common scope. Its 80MOA internal adjustment range is more generous than most and the eye relief is very, very close throughout the zoom range. Eye relief varies just .15 inches throughout the entire power range, so you'll never have to struggle to reposition your head at exactly the wrong time. It is a bright, clear scope edge to edge, with no flaring or unwanted reflections inside the scope.
The reticle choice is a bit more confusing, perhaps because I'm easily confused. The test scope is the "SH/MZ EB-X," meaning shotgun-muzzleloader something. The other reticles are the more common "Dual-X" duplex reticle and the "Ballistic X" reticle, another hold-over reticle. This scope, puzzlingly, does not appear on the Weaver website under "shotgun & muzzleloader scopes," where only the "40/44" 2-7 x 32 scope can be found, and that scope is not available with this reticle.
Weaver does not provide reticle subtensions or any data for this SH/MZ reticle in their instructions, nor do they provide it for the Ballistic X reticle either. If you know what the hold-over line spacing means in terms of inches at 100 yards, it is easy to work out the details for a load with a couple of range sessions. According to Weaver with a 100 yard zero, "the first drop line= 3.119moa or 4.9 in., the second drop line= 6.923moa or 14.2 in., and the start of the thick post is 11.345moa or 29.0 in." More information when it becomes available.
The common ballistic reticle, the Mil-Dot, is quite easy to understand. The distance between the centers of any two adjacent dots on a Mil-Dot reticle scope equals 1 Mil, which is about 36" (or 1 yard) @ 1000 yards, or 3.6 inches at 100 yards.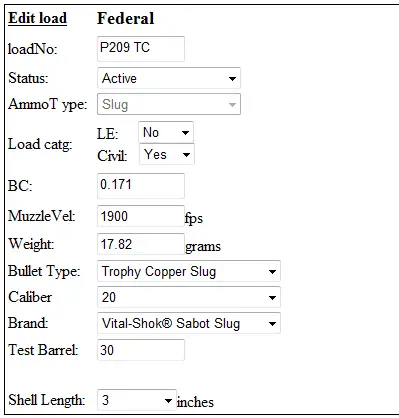 The Federal Trophy Copper external ballistics suffer the same problem as other factory slug data: it assumes a 30 inch barrel.
Factory published ammunition ballistics are not to be trusted, for a dumb old cartridge doesn't know what rifle you are using it in, its barrel length, barometric pressure / elevation, temperature, or your exact scope height. Range testing is the only way to fine-tune a reticle with any exactitude but the lack of reticle information here does not help you with a reliable starting point. So, I'm going to have to hold a discussion of the hold-over reticles in abeyance until more details are available from Weaver.
None of this should be construed as having anything to do with the core qualities of the scope. The power ring is rubberized and easy to use, the argon-filled scope itself is bright and clear, the adjustments are positive, the internal adjustment range is more generous than many scopes, and the extremely consistent eye-relief is a blessing. The 2-8 power range makes this an extremely versatile scope, the only scope you might need or want for most big game hunting applications. I think it is Weaver's best-specified hunting scope to date.

 Copyright 2014 by Randy Wakeman. All Rights Reserved.
Custom Search