---
Weaver "Super Slam" 2-10 x 42 Riflescope

The new Weaver Super Slam series of five power zoom range riflescopes includes this evaluated version, the 2-10 x 42 with the Weaver "EBX" holdover reticle. The 2-10 x 50 version is shown above. This is one of the easiest hunting scopes to use you can imagine. The adjustment turrets are "pull-out" capless turrets. Generously oversized, you just pull them out, rotate them with easy to feel positive clicks, then push them down to lock them in place. That's it! No caps to unscrew or lose.
The eye relief is generous, at a bit over four inches, more than adequate for most any North American hunting rifle. The ocular end features quick focus for the reticle, and the power ring is also generously oversized. Everything about this scope seems to have designed for easy operation with cold, gloved hands. The basic specifications are as follows.
Weaver Part #800315
2-10 x 42
Matte
EBX Reticle
Exit Pupil: 10.53-3.82mm
FOV @ 100 yards 49.1 ft. - 16.4 ft.
Eye Relief 4.13 in.
Length: 13.19 in.
Adjustment Range, 100 yards 52.36 in.
Weight 19 oz.
The Weaver website is very poorly designed and EBX reticle sub-tensions are nowhere to be found, nor are they supplied with the scope. However, the friendly folks up at Onalaska Operations - Weaver Optics in Wisconsin were able to help.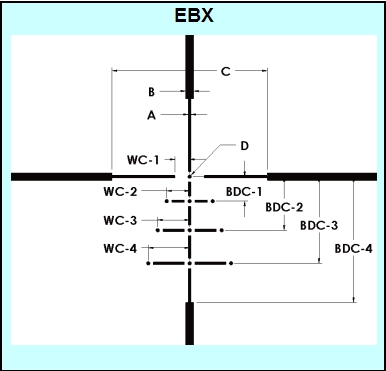 The hold points at 10X are: BDC-1 = 2.257 MOA, BDC-2 = 4.935 MOA, and BDC-3 = 7.98 MOA.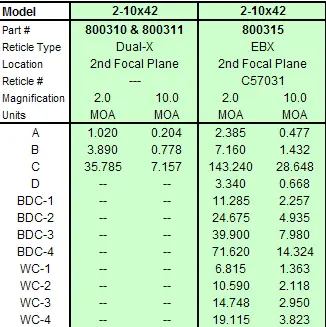 For an all-around hunting scope, there is little this scope can't do. For up close and personal work, like a black bear hunt, leave it on 2X and enjoy the nearly 50 ft. 100 yard field of view and the large 10.53 mm exit pupil. For extended range use, all the way up at 10X activates the EBX ballistic reticle while still maintaining a reasonable exit pupil of just under 4 mm. This scope is purged with argon, instead of nitrogen. Argon has a larger molecule size than nitrogen and is less reactive. While this is a "feature," I wouldn't buy or not buy a scope because of it. I can't remember any time I've had an issue with a quality scope internally fogging in the last twenty years, so while it may be a feature the practical benefit of it would be unseen by most.
You're also going to love the price, currently a street price of about $450 for this scope and there is currently a fifty dollar rebate on top of this. The standard reticle version goes for about forty dollars less. Extended zoom range scopes often start at $800 or more, so this price point is immensely appealing. As far as I know, it is Light Optical Works, one of the world's finest OEM's in scopeland that makes this Japanese made scope, as I believe they do all of the Weaver Grand Slams. The Super Slam has excellent build quality, with all of the controls working smoothly and, as mentioned, the click adjustments are superb.
Sunset was at 6:26 PM; I tested this Weaver alongside seven other scopes until 45 minutes past sunset against a tan colored doghouse, the dog inside enjoying a rawhide. The question was simple, "Can a shot be confidently be made?" The Weaver did well, in fact better than some more expensive optics, but not for the reason you might think. Part of low-light scope selection, in my opinion, is reticle selection as well. All of the scopes I tested against had fully multi-coated optics and had sufficient image brightness and clarity to confidently take the shot. Where the problem came in was reticle thickness. While many hunters over the years (including Jack O'Connor) have preferred simple, thin crosswires to anything else, based on the uncluttered view, thin reticles vanish after sunset. While the scope's image is still good with many scopes, there isn't sufficient reticle thickness left to offer a precise aiming point. Those 1/4 – 1/2 MOA dots that you might find so appealing during the day can be frustrating disasters when the sun goes down. That was the problem with a couple of the scopes, for their .10 inch crosshairs disappeared long, long before their useable images did.
You'll find a few folks that will carp about the weight, as always when it comes to scopes. It is heavier than, say, the Minox ZA 5 2-10 x 40 @ 19 oz. vs. 14.1 oz. The extra quarter pound or so is easily attributed to the handy, oversized, pull-out turrets and the slightly larger objective lens, with the turrets accounting for most of it. If you love the turrets, the weight is trivia. If you don't, then it is something you might want to grouse about.
If you're getting the impression that I'm impressed with this Weaver Super Slam, it is only because I am. The pull-out turrets are wonderful, the 49.1 field of view on the low end is going to help you far more in the hunting woods than over-magnifying yourself, the scope itself did a very good job controlling stray light with no flaring, and the eye relief is far more generous than most hunting scopes. The price makes this a screaming deal, particularly when you consider that a scope of similar build quality, the Bushnell 6500 2.5-16 x 42, starts at about $800. This Weaver offers essentially the same function to the big game hunter with wider field of view, at about half the price. It is a winner from Weaver.

Copyright 2011 by Randy Wakeman. All Rights Reserved.
---
Custom Search