---

Weaver Reinvents the Grand Slam Riflescope

Above, the new side-focus, streamlined Grand Slam 3-12 x 42.
Though the Weaver brand of riflescopes has been one of the most recognized brands for years, it has changed hands quite a bit. It is back under the umbrella of ATK, though, apparently to stay. In times past, the Weaver "Grand Slam" has been a well-regarded series of riflescopes, particularly the popular 3-9 x 40 (and similar) big game hunting scopes. Made by Light Optical Works of Japan, it has been a quality line assembled by one of the most respected scopebuilders. Yet, there hasn't been much talk about Weaver product in recent years and the Weaver website remaining confusing and incomplete, particularly to the easily confused folks such as myself. Weights of the scopes are not stated, for example.
The reinvention of the Weaver Grand Slam now comprises three core models: a 2-8 x 36, a 3-12 x 42 (covered here) and a 4-16 x 44. All are new designs, all have four times zoom range, all are argon gas purged, all have at least three reticle choices, all have fully multi-coated lenses, and the 3-12 and 4-16 have side focus. What I have before me is the Grand Slam #800620, 3-12x42, Side Focus, just 11.9 inches long. It weighs 17 ounces via electronic scale.

Compared to the older "Super Slam" 2-10 x 42 it displaces (second from the right above), it is far better-looking, over an inch shorter, and is also two ounces lighter. This Grand Slam is Made in Japan. It also adds side focus, does away with the pull out turret caps, has a very elegant and smooth eyepiece, and more positive feeling click adjustments. In general, it a sexier-looking, more streamlined optic. Due to other obligations, it doesn't look like I'll be able to do some field testing with this unit until a bit later in the year.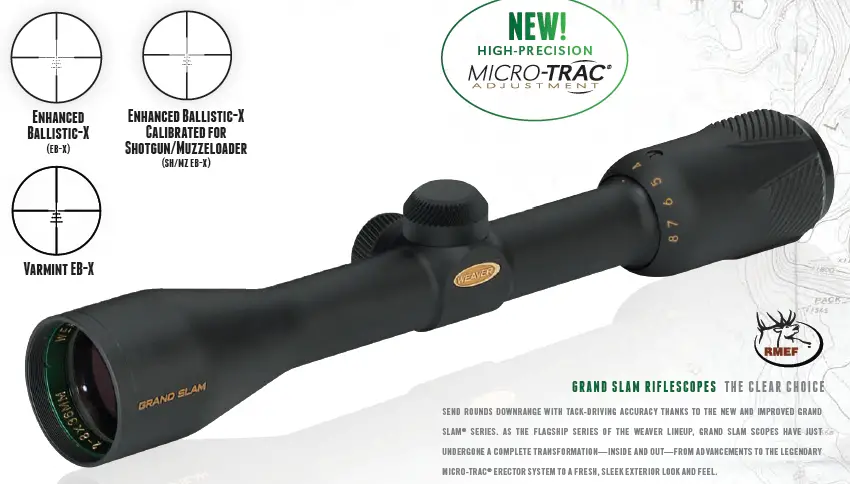 I'm not sure exactly what has been done internally or mechanically on the new Weaver Grand Slam. Along with the new Grand Slams, Weaver has also released a newly streamlined Made in the USA set of Grand Slam rings. More technical information and testing details to follow. The scope depicted by Weaver above, the new Grand Slam 2-8 x 36mm has the most personal appeal to me, as that zoom range is ideal for most everything in North America with a bit smaller profile that tends to look perfectly matched, aesthetically correct on lighter-weight hunting rifles.
For more information, see http://www.weaver-mounts.com/ .
Copyright 2013 by Randy Wakeman. All Rights Reserved.
Custom Search