---

Weatherby Vanguard® Series 2 Sporter .270 Winchester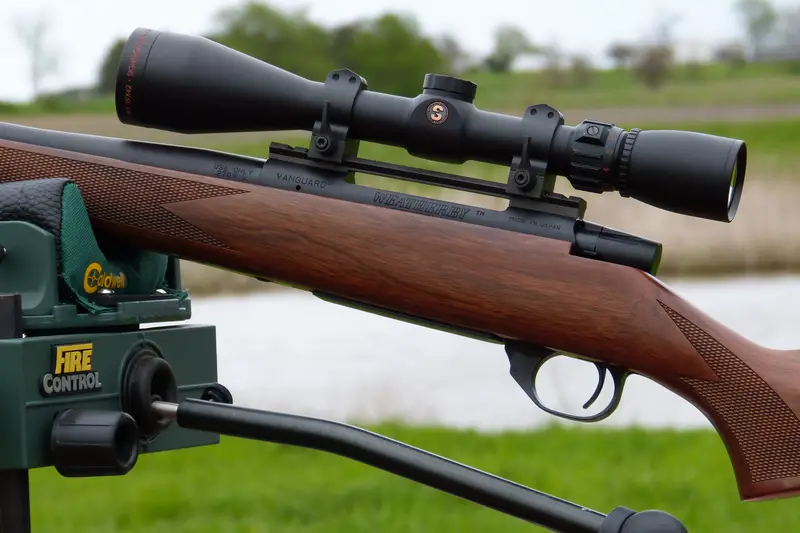 The Weatherby Vanguard is the "value" priced bolt action walnut stocked centerfire rifle, having a retail price of $849 compared to the Vanguard Series 2 Deluxe that has upgraded wood and highly polished blue as well as a $1149 sticker price. The synthetic models have a MSRP of $649.
The Vanguard Sporter is a superb-looking rifle in its own right. The bead-blasted blue is far, far better done than some of the really rough matte essentially unfinished metalwork that is becoming unfortunately common. What Weatherby calls their standard grade of walnut is a better level of furniture than some rifle companies offer at all. It is a Monte Carlo "A" grade Turkish walnut stock with a very appealing satin urethane finish. The rosewood forend and the clean, fine checkering really set this rifle apart. It is a very, very well-finished, eye-catching bolt action rifle.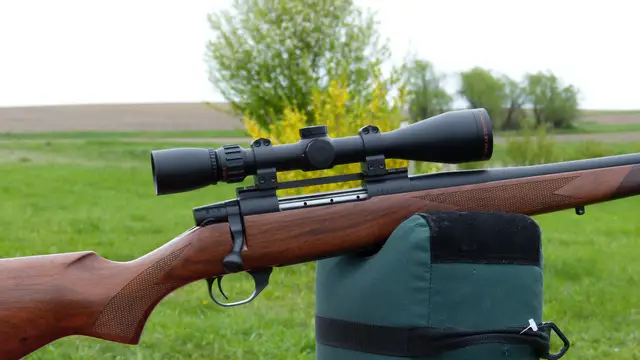 It is a beefy, 7-1/2 pound rifle with a #2 Contour, 24 inch, 1:10 rate of twist barrel. Length of pull is 13-5/8 inches, drop at the comb is 5/8 inch, drop at the heel is 1 inch. The Monte Carlo cheekpiece does exactly what it is supposed to do: when you mount the rifle, you're looking straight through your scope with no head-lifting or adjustments. Its overall length is 44-1/2 inches and the gun is finished off with a perfectly ground recoil pad that is both thin and of a good, soft durometer.
· Caliber: .270 Winchester (many other chamberings available)
· Metal finish: Bead-blasted satin blue
· Barrel: 24", #2 contour
· Twist: 1: 10 inches
· Magazine capacity: 5 + 1
· Stock: Monte Carlo style walnut, rosewood fore end, DAC 5/8 in., DAH 1 inch. 3/8 inch Monte Carlo rise.
· Length of pull: 13-5/8 inches
· Overall length: 44-1/2 inches
· Approximate Weight: 7-1/2 lbs.
Right out of the box the Weatherby trigger broke at glass-rod break 2-3/4 lbs., one of the best factory triggers I've experienced on a hunting rifle in years. It has a generous magazine capacity of 5 + 1, the conventional non-detachable box magazine with quick unload floorplate. It all makes for a clean looking rifle with distinctive lines.
Warne Scope Mounts makes an outstanding, profiled, one piece steel base for this rifle (that also fits the Mark V action.) That's what we used to mount a fresh Sightron Big Sky 3-9 x 42 riflescope with the HHR reticle.
It was a very windy day at the range, but the Weatherby still shot right at an inch CTC at 100 yards, with Winchester 140 grain AccuBond hunting ammunition. On a different, slightly calmer day it grouped 3/4 inch at 100 yards with Winchester 150 grain "Super-X Power Max Bonded" cartridges. By now, you might be wondering what I can find that is lacking in this rifle and I can tell you, absolutely nothing. It looks great, shoots with far more accuracy than needed for most big game hunting applications, and both the smooth Howa action and light / crisp trigger are easy to appreciate. Due to its not insignificant mass, it is an extremely comfortable rifle to shoot in .270 Winchester as well.
With a street price around $750 or so in 2013 dollars, it is hard not to call this rifle a screaming deal. Rarely do I test a rifle that just gets it all right, but that is the case here. Anyone would be proud to own and hunt with this rifle, so that leaves me little else to say except congratulations to Weatherby. This is industry-leading product at an enticing price point.
©1999 - 2013 Randy Wakeman. All Rights Reserved.
---
Custom Search