---


Weatherby SA-08 Synthetic Waterfowler Part Two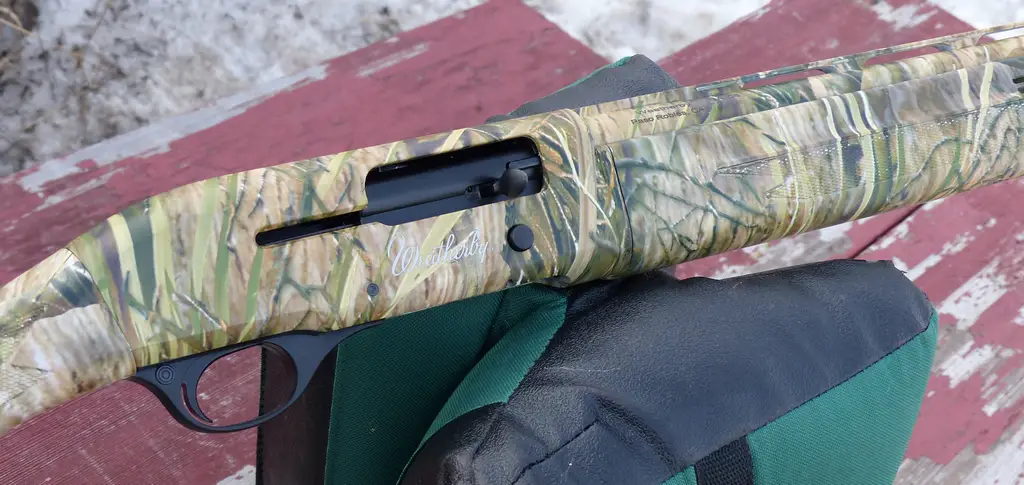 The Weatherby SA-08 Waterfowler was tested with loads ranging from 1 oz. 1200 fps up to 1-3/4 oz. 1200 fps loads. It had no troubles across the spectrum, printing patterns to point of aim at 40 yards. At 6-3/4 pounds, it is a light 12 gauge, lighter than most 12 gauge gas and inertia guns. It is a clean 1/4 pound lighter than the lightweight Benelli Vinci, Franchi Affinity, and the Browning Maxus, for example. It is a good 1-1/4 pounds lighter than the Mossberg 930 previously tested, lighter than the Beretta A300 Outlander, and far lighter than the Remington 11-87. It comes with three choke tubes that are Browning standard Invector / Winchoke style, and an assortment of shims to adjust cast and drop, if desired.
What this "Waterfowler 3.0" nets you over the basic black synthetic SA-08 is essentially the "Mothwing® Marsh Mimicry®" camo finish the leaves the external portion of the shotgun maintenance free. It is a good-looking pattern, to my eyes, and makes the SA-08 more appealing to my eyes than the basic black.
Calling this a "Waterfowler" is a bit of a misnomer, for this is more of an all-around shotgun. Use the supplied "light" gas piston for clays, dove, or anytime you want to shoot 1 ounce or 1-1/8 oz. loads. For 1-1/4 oz. pheasant loads or heavier, use the "heavy" gas piston as you would with 3 inch 1400 fps 1-1/4 oz. steel loads or 1-3/4 oz. turkey loads. The dual piston system, original with ATA, is a very good gas system. It is lot more practical than the old "change the barrel" approach and the gas piston itself has no springs to break and its simple design means it is also simple to clean.
As a waterfowl or cold weather gun, Weatherby might want to think about a larger safety button. The supplied recoil pad is the familiar vented OEM type and that's an area that could be improved upon as well. There is nothing wrong with the pad, but I do think the more generous pad supplied on the SA-08 Deluxe walnut model does a better job. The SA-08 trigger, breaking at 5 lbs. as measured by Lyman digital scale, is better than the majority of hunting autoloader triggers I've tested.
All-around though, it is just a very good all-around gun that is soft-shooting for its weight class due to its gas operation. Comfortable enough for clays, yet light enough to carry, and comfortable on your wallet as well at right at $600 street price. In 2014, this is a lot of autoloader for the money by any standard I can apply. If you are feeling a bit unflush, you can shave off a few more pesos by going with the SA-08 black synthetic at about $525, but I think the camo Waterfowler is a sharper looking firearm.
There are scant few $600 12 gauge autoloaders out there worth considering at all, and if you want one that is light enough to be fun to carry, the Weatherby SA-08 is really the only game in town. That's a very good place to be and in that sense, the Weatherby SA-08 is in a class of its own.
Copyright 2014 by Randy Wakeman. All Rights Reserved.

Custom Search