---

Videotaping Bird Hunting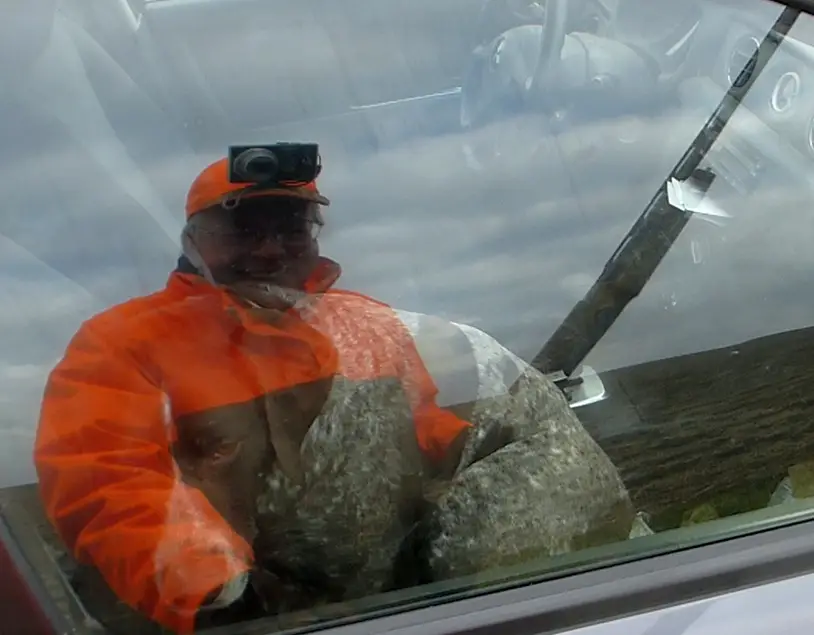 Over the years, I've tested dozens of cameras for use in videotaping hunts. Today, we actually have things comparatively easy, for the years of struggling with tape are long gone. The noisy (and slow) start-up and operation of videotape cameras, the tape stretch, dirty video heads, and associated tape-feed and capstan problems are long gone. That's a good thing. Running the gamut from VHS to 8mm to Hi-8 to Digital-8 to Super-VHS to Mini-DV has been quite a journey. Yet, even Mini-DV, while digital, could manage only DVD quality: 720 x 480.
The little pinhole type cameras used in spy-type sunglasses have been universally poor, with dim, choppy dropped-frame video, no video stabilization, and horribly poor battery life. Even the popular GoPro Hero cameras, originally presented as surf cameras, have not done a satisfactory job. The ShotKam and other gun-mounted gimmicks are an expensive waste of time for hunting pheasants. No way am I pointing a shotgun at my dog, or anything I don't wish to destroy. The stalk, the point, the flush ... none of it can be captured by a gun-mounted gizmo.
The smaller clip-on cameras, like the Tachyon OPS shown here, http://youtu.be/fS8lDU7N-T0, have also been a frustrating waste of time. The artificially wide angle fisheye effect from GoPro, Contour, and similar cameras is just distortion and nothing that represents an actual hunt. This example clip from a ContourHD shows how truly poor the video is: http://youtu.be/acMgLuNgGrM .
Over two years ago, I settled on a Panasonic ZS-15 compact camera for pheasant hunting, a sample video is here:
http://youtu.be/kyDtar1vNMQ . Shot in 720p 30 fps mode in that goose clip, it is quite obviously a big step up from some of the prior attempts. Not perfect, by any means, as battery life in video mode is still a consideration, but unlike many POV "Action" type cameras, it does have image stabilization and aftermarket batteries are readily available that extend the constant videotaping running time, although it is still far from ideal.
More recently, I've tried a Fujifilm F850EXR, an outstandingly good little 20x still camera, but with lackluster video and poor battery life in video mode. The Fuji's best quality is 1920 x 1080 @ 60fps. While that may sound like an impressive spec, the maximum clip length is just 14 minutes, 31 seconds at that frame rate.
I also spent some time with a Nikon S6500: a very small, light, and economical pocket-type point and shoot. Although it takes very good 1080p 30 fps video, battery life is just a few minutes, in video mode, in cold weather. I also tried the Sony AS30V "High Definition POV Action Video Camera," a really poorly designed unit on many levels that requires you to use a waterproof case at all times, even though the case isn't remotely waterproof.
At this juncture, there is no absolutely perfect solution. My criteria is pretty straightforward for a pheasant-hunting camera. Naturally, I want clear 1920 x 1080p 30 fps (or better) video with effective image stabilization. If you want to slow things down, it is easy enough to go to 1/10th speed with software as shown above. I want the least amount of hassle possible, for the videotaping is secondary to hunting itself. There are more cameras incoming, one in particular that is substantially lighter than the ZS-15 with far better battery life, apparently. The CIPA battery life ratings on cameras often are not helpful when to comes to video, though, as those ratings are for the number of still shots, not video, and cold weather isn't factored in.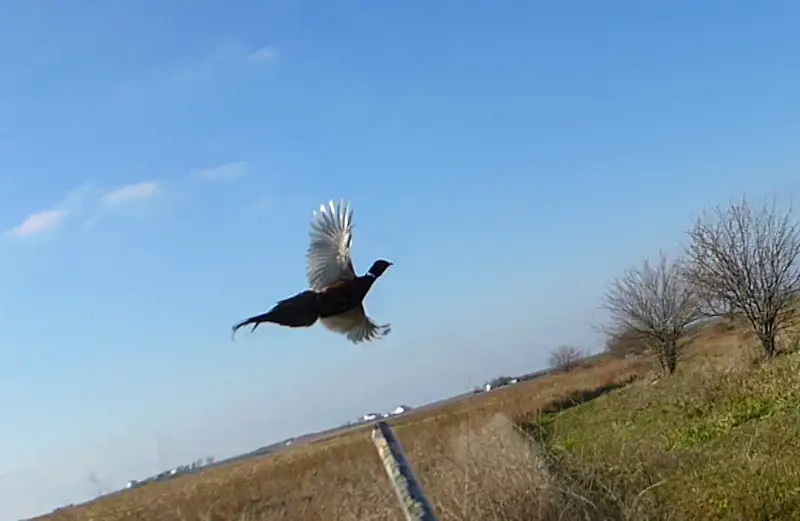 As long as you capture video in 1920 x 1080p, you'll get some still shots via frame grabs that would be virtually impossible to get otherwise, like the pheasant above. With a little post-production massaging, they can make for some stunning 8 x 10s that you'll not easily acquire by conventional photography. The Panasonic ZS-15, that uses the same sensor as the larger FZ-150 bridge camera, has been a very good compromise thus far. Its CIPA battery life is rated at 260 shots, and its weight including battery is about 7.34 ounces. The more recent Panasonic ZS-25 offers a similar category of video performance, with the same 260 still shot battery life rating.
There are other choices, such as the Canon SX-280 which has known video problems and very low battery life. There is also the larger, heavier 8.2 oz. Nikon S9700 with a 300 shot CIPA still shot rating. The Canon SX700 comes in at a heavier still 9.5 oz., and has a 250 shot battery life. While all of these might be suitable travel-type, long zoom, pocketable still cameras for you, they aren't ideal field video units.
Of the most promise is the incoming Sony WX-350, another small-sensor point and shoot. A bit overpriced at its introduction earlier this year (like most things Sony) at $299, it has come down a bit to the $220 street price or so. It is lighter and more compact than the ZS-15, at about 5.8 ounces, has image stabilization, and most importantly (to me) its battery life looks to be quite a bit better: CIPA rated at 470 still images. The factory Sony NP-BX1 battery is rated at 1240 mAH, with aftermarket batteries rated higher: Wasabi @ 1600 mAH, Halcyon @ 1800 mAH. More to come on the Sony WX-350 for use as a flushing bird camera in the near future.

Copyright 2014 by Randy Wakeman. All Rights Reserved.


---
Custom Search