---


Trulock Takes the Guesswork out of Superior Turkey Patterns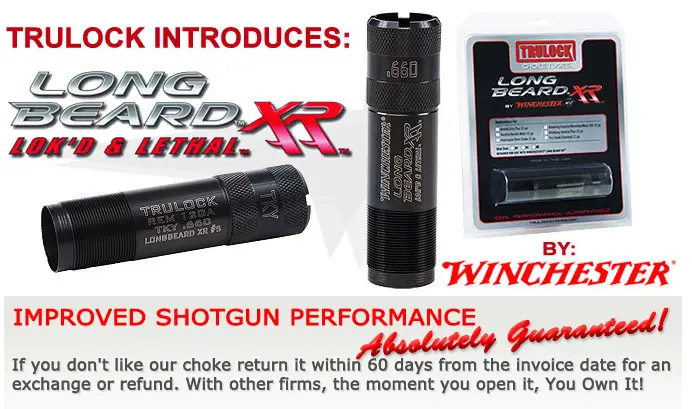 When Trulock chokes finds a new product that offers great promise, they do not hesitant in putting in the necessary research and development to see how they can get the most out of it and offer it to their customers. Such is the case with the new Trulock "Longbeard XR" choke tubes, designed specifically for not only the Winchester Longbeard XR shotshells, but taken a step further to provide optimal patterns with the exact shot size (#4, #5, or #6) that you want to use in your shotgun. You'll be satisfied, or your money back.

Right now, the Trulock Longbeard XR turkey choke tubes are available in 12 gauge in Invector Plus, Mobilchoke, and Remchoke styles, with more to follow as production time becomes available. These choke tubes, according to Trulock President George Trulock, have been shown to produce in excess of 50% of the pellet counts of the respective shells, into a 10 inch circle, at 40 yards.

Actual patterns at 40 and 50 yards that I'll shoot at 40 and 50 yards to follow. For years, pattern performance of turkey loads has been a hit or miss proposition. By matching a special choke to not only the shell, but also to the shot diameter, the Trulock Longbeard XR chokes promise to be the fastest, most reliable path to the most effective turkey patterns out of your shotgun. More details when they become available.
Copyright 2014 by Randy Wakeman. All Rights Reserved.

---
Custom Search