---
Trius One Step Trap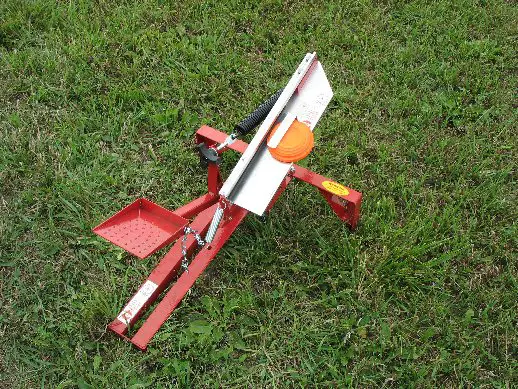 We have had quite a little family history with Trius traps. Quite a few years ago, my Dad and his kids were looking to have bit more fun with their rural, back yard clay shooting for general recreation and to get tuned up for the hunting season. Prior to that time, clays were thrown with one of the old vintage "spring on a wood handle" type hand throwers. They were better than nothing, of course, but not exactly what we were looking for.
Our Trius project commenced right after Christmas. Dad tossed a few bucks into the kitty and so did his boys. Our little trap fund was added to every week at a breathtakingly slow pace. A dime here and a dime there were added to the trap fund from doing odd jobs, allowances and so forth. It added up, but slowly.
After several months, we had a little stash, but we were still quite a ways away from our new Trius Trap. We decided to take more aggressive action. We decided to hit the stock market (NYSE). We picked a stock; it was STP, the cooler, quieter, faster, longer lasting lubricant, and bought some shares. We checked the paper to see how our stock was doing every day; it wasn't hard to see it was doing a whole bunch of nothing.
This was all forty years ago, 1969 to be exact. I am not guessing about the year, as you will see in a moment. We liked STP, we liked STP's CEO Andy Granatelli and we liked Mario Andretti. We hoped that the STP sponsored Andretti-driven Indy car of 1969 was finally going to come in on top, after the oh-so-close Granatelli / STP turbine car attempts piloted by Parnelli Jones in 1967 and Joe Leonard in 1968 came up just short. Our sinister little plan was simple: Mario Andretti was going to pull it off in his STP Lotus, STP stock would jump and the Wakemans would get their Trius trap.
It started out looking promising; Andretti appeared dominant in his four-wheel-drive Lotus, but then a crash in practice changed all that. The hot new Lotus destroyed, a banged up Andretti was forced to compete in a year old back-up car. However, the rest is history. Mario Andretti won the Indy 500 in 1969, getting a kiss on the cheek from the jubilant "Mr. 500" Granatelli, the price of STP stock popped up, we sold it and the Wakeman family finally got their Trius trap, with a bit of help from Mario Andretti. As unlikely as it might sound, Mario Andretti helped us buy our first mechanical clay-thrower.
Our original Trius did a pretty good job. You had your choice of mounting it to a "T" section of wood, or mounting it to a tire. We mounted it to the wood. Although it was lightweight and danced around a bit, it did a good job and still does some forty years later. It is still a better unit than the some of the cheaper, flimsier box-store traps like the old Hoppe's "ClayKing" thrower and similar that broke as many clays as they threw, with weak, inconsistent flight distances and generally poor construction.
On a 90-degree day, the trap setter isn't having a lot of fun, crouching down and cocking is not as much fun as shooting. Well, the Trius One-Step changes all that. It went together without much trouble, although the assembly instructions are poorly illustrated, a bit confusing and should be upgraded.
With the One Step throwing arm in locked position ready to go and a clay loaded, there is no tension on the spring. Stepping on the foot pedal both cocks the trap and fires it, so you can shoot unassisted if you'd like. Our One Step throws a full-sized clay an average of 50 yards with a middling spring tension. It does a fair job with piggyback doubles, but throwing true pairs isn't likely with the trap set to a high elevation.
It stays put when you use it, weighs about twenty pounds, holds its adjustment better than our original and doesn't eat release cords. (These were threaded through an eyebolt on the original.) A One Step trap can be had for about a hundred bucks and will provide a lot of fun. Our first Trius is still going strong after 40 years; this one should do the same, with less hassle and less effort. With no strings to fray or break and better stability, it is a clear improvement. We highly recommend this easy to use unit; every home should have one. Trius brand is now part of the Lyman line of shooting accessories. You can visit them online at www.lymanproducts.com .

Copyright 2009, 2011 by Randy Wakeman. All Rights Reserved.

---
Copyright 2011 by Randy Wakeman. All Rights Reserved.
Custom Search