---
Preview: Thompson Center's New Triumph Muzzleloader

As mentioned in the SHOT Show overview, I shot T/C's new muzzleloader, the Triumph, at range day and was generally quite impressed by it. It is a nice step up from the Omega, the fingers only breech plug makes good sense, the enlarged trigger guard is a welcome addition, and the triggers were outstanding. Ken French, affiliated with T/C, is one of those fellows that always seems to know a lot more than he was letting on-and, Ken was smiling.
The Triumph is a break-action muzzleloader, and a nice step up from the Omega in my view. T/C very popular Omega has no frame, and is essentially formed from a barrel with a trigger array hanging off of it. Its success since its introduction has been spectacular.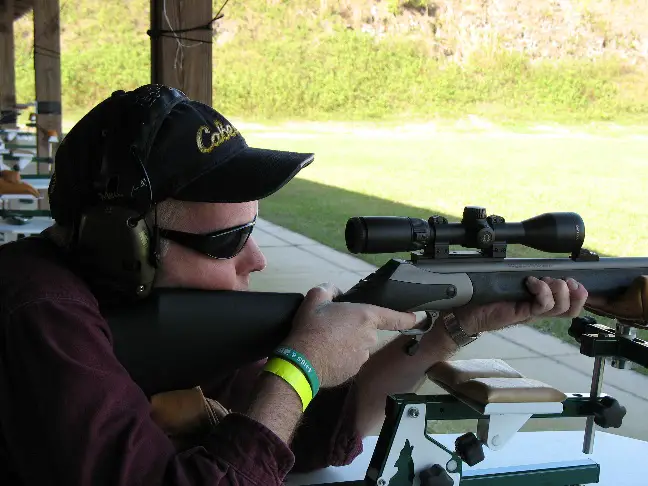 The Triumph I shot had a superb trigger: T/C claims they will all be set from three to three and one half pounds. The trigger guard is enlarged from the Omega; the Omega being constricted in that regard as its action was designed to drop down through the stock. This should please a few folks that have complained of smashed knuckles with the Omega. The "toggle-lock" method of operating the action was not intuitive, but quickly learned.
The gun I shot was a prototype of sorts, having a steel frame and thus a bit on the heavy side. Production guns are to have lighter, alloy frames-so my notion of a bit heavy is not reflective of what you'll see at pro-shops later in the year. The Triumph retains their Speed Breech from the Pro-Hunter, made completely tool free by the addition of a generous knurled collar on the end. It worked like a charm.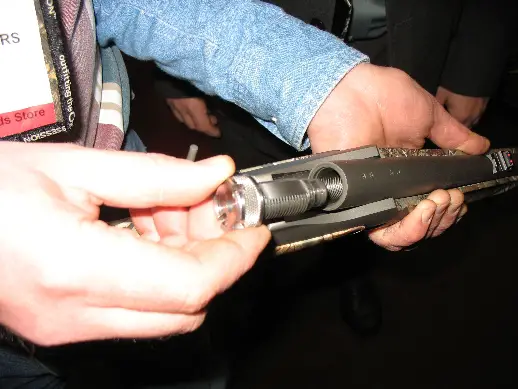 I was advised that the "stainless model" is not stainless steel, but carbon steel with T/C new "Weather Shield" finish. I can't speak to any long term durability issues, but I can say it was attractive and well-applied-looking like a matte stainless steel barrel externally.
The forearm is a smallish beavertail type-easier to hang on to than the slippery Omega laminated stock. There was no checkering on the pistol grip, but I was told that was being looked into for production guns-either checkering or a roughed-up textured finish to make the gun easier to control.
The Triumph comes with a Limbsaver pad-- the thinnest little Limbsaver I've ever seen. Though it did not look very substantial to me at all, it did contribute to what I felt was the reasonable felt recoil level of the rifle.
As of this writing, I'm not sure of exact availability dates so I need to refer you your T/C dealer for particulars. My impression was a favorable one, and it looks to be a very nice step up from the Omega, and a well-thought-out muzzleloader in general. I believe that this new T/C will come in at an attractive price point as well, and in many ways-- this gun appears to obsolete the Omega.


Copyright 2007 by Randy Wakeman. All Rights Reserved.
---
Custom Search