---

The Search for the Cheap, Good Bolt Action Rifle
Americans like cheap things. It seems we are always looking for good products at an economical price. It may be "good and cheap" or "cheap but good," depending on how you want to phrase it. There are all kinds of ways to describe it: entry-level, value-priced, conservative cost of acquisition. If not especially good, then sometimes "good for money" is more than good enough.
This is nothing new, for the excitingly new rifle release has been going on for longer than I can remember. The "cheap bolt action" market is not without its loud disappointments. One problem is when a well-respected product is changed, using the same name and model number as bait. The year that Winchester died was 1964, when the brass at Olin Chemical (unlike John Olin) decided it was time to actually try to make a few dollars manufacturing firearms. The Model 70, accoladed as the "rifleman's rifle" was re-released with a cheaper, push-feed action. A downgraded rifle with the same model number, it was met with great disdain. Even though later on the newer push-feed action was improved considerably, the damage to the reputation of the Model 70 and to the Winchester brand was irreparable.
The Remington 710, a plastic enticement presented as part of the Model 700 lineage, suffered through a safety recall and assumed junk status. The Smith & Wesson / Thompson Venture, another entry-level offering, also suffered a safety recall for all rifles made prior to October 28, 2011, yet another value-priced offering to gain an unpleasant track record. There are countless other examples of inexpensive rifles with nasty roll-outs.
But, that didn't change the core appetite of American hunters and shooters that still wanted a rifle that worked as promised, had acceptable reliability and accuracy, yet was easy on the wallet. There are only so many places you can cut away cost of build without affecting quality of build.
Savage Arms listened and took their own stab at it in the form of the Savage Edge, renamed the Savage Axis because apparently a lot of people think they have some ownership of "Edge," beyond shaving kits, knife companies, cell phone companies, etc.
The Savage Axis took the approach of the universal receiver, used by Tikka and others. Though not particularly elegant, it means that the action is always a long action, the stocks are often interchangeable, and there is an absolute minimum of different parts based on cartridge. Change a bolt head, block off a detachable box magazine to suit the chambering, and you are close to good to go. Stick with plastic stocks and rough, matte finishes and you have the basis for an economical rifle with a minimum of parts and machining across the line.
In this case, it worked and was a success perhaps beyond anyone's wildest dreams. With the stunningly low street price of $275 or so for a base rifle right now in 2013 dollars, Savage has yet to catch up on the backlog of orders and it helped propel Savage, already one of the most successful American firearms companies, to unprecedented sales levels, shipping some 625,000 rifles in 2012. Savage had been part of Norwest Equity Partners, the parent company of Savage called the Caliber Company. ATK just announced their buy of Savage Arms for $315 million in cash. Ron Coburn and friends bought what was left of Savage in 1995 according to Jim Kinney of The Republican, for $33 million. All this adds up to quite an impressive American success story.
The American public's thirst for a value-priced, yet safe and reliable bolt action centerfire rifle had been whetted again, and Savage showed that it could be quite successfully manufactured. It hasn't taken very long for others to revisit the value bolt action segment. Notably, you have the Ruger American (2012) that adds an adjustable trigger and a rotary magazine, Browning has recently released the A-Bolt3 (2013) in long action chamberings only, Remington tries it again with their Model 783 (2013), and Weatherby has their Vanguard Series 2 synthetic at a slightly higher price point.
Street prices vary, sales and rebates are not practical to track, but in terms of MSRP you have the Savage Axis at $375, the Ruger American at $449, Remington 783 at $451, the Browning A-Bolt3 at $599, and the Weatherby Vanguard Series 2 synthetic at $649 MSRP. The widest selection of chamberings is from Savage, Ruger, and Weatherby at this juncture.
I well understand that selecting a bolt action rifle can be a bit overwhelming based on selection, the wide swings in price, and intended usage. It can be hard to justify an expensive rifle that will be used for an annual deer hunt. At the same time, it is also very difficult to cut corners on a rifle, considering that a reasonable quality scope, rings, quality ammunition, range fees, targets, hunting licenses, a decent hard case or soft case and so forth can quickly make the rifle itself the cheapest investment of all. The rifle itself has far more lasting value than empty brass, raggedy old targets, and expired hunting tags.
Though the street price difference between several models might be no more than a few boxes of ammo and a tank of gas, cost of entry still matters. How much it matters is always a continuing question. Here are a few comments on what I feel are the most appealing options, with the most variety of chamberings and styles to choose from.
SAVAGE AXIS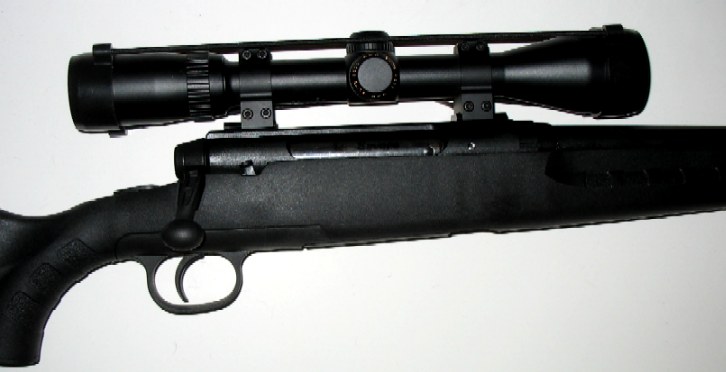 The Savage Axis redefined the entry level rifle and remains the most for the least. The two Axis models I've tested, one in .223 Remington and one in .308 Winchester, were both excellent shooters: 1/2 inch @ 100 yards with the .223, 5/8 inch at 100 yards for the .308 despite the .308's heavy trigger pull. As far as weak links, there isn't much to carp about excepting the trigger and the two position safety that does not lock down the bolt. Any of Savage's standard AccuTrigger models address that, of course. The Axis line has rapidly grown, now has stainless steel options, pre-scoped (XP) models, youth models, and so forth. It is available in .223 Remington and .25-06, two cartridges that are well-suited to this 6-1/2 rifle and chamberings just not available from in some of the other entry-level guns.
RUGER AMERICAN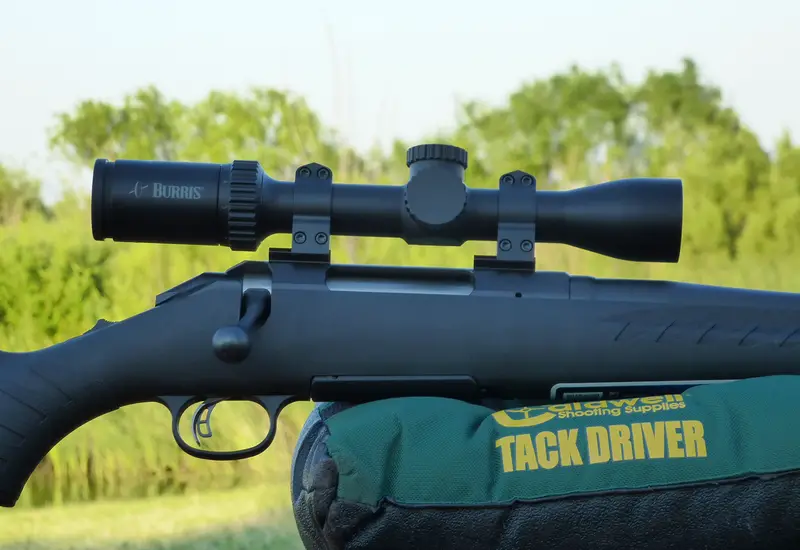 While no more accurate and no more aesthetically pleasing than the Savage Axis, the Ruger has a clearly superior trigger and a rotary magazine as well. Initially offered in .243, .308, .270, and .30-06, for 2013 the 7mm-08 and .22-250 chamberings are now available.
WEATHERBY VANGUARD SERIES 2 SYNTHETIC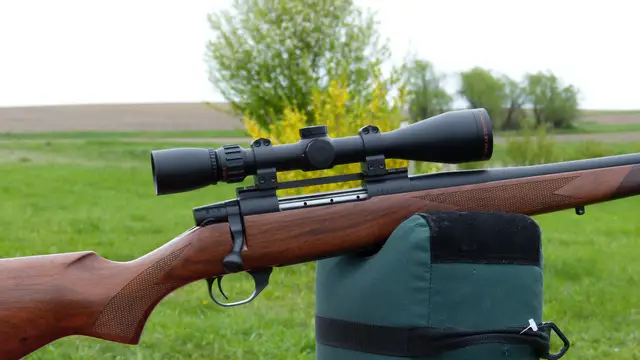 With the Weatherby Vanguard Series 2 Synthetic, you essentially get all of the above with the "Monte Carlo Griptonite™ synthetic stock the sole component directed at economy, as shown below.

Though at a street price of approximately $500 or so it is a hundred and fifty dollars more than some of the others, the Vanguard Series 2 Synthetic is available in 14 different chamberings, all the way up to .338 WinMag, has plenty of features to make it an easy choice.
It is the identical action as any other Vanguard Series 2, with the same outstanding trigger, three-position safety that locks the bolt closed, and aesthetically is the best looking, best-finished rifle., with the desirable Monte Carlo stock design. Like all Vanguard Series 2 rifles, it has a .99 in. or better 100 yard accuracy guarantee: "Weatherby® Vanguard® Series 2 rifles are guaranteed to shoot a 3-shot group of .99" or less at 100 yards (SUB-MOA) when used with specified Weatherby® factory or premium ammunition." Additionally, it has a 24 inch barrel vs. the 22 inch offerings elsewhere, of particular benefit with cartridges like the 7mm RemMag that may take a velocity hit with shorter barrels.
At 7-1/4 – 7-1/2 pounds, it is heavier than the Savage Axis and Ruger American models, but naturally softer shooting as a result. The Vanguard is available in a 7 lb., 20 inch carbine model with youth models available as well.
VERDICT
None of these three rifles are a mistake, all are extremely good values from top-notch companies. But, unless one hundred and fifty dollars is going to cost you a mortgage payment, it is hard not to say the Vanguard is the class of the approximately $550 and under bolt action rifle field and it is very hard to suggest that you buy anything else. So hard, in fact, that I cannot. The current Vanguard is the easy pick of this class of rifle, with no question.
©1999 - 2013 Randy Wakeman. All Rights Reserved.
---
Custom Search