---

The Search for the Best Super Zoom for Hunting and the Outdoors: Canon SX-50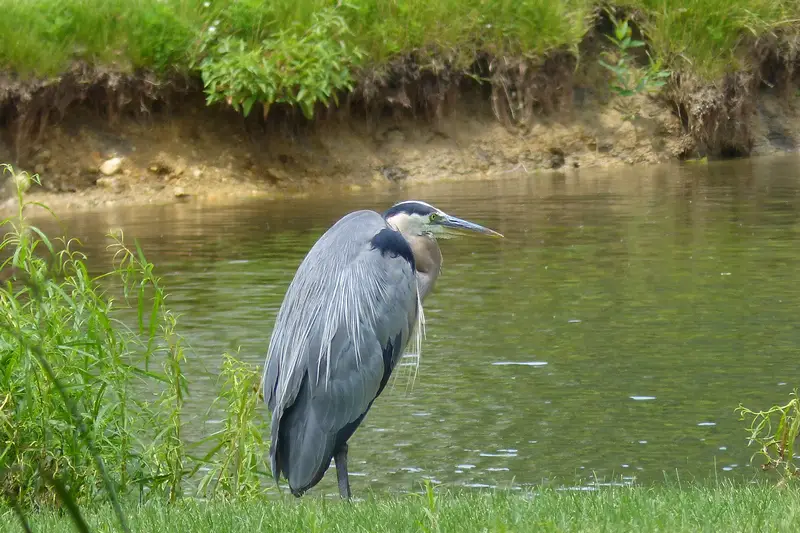 The ability to get close, particularly with wary wildlife, is a boon to most everyone that enjoys nature and the outdoors. The image above, that I snapped of the Mystical Semi-Psychic Blue Heron of Plainfield, needs a camera portable enough to have with you, that powers up and focuses quickly, and has significant zoom ability. There are more and better choices available today than every before for the hiker, climber, hunter, and nature enthusiast. Yet, there are also significant operational and feature differences between various long zoom "bridge" cameras. What follows is a look at the current crop, pun intended.

Like everything else used afield, weight can matter greatly. What you thought was an inconsequential one half pound can be a real pantload, at the end of miles of climbing, crawling, and stalking. Its effect is cumulative: it certainly not just the camera alone, but along with your binoculars, rangefinder, and the balance of your gear it matters at the end of a long day.
Yet, there are certain capabilities that are highly desirable, if not mandatory, in the all-around long zoom field and travel camera bracket. An electronic viewfinder is a requisite item, as far as I'm concerned, along with an articulated LCD that swings, swivels, and offers ease of image acquisition when the camera needs to be at your feet, over your head, or other positions as terrain and subject matter demand. When the LCD reverses and folds in, it protects itself from the invariably unavoidable scratches and gouges associated with use in rougher terrain. Good image stabilization is requisite, as many photo opportunities are hand-held events. If you are inclined to avoid excess weight, you'll be just as inclined to avoid carrying a sturdy tripod as well.
Good video capability is requisite as well, for carrying a second camera is antithetical to cutting down on the total bulk and weight of your gear. Acquisition cost matters as well, for although cameras are hardly invented annually, significant advances in capability are inevitable. The more you save on your cumulative gear, the more pesos you have left to invest in adventure.
Over the years, though I have been somewhat afflicted by early adopter syndrome, I've taken the time to continually search for the better alternatives in cameras for the field. The names are the usual suspects: Nikon, Canon, Panasonic, Olympus, Samsung, Fuji, Pentax, Sony, and so forth. Here's a look at the most likely contenders to be your long-zoom still and video unit for your next trip. Another important consideration is ease of use, for the situation may dictate that your girl, your guide, or someone less than intimately familiar will use it from time to time.
Fuji HS50EXR
This Fuji currently sells for under $400, has the largest and most advanced sensor of the cameras very briefly covered here, is the heaviest of the group at 28.5 ounces, has the fastest auto focus and zoom. This Fuji has a Its 24mm to 1000mm zoom range. It also has an articulated LCD at a pleasing 920K resolution, as well as an electronic viewfinder of 920K dots as well. It is capable of the best still images of this group of cameras, although it takes a bit of work to explore and embrace the 1/2 inch EXR CMOS II sensor.
With phase-detection auto-focus and enough features to suggest you download and peruse the HS50 manual (or brochure) for details, this camera may sound like the best of breed. Well, it certainly could be considered that, to some it is. However, the zoom is manual: a reason you might love this camera or hate it. The manual zoom makes it difficult for smooth-zooming operation during video, so what is its great strength to some is also a weakness at the same time. Though I've been impressed with its output, its size and bulk puts it out of the running.
Fuji SL1000
A screaming bargain at $250 street price, the 28.5 oz. SL1000, uses the smaller 1/2.33 sensor (compared to the HS50), yet is still a 24-1200mm 35mm equivalent camera. It also loses 25%-30% of the HS-50's its price as well. While light in price, it isn't particularly light enough to carry, and the lack of a fully articulated LCD is a slight negative, though it does tilt and (like its EVF) is better resolution than most, including the Canon SX-50.
Canon SX-50
Claimed to be the world's first 24-1200mm or 50x zoom bridge, it now has a lot of company. At 21 ounces, it sheds almost a half pound as compared to the Fuji HS50EXR. The electronic viewfinder is 202K and unimpressive. The 460K articulated LCD is well done, though there are higher resolution displays out there. Its video mode is excellent, if only if you shoot at 720p and 30 frames per second. It lacks an auto-panorama feature, its lens is slightly dim compared to some, but it is a fun camera to use with a balanced level of performance that suits me extremely well for wildlife and the outdoors, even if theoretically it falls short on some features compared to the Fuji HS50. It slippery, muddled design takes some getting used to, but it does do a fine job if you give it enough light.
Panasonic FZ-70
With a 20-1200mm (60X) range, the latest from Panasonic has built-in marketing hyperbole. At 21.44 ounces, it is minimally and trivially heavier than the Canon. It shares a poor viewfinder with the Canon, though, and lacks the articulated LCD which is a huge deficiency. The Panasonic LCD does not even pull out and tilt, forcing you to rely on the weak EVF more than you would want to. The Chinese build quality here is just average, and the non-Leica branded lens seems to be average as well. The images are soft, particularly at the long end, and its burst mode of only three images maximum is disappointing as well. While generally good, it wasn't close to what it could have been, and again the lack of an articulated LCD sends it to also-ran, forgettable status.
Sony HX300
The Sony HX300 is the most expensive camera of the group, takes somewhat soft pictures, but has outstanding video. At 22.9 ounces, it isn't much heavier than most of these cameras, but it looks and feels bulky. It lacks a hot shoe, captures no RAW images, but its f2.8-6.3 24-1200mm lens is a bit brighter than some, even if it doesn't translate to wondrous image quality. While its LCD does not swivel out, it does pull back and tilt. It is too bulky, the LCD isn't fully articulated, and it is over-priced for this category.
Nikon P520
At 19.4 ounces, the P520 is the lightest of this group. Its 1000mm reach is still gargantuan, if not class-leading. No hot shoe, but it does have a GPS, and an excellent articulated LCD, but does not capture RAW. Its auto-focus and shot to shot shooting performance is relatively slow, the slowest of this entire group of cameras. Its battery life is remarkably weak at 200 shots CIPA standard. In many ways, the Nikon is the camera that could have been. Its size and weight have great appeal, it is competitively priced, it has a fold-out, articulated LCD. The lack of RAW isn't a stopper. But, its generally slow shooting performance, weak battery life (that just gets worse in cold weather), and weak image stabilization compare to the Canon combine to take it out of the running.
Summary
There is no such thing as a bridge camera that competes, in image quality, with a system camera, whether Micro 4/3 or the larger APS-C sensors used in D-SLR product. The core technology that allows for usable images from a small-sensor camera, along with HD video, is the Back Side Illumination metal oxide semi-conductor (BSI-MOS) that is a commonality on all these cameras, with only Fuji going with a both a bit larger sensor and different technology in their HS50EXR.
Here's how I rate them, for different priorities, and why. Naturally the intended use and your personal preferences has just about everything to do with how you view them. Beauty is in the eye of the beholder, so it all depends on who exactly is doing the beholding.
BEST VALUE: Fuji SL1000
No other name-brand camera gets you to the massive 1200mm range for $290 or less, actually $250 as this is written. No one shoots at 1200mm all the time, or even most of the time for that matter. If you want the capability to do so, the SL1000 gets you there the most affordably. It offers a larger, 3 inch 920K dot tilting LCD, a 920K EVF as well: a better treatment than the more expensive FZ70 and many other cameras in this class.
BEST STILL IMAGE BRIDGE CAMERA: Fuji HS50EXR
The most capable, with the fastest autofocus, the most shooting options, the easiest manual zoom, the most advanced (and largest sensor) is the Fuji HS50EXR. It isn't my favorite, for weighing a half pound more is a significant negative for my uses, as is the manual zoom (video). It is bulky as well, with around an inch more of depth than others. Though I find it to be more than I want to carry in the field, others of course may equally feel its weight to be liberating, compared to system cameras.
BEST ALL-AROUND BRIDGE CAMERA, BEST SUPER ZOOM FOR HUNTING AND THE OUTDOORS: Canon SX-50
While not a spectacular standout at all in some areas, the Canon SX-50 is the most appealing compromise. Its CIPA battery life of 315 shots (335 with the EVF) isn't all that great, but compared to the Nikon P520's 200 shots it is. Nor is its 202K EVF anything special, but it does have an articulated LCD that I feel is mandatory for this class of camera. Its shooting speed is good, particularly as compared to the sluggish Nikon, and is competitive in this category. Though released in late 2012 with a $480 retail price, it is now available for $350 or so.
One thing that Canon offers that is class-leading is the current SX-50 image stabilization and its video performance (at 720p, 30 fps) is excellent, if not super-high resolution. The DIGIC 5 has 58 shooting modes in Smart Auto mode, making this camera extremely user-friendly when you need to get that shot without having available time to adjust and experiment, though a goodly array of manual controls along with RAW capture is available. The "gorgeous still image quality even at high ISO speeds all the way up to ISO 6400" that Canon brags about is wishful thinking, but this camera does surprisingly well at ISO 1600: better than I could have imagined.
The current Canon software, ImageBrowser EX version 1.3.0, is better than most included camera software as well, some of which can be only be considered as disjointed programing crimes. As a few of my British friends would say, the Canon SX-50 is a nice piece of kit. In particular, the zoom assist button located on the top of the left side of the lens housing is a truly outstanding feature, one that I use regularly. The red button, to go instantly to video mode is on the back of the housing where it is easy to access, no searching needed. The diopter adjustment for the electronic viewfinder is nicely nested to the left of the EVF: and so, is hard to inadvertently knock out of adjustment.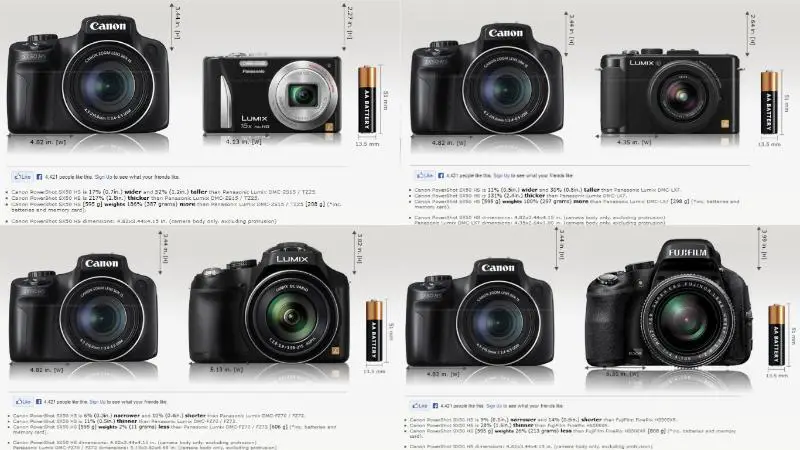 Bulk and weight matters, but just how much it matters is up to you. It likely matters more at the end of the day than at the beginning, but there is a compromise between capability and unwanted bulk. The Fuji HS50EXR might be considered a lightweight compared to a full-size system camera, but next to the Canon SX-50 the opposite is true. Comparisons are easy, thanks to camerasize.com.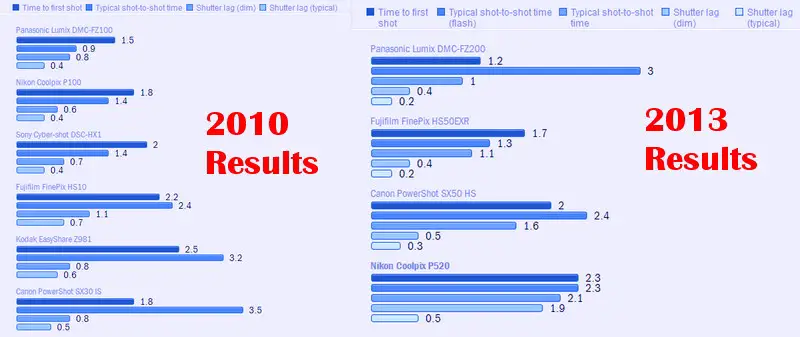 Just three years ago, most of the cameras mentioned here would be considered marvels of the age; but now isn't three years ago. The dismal Panasonic FZ-100 was loudly dissed as having inadequate image quality even at base ISO. The Canon SX30, touted as industry-leading with its "jaw-dropping" 35x lens, 25 - 800mm equivalent, was turtle-slow at a typical 3.5 shot-to-shot time sans flash. All this was back in the ancient days of cameras, 2010. Some of the performance increases are vividly clear: the 1.6 second shot-to-shot time is less than half of the SX30, the 28 scene modes are now 58, there is now RAW capability, and the 230K LCD is now a 460K LCD and slightly larger. It is one of the most improved cameras I've ever experienced in a three year cycle, and the 1200mm / 50x usefulness is hard to miss.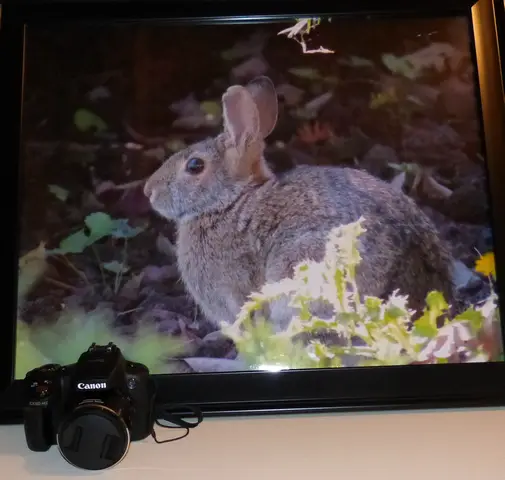 Above is a 16 x 20 inch poster, with the SX-50 that took the image right along side of it, to show scale.
For now, the pick of the this litter is the Canon SX-50 for hunting, the outdoors, and general travel with a couple of large caveats: if you want the super-long 1200mm focal length, and do not feel video is a great priority. For more example images, see: The Canon SX-50 MegaZoom Camera: Sample Images .
If you can "live" with a 24x optical zoom range, the Panasonic FZ-200 with its constant f/2.8 lens, better electronic viewfinder, far better video, and better shooting performance is the best camera on the market.
Copyright 2013 by Randy Wakeman. All Rights Reserved.


---
Custom Search