---


The Return of the Ruger Red Label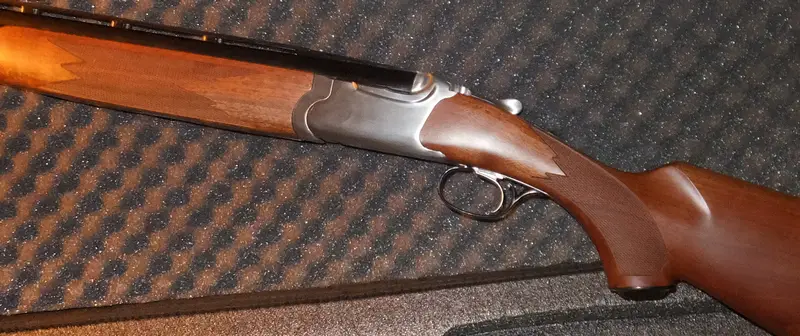 A little bit of reminiscing: back in the day when the Ruger Red Label first appeared, it caused quite a stir. At an appealing price point compared to the Beretta and Browning vertical doubles of the day (1977), the Red Label sold briskly and began its better than thirty year run. There's not been an affordable American made O/U before or since as successful as the Red Label. Back in 2007, the Ruger Red Label Sporting Clays was presented with the following specs:

Catalog number: KRL-1236-BR
Gauge - 12
Chamber - 3"
Chokes - Briley tubes (F, Mod., I.C., Skeet, Skeet)
Stock - Cut checkered walnut pistol grip style
Barrel length - 30" with ventilated rib
Barrel finish - Blued
Sights - Front and middle beads
Length of pull - 14-1/8"
Drop at comp - 1-1/2"
Drop at heel - 2-1/2"
Overall length - 47"
Weight - 7-3/4 pounds
2007 MSRP - $1790
Over the decades, the Red Label's price point advantage diminished, the tooling wore, and Ruger seemed to lose interest in it, perhaps due to their greater growth in success with rifles and handguns. Not being promoted or touted aggressively, the sales numbers shrank and the once broad spectrum of models began to shrink as well. After thirty years, the Red Label was becoming costly to produce and wasn't made with the latest machining methods. Ruger decided it was time for a complete rethink of how the gun was made, with all-new tooling. Ruger hired veteran shotgun designer Dwight Potter away from Browning, and the long task of the redo of the Red Label quietly began.
A quick external look at the new Red Label seems like not much has changed. There is a well-designed, well-padded soft case, a locking device that you can padlock to keep the firearm from being assembled (a sign of the times), and a generous Decelerator pad with a hard top of the heel insert to prevent snagging. It comes with five Briley stainless choke tubes and a very good choke tube wrench, just as the last of the classic Red Label versions did. The most eye-catching thing about the Red Label is the price: it has come down, way down, to $1399 sticker and about $1000 and change street price.
The thousand dollar American made O/U is something that no one else has been able to execute, it is well below the Browning-Beretta entry level, and blistering close to some Turkish imports that lack decent pads, choke tubes, much less a stainless steel "pinless" receiver. Ruger is going to sell all the Red Labels they can possibly make for a good long while. It is baffling to some how Ruger could pay American workers, in 2014, to put out the thousand dollar vertical double and make any money on it.
Part of the answer is the one-piece receiver that uses less dedicated "left / right" parts. There's less different parts in the new Red Label, and apparently brand new tooling, production, and assembly methods to go along with it. Manufacturing doesn't necessarily change every day, but this is 37 years after the classic Red Labels first appeared.
The published specs for the tested Red Label are:
Model Number: 4191 12 Gauge
Stock: American Walnut
Receiver Finish: Finely Polished
Barrel Material: Alloy Steel
Barrel Finish: Blued
Barrel Length: 28.00"
Overall Length: 45.00"
Weight: 7.70 lbs.
Length Of Pull: 14.50"
Drop at Comb: 1.50"
Drop at Heel: 2.50"
Chamber: 3"
Suggested Retail: $1399.00
The actual weight of the gun as tested is 7 lbs., 14 oz., essentially the same as the last Red Label 12 gauge I tested in 2009. It doesn't handle or point appreciably different compared to the last Red Label I tested, and that isn't a bad thing. It is a softer shooter, appatently due to the better recoil pad. The last Red Label had just a hard piece of thin rubber for a butt plate. This isn't a shotgun to chase pheasants with, no eight pound gun is. For more stationary shooting, dove and clay targets, it is enjoyable. For walking around applications, it isn't.
The new Red Label retains the auto-reset safety that I don't like one bit. It isn't wise to rely on a mechanical safety in the first place and it is even less wise to rely on a mechanical device to mechanically reset itself. It is particularly worthless when clay shooting, for the gun is broken open until you intend to shoot: no safety at all is of any benefit in an O/U used for breaking clays, as far as I'm concerned. Most folks would be appalled if not livid at the notion of a self-engaging in any other firearm, but for whatever reason this break-action still has it.
The Red Label has mechanical triggers and in my test gun they are unacceptably heavy, one sear breaking at 6-3/4 lbs. or so after some initial take-up, the other at six pounds. The gun is still easy to shoot, though, as it is an eight pound gun.
For the money, though, the Red Label is very, very hard to beat. In terms of value, this is an O/U that gets an "A" quite easily, for not only is it a lot of gun for the money, it has a better pad, general build quality, and factory choke tubes than many. To make this an "A+," Ruger is going to have to do a better job with the triggers and lose the silly self-resetting tang safety. For now, it is gunsmith time to address these issues if you find them troublesome.
Most folks that I know would buy American instantly, without hesitation, if all things were equal. The problem is, things are never truly equal of course. I don't view the Ruger Red Label as any potential threat at all to the more celebrated mainstream O/U models, such as the offerings from Caesar Guerini, Fabarm, Browning, and Beretta.
However, it is curtains for the economy import stackbarrel market, for the Ruger Red Label is a far more desirable piece than most Turkish imports, and it is just going to get worse for them as Ruger rolls out the 20 gauge version sometime towards the end of the year. The price point the Red Label is at is just far too appealing to ignore, for it is less than numerous alloy autoloaders with plastic or fake wood stocks, sometimes far less.
I won't say that the Red Label is my absolute favorite O/U: it isn't. But, the vertical doubles that I find far more desirable run in the $2500 - $4000 range or a tad higher. The value-minded consumer can buy two or three Red Labels, and have some ammo money left over. It is a very large gap, particularly when those who enjoy their time in the goose pit or turkey hunting are going to have more fun with an autoloader or a pump anyway.
The revitalized Ruger Red Label does what no other American manufacturer has been able to do today: offer a rugged, American black walnut, stainless steel, and blued steel vertical double for a thousand bucks. This is the day the Turkish music died.

Copyright 2014 by Randy Wakeman. All Rights Reserved.

Custom Search