---

The Panasonic DMC-LX7: Its Own Class of Camera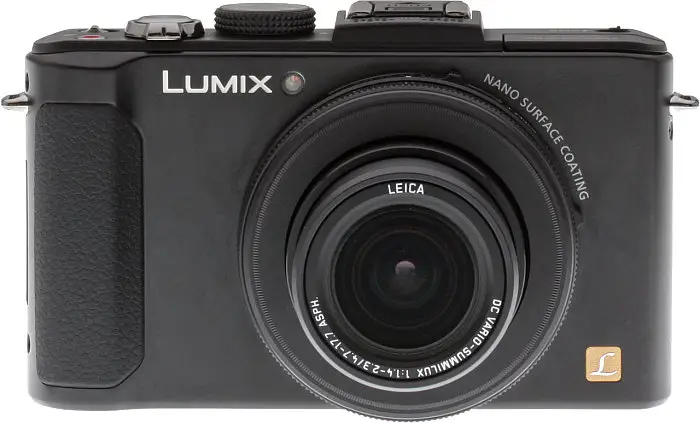 The notion of compact and "pocketable" form factor cameras is a matter of perspective. Just like an "affordable" camera has a lot to do with what you personally feel is an appropriate price bracket, if a camera is pocketable or not depends on how big your pockets are. The Lumix LX7 retails for about $500, is one of the flagship fixed lens cameras from Panasonic, yet has already been discounted in various spots to forty percent less than retail. At $300 street price, it is less dollars than some small-sensor long zoom cameras, yet is still about double the price of some very competent point and shoot cameras. If you are interested in optional (but pricey) features, the hot shoe of the LX-7 lets you instantly add the Panasonic DMW-LVF2 1,440,000-dot equivalent electronic viewfinder (about $200) or your choice of a few external flash units as well.
The LX-7 is the latest incarnation of the LX-3 / LX-5 series of more or less compact cameras that have featured a bit larger sensors and brighter lenses than the run of the mill compact cameras, along with the ability to save images in RAW format. Compared to its well-received predecessor, the LX-5 has a sharper 3-inch LCD with 920,000 dots, a faster F1.4-2.3, 3.8X lens, faster shooting performance, and comparatively spectacular video capability. It records at up to Full HD video at 1080/60p and additionally offers high speed 720p video recording at 120 frames/second. Compared to the LX-5 this is a substantial upgrade, as far as I'm concerned, in most all key areas. Its CIPA standard battery life is reduced to 330 images from 400 in the LX-5, likely due to its improved resolution LCD. It is a bit heavy (0.66 lb / 10.51 oz.) and bulky (4.37 x 2.68 x 1.81 in.) compared to the shirt pocket type cameras, but similar to the LX5. It does fits the platform of pocket camera, but a coat-pocket camera rather than a shirt or pants pocket camera.
LX7 Basic Specifications
Resolution: 10.10 Megapixels
Lens: 3.80x zoom (24-90mm eq.)
Viewfinder: LCD 920k
LCD Size: 3.0 inch
ISO: 80-12800
Shutter: 250-1/4000
Max Aperture: 1.4
Dimensions: 4.4 x 2.6 x 1.8 in. (111 x 67 x 46 mm)
Weight: 10.5 oz (297 g) incl. battery
MSRP: $500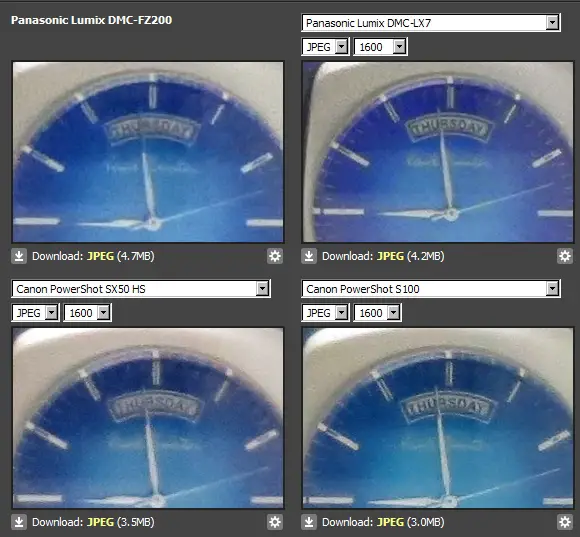 100% crop image quality at ISO 1600 betters the upscale long zoom cameras, such as the generally impressive DMC-FZ200. Its faster lens and slightly larger sensor (1/1.7 inch) combine to make this came a low-light superstar, bettering the similar sensor size equipped Canon S100.
Let's say you are considering moving up to the LX7 from a compact long zoom travel camera, such my current favorite in that class, the Lumix ZS-15 or the generally excellent Canon SX260. Now, you net the sharper LCD, a bigger sensor, and the LX7 lens is far, far faster than the ZS-15's F3.3 – F5.9 array. You'll also appreciate the included external charger, the hot shoe of the LX-7, and the obvious superior low-light capabilities. By low light, I mean the indoors version of low-light, without using the flash. If you accustomed to post-processing, the RAW images of the LX7 will be another appreciated advantage.
On the flipside, the LX-7 is around twice the price, you'll miss the 16x optical zoom, and you'll notice right away that the LX-7 is noticeably bigger and a lot heavier by comparison. You'll also notice right away that there is no integral lens cover on the LX7 and the lens cap is removed manually. If your focus (pun int.) is primarily on convenience and economy, the ZS-15 is most assuredly easier to have with you all the time, easier to quickly just throw into a pocket and go.
The reasons there is so little consensus in the preferred camera is that we all have divergent notions of what a camera is supposed to do. Naturally, image quality defines a desirable camera, but there is the snapshot level of quality image and then the "I want to make posters" level. Satisfying snapshots are the most common output of a camera to no one's great surprise. Yet, if your camera has wondrous image quality, but turtle-slow shooting performance, it is easy to forego image softness only discernible if you hold an 8 x 10 a few inches from your nose in favor of a faster camera that is less hassle to use.
Video capabilities get better and better in "still cameras," one of those things not important to you unless of course it is. This camera delivers strongly in the video department. The same goes with time lapse, high-speed video, creative effects, and so forth. The technically best image-capturing unit may not at all be the best choice for you if the image stabilization is poor, you can't see the LCD, the batteries are perpetually dead, and some of the specialty features you really want don't exist. In all of these areas, the LX-7 is either very good to class-leading.
The LX-7 aspect ratio selector means you can shoot 3:2 images at 9.5 Megapixels. That completely fills the 3:2 aspect ratio screen and is where I've found myself doing most of my shooting. The image stabilization is excellent, the Panasonic "iA" (intelligent auto mode) yields impressive results if you aren't inclined to experiment with the program or scene modes.
CONCLUSION
This camera reads like a compilation of everything most people claim they want improved from their economy, compact, point and shoot. It has a better LCD, a bigger sensor, first-rate video capabilities, a hot shoe, JPEG, JPEG+RAW, and RAW capability, and includes the fastest lens in this category of camera today: F1.4-2.3. It includes an external charger as opposed to "USB only" charging, its 330 CIPA battery life is better than most compacts, and it has enough manual controls and scene modes to keep people experimenting for a very, very long time. This unit captures truly excellent video with a wondrous high speed video mode as well, 720p @ 120 fps.
Time lapse, high speed video, an external charger, and a built-in neutral density filter might seem old hat by now, but it actually is anything but. The next step up the food chain, the larger sensored $650 Sony Cyber-Shot DSC-RX100 lacks not just one or two of these features: it lacks all of them. Yet, the RX100 is lighter in weight, if not on the wallet, something than cannot be said for some others in the category. The RX100 actually offers very little over this camera, its diminutive size and higher resolution are the two areas that cannot be denied. What closes the gap is the fast lens of the LX-7.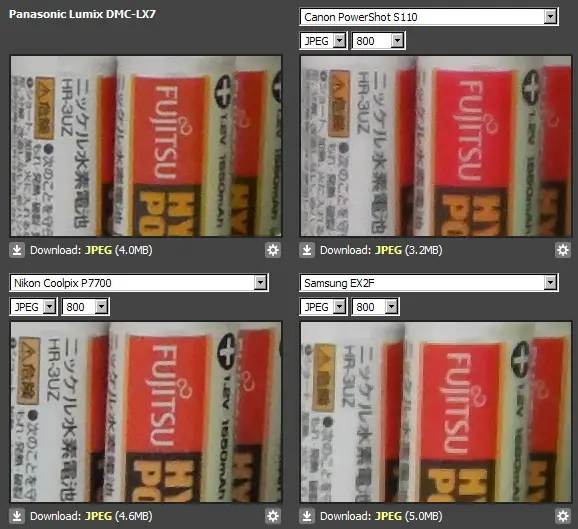 The 100% crops of the LX-7 above, at ISO 800 display its superior image over the competition. With the f/1.4-f/2.3 lens of the LX-7, its advantage over caneras like the Canon S110 (f/2.0–f/5.9) its advantage grows even more significant in actual use.
It is hard to fault this camera. In many ways, this is a one-stop compact personal imaging center for both still images and video. The only video consideration is not the video quality, but the inability to plug in an external mic. The only thing you might miss as a still camera is the lack of a long optical zoom if you feel that cramps your creative juices. The overall speedy focus and shooting performance is immensely satisfying; as you won't find yourself waiting for this camera to respond. If there is such thing as a bullseye in the price / performance ratio, this camera seems to nail it.
In somewhat of rare and pleasant happenstance, this camera does everything it promises to do. Not everything always works as described, but the Panasonic DMC-LX7 actually does. Those looking to upgrade from the LX5 won't have to go past the faster lens, sharper LCD, and vastly improved video to find the LX7 an appealing successor. This is simply an all-around excellent piece of equipment.

Copyright 2012 by Randy Wakeman. All Rights Reserved.

---
Copyright 2012 by Randy Wakeman. All Rights Reserved.
Custom Search