---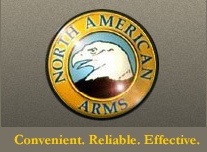 The North American Arms Sidewinder: Sweetest Pocket Gun Yet?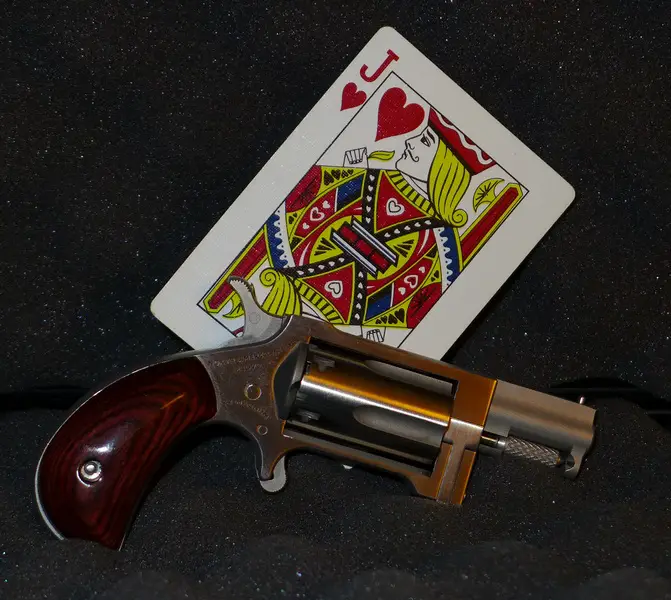 The latest from North American Arms is their one inch barreled "Sidewinder." News of the forthcoming Sidewinder project was first hinted at by NAA owner and CEO Sandy Chisolm in his "Sandy's Soapbox" column of January, 2012, the given a more descriptive mention in his March, 2012, Soapbox. This is what Sandy had to say back then, in part:  Rather than holding you in suspense for several more weeks, - just because I can – there seems to be no reason not to share with you the general characteristics of our new project.  The Sidewinder will be a single-action mini-revolver built on our magnum frame, whose cylinder is mounted on a side-releasing crane, just like the overwhelming majority of all the other revolvers out there.  This is our attempt to join the fold of "convenient loaders."
There has been a lot going on at North American Arms, not the least of which is more focus on their "Curious, Custom and Collectible Shop" which is your chance to own some of the more exclusive editions of NAA product. For info on those items, please see: http://northamericanarms.com/firearms/ccc.html . For the Sidewinder, lets start with the basic specifications:
Part Number NAA-SW
Suggested Retail Price: $349.00
Caliber: 22 WMR
Capacity: 5
Barrel Length: 1 inch
Overall Length: 5 inches
Overall Height: 2 7/8 in.
Width: 1 1/16 in.
Weight Unloaded: 6.7 oz
For an extra $40 of suggested retail, you can have the NAA-SWC "NAA Sidewinder with Conversion" which includes a second cylinder in .22 Long Rifle for economical fun and practice. While none of the NAA Minis can be considered heavy, the Sidewinder is especially light, lighter than the 8.8 oz. NAA Black Widow (2 inch barrel) and essentially the same feel as the 6.4 oz. NAA PUG that sports a one inch "heavy" barrel.
There are several reasons to own a few NAA mini-revolvers, not the least of which is their clean, aesthetic appeal. Particularly with any number of the wood stocks, including the set supplied with the Sidewinder, they are easy on the eyes in a Swiss watch sort of way. Perhaps that's one of the reasons they have garnered so much collector interest: that, and you don't need an airplane hangar to store your collection in.
I find them extremely safe to carry, with the NAA "safety notch" cylinder, and the operation is essentially self-explanatory. That's a good thing for me, in particular, as it takes me an hour and a half to watch "60 Minutes." There is increased interest in pocketable handguns in Illinois, as it looks like by June of this year, Illinois will become the last of the fifty states to become polite.
As a result, I've spent a lot more time then usual working with concealed-carry pieces, and while all are compromises of envelope dimensions, weight, and capacity, it became clear to me what the appeal of the NAA Mini-Revolver is from an operational standpoint. The double action only revolvers and pistols do offer the benefit of working the same way shot after shot. Yet, compared to a single action revolver that trigger pull can seem like it is a mile long. It is something you can get used to, of course, but I invariably am more accurate with a single action trigger pull.
The .22 WMR platform as applied to short-barreled revolvers has received a significant boost in performance in the last couple of years, with the introduction of purposely designed self-defense loads, such as the Hornady 22 WMR 45 gr FTX® Critical Defense® that averages 1000 fps or so from a 1-7/8 inch vented test barrel. Another excellent choice is the 40 grain Gold Dot® Short Barrel® Personal Protection .22 WMR load. Amazingly, at least to me, the folks at Hornady have been able to get penetration in ballistic gel of about 9.5 inches, coming close to .380 ACP Critical Defense levels, and markedly better than some generic .380 loadings.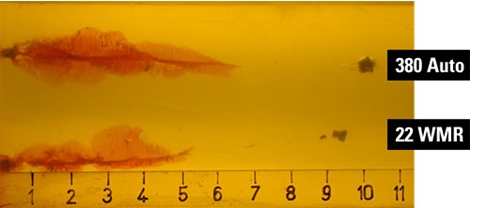 This isn't your Dad's 22 WinMag ammo: the Hornady Critical Defense 45 grain nets about 9-1/2 inches of penetration, with expansion, into ballistic gel shot after shot. The above was with a 1-7/8 inch vented test barrel.
While damage from dry-firing is unlikely, it is easy enough to just swing the cylinder out to the right of the Sidewinder; then you can dry-fire to your heart's content with no possibility of damage. With the cylinder out is always the best way, for sometimes an assumed "dry cylinder" isn't dry. Removing the cylinder in standard NAA mini-revolvers or swinging to out in the case of the Sidewinder is the sure "no-fire" way to dry-fire. The extractor on the Sidewinder is just that. Don't expect it to eject comparatively long WMR brass with a lot of surface area: it isn't supposed to. It does reliably lift the spent brass out of the cylinder, so you can quickly pluck them out from the side as opposed to knocking them out with cylinder pin. Additionally, if you have just emptied your cylinder, you can just invert the pistol and with a sharp rap, all the empties will drop into your trash receptacle in one brisk motion. It is easy to load and unload. The tested Sidewinder came with the .22 LR installed; switching to the .22 WMR cylinder couldn't be much easier as removing exactly one screw is all that is required. With the simple pin front sight that you align with the top of the frame and the one inch barrel, accuracy is similar to the NAA PUG: adequate for 5 - 7 yard intimate self-defense, yet not at the level of the previously tested NAA Black Widow with more generous sights that shoots within 2-1/4 inches at 10 yards repeatably with little effort.
Rumor has it from the "Chief North American," Sandy Chisholm, that 2-1/2 inch and 4 inch barreled versions are in the works. Based on the excellent accuracy I've had with both the Black Widow and the 4 inch barrel NAA Mini-Master, that would be just what the doctor ordered along with more prominent, adjustable sights. We all have different hands, eyes, and personal tastes. NAA has, historically, been very good about offering a wide spectrum of options, including different grips and holsters so you can season your NAA Mini to your personal tastes.
I think that this is the best NAA mini-revolver platform yet, offering more convenience with no negatives whatsoever. It elevates NAA product to a whole new level, it can't help but be a strong seller, and I suspect it will be just that for years to come. Ken Friel and his team obvious took their time with this one, paying attention to detail, so Ken, Sandy, and the whole NAA group deserve congratulations for this one. North American Arms has very good distribution, so these will be available from the better pro shops across the country. NAA has a lifetime warranty on their firearms, they are made in Provo, Utah, and the latest news about upcoming product can be found in Sandy's Soapbox at http://northamericanarms.com/soaparc2011-2020 . Additionally, NAA enthusiasts have their own message board at http://www.naaminis.com/smf/ so you can compare notes with what is, by now, over half a million NAA owners across the land.Like many NAA new releases, there is bound to be backlog, so the sooner you get yours on order, the better. If you are looking for maximum convenience in an extremely small, well-crafted package, the Sidewinder will delight you.

Copyright 2013 by Randy Wakeman. All Rights Reserved.
---
Custom Search