---


The New Remington Inline Muzzleloader, Parker Productions Bullets, and the Weird Saga of Ultimate Firearms
According to sources at Remington, their new inline is undergoing final testing for release later this year. The final details have not been set, however the breech plug patent, according to Remington, was purchased from "Ultimate Firearms," a strange company that has gained a reputation for ridiculously overpriced product, wishful-thinking vaporware ballistics, all backed by horribly poor, rude, to non-existent customer service, according to several frustrated "BP Xpress" owners, now dubbed the "BS Express." The "Ultimate Rip-off" is how some have put it, as they have been forced to send their guns to http://www.gunwerks.com/ and other far more reliable, reputable establishments to get them to group so it is hard to disagree.
Ultimate Firearms has clumsily tried to take credit for what they call their "Fury Bullet," going to the extent of saying right on their website that "Attention: Limit 2 boxes of 275 grain ammo (Fury muzzleloader bullets) per order per customer due to high demand." Not only that, the link next to "their Fury bullets" is the Hornady website, of no help to anyone. Good grief, you just can't make these things up, but apparently Ultimate Firearms can.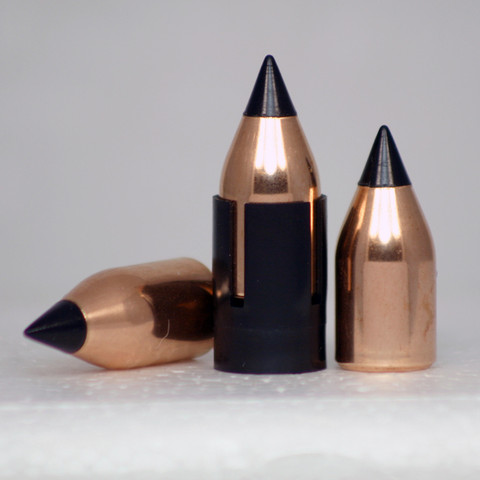 The 275 grain "Fury" bullet has always been the best-selling bullet from Parker Productions, the 275 grain Parker Ballistic Extreme, shown above. It is really hard to miss, the Parker Ballistic Extreme is right here: http://parker-productions-llc.myshopify.com/collections/ballistic-extreme/products/50-cal-275-gr-jacketed-ballistic-extreme . From Bob Parker, they are $19.99 per dozen and enthusiastic shooters can save quite a bit by buying in bulk. And no, there is not nor has there ever been any limit on the number of bullets from Bob Parker. That is all Ultimate Nonsense created strictly by Ultimate Firearms and the BS Express.
Anyway, rumor has it that the interest in the Remington has been extremely high, the rifle mates trimmed .45 LC primed brass to the 700 action, and the new Remington inline is rumored to become available later this year (June – July) at about $750, a very appealing price point for a quality American-made inline muzzleloader in 2014.
On a final note, I can tell you that Remington Customer Service has greatly improved over the last couple of years, and the distribution of the Remington brand has always been quite good. It sounds like good news all-around for the modern muzzleloading enthusiast. More details when they become available.
Pure opinion from Randy Wakeman and Randy Wakeman Outdoors.

Copyright 2014 by Randy Wakeman. All Rights Reserved.
---
Custom Search