---


The Last Twenty Years of Muzzleloading
It has been a long time since Tony Knight revolutionized the world of muzzleloading with his MK-85. In the last fifteen years, though, there has been relatively little innovation in the world of muzzleloading. It was Knight that brought along relatively flat-shooting muzzleloaders, muzzleloaders with good barrel and trigger quality, and muzzleloaders that were more ethical, humane, accurate, reliable, and effective hunting tools.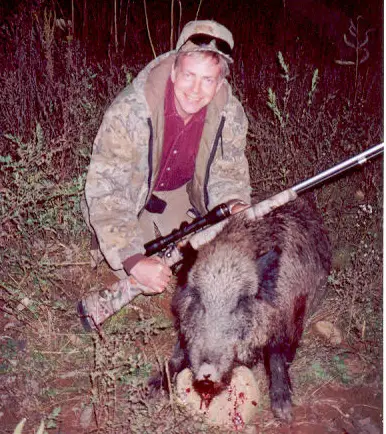 Above, a chubby Russian boar taken with the short-lived, but excellent Knight Disc Elite.
Yet, there has been relatively few improvements in the last fifteen years, a period marked largely by stagnation, cheap copies, and in large measure it has been fifteen years unmarred by progress. In 2002, Thompson released a game-changer, the Omega. This is part of what I found over ten years ago.
A simple action, easy to prime and de-prime, a light (3-1/4 lb.) trigger that has little take-up, easy to clean and maintain, excellent iron sights, and 1-1/2" repeatable 100 yard accuracy sum up the Omega Stainless / Laminate's many fine points. An excellent owner's manual is included as well as effortless breech plug access.
The cocking is a bit scratchy and noisy. The gun is somewhat muzzle heavy. The buttstock needs an extra 1/2" LOP, at least for me. The recoil pad is not horrid, but could certainly be thicker and less mushy.
The sintered-metal trigger has a very slippery face. A wider, straighter trigger face (closer to the Encore) and a quality Kick-Eez or Terminator pad would correct this rifle's two most obvious faults.

Thompson released this rifle in 2002; it quickly caught on, and demand exceeded Thompson's ability to produce. The drop-action, reminiscent of the Civil War "Burnside Carbine," seems like an old idea, and so it is. But, it is a very good one. This gun propelled Thompson / Center Arms to an all-time record in sales and profits for 2002.
The design of the Omega prohibits blowback residue from coming anywhere near the trigger group. Additionally, it is a one-piece stock design featuring two action screws. Again blowback-free, happily accepting the Warne Maxima QR bases and rings, and super-easy to maintain, it is not hard to understand why T/C scored a home run with this rifle.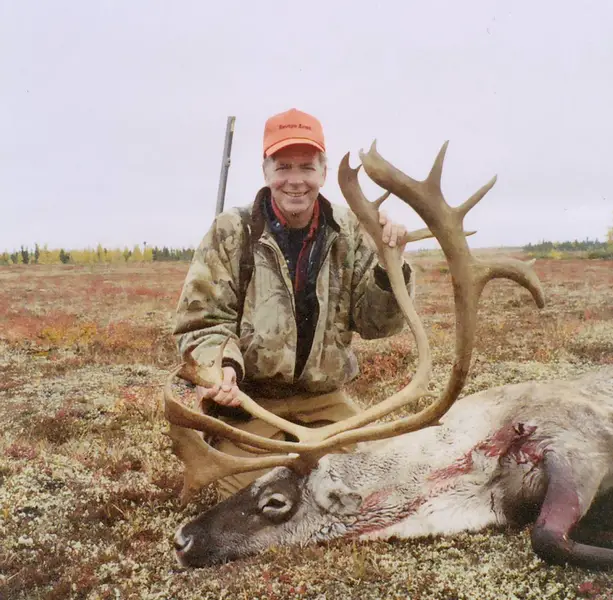 A Manitoba herd barren ground caribou, dropped instantly on the tundra with the Savage 10ML-II.
In the same time frame, Savage Arms released their 10ML, which due to some confusion on the the part of ATF, soon became the 10ML-II then a year later, the 10ML-II Accutrigger. At last, there was a muzzleloader from a real bolt action rifle company, with a recoil lug, a real rifle quality trigger, no noisy slow-locktime exposed hammer, a muzzleloading rifle that looked and shot like a real rifle. All this, and the ability to use clean, non-corrosive propellants that have been the standard in all firearms for over a century. These two rifles, the T/C Omega and the Savage 10ML-II Accutrigger, have been the most important and influential rifles to appear in the last decade.
Remington and Ruger apparently thought that screwing in a breechplug to their short-action rifles was good enough. It wasn't; Remington and Ruger failed in the marketplace with their scope-burning attempts. Remington tried again, putting cheap Ardesa (Traditions) rubbish into a Remington box, called the "Genesis," a sad attempt that fortunately didn't last long.
EBSCO-owned Knight rifles introduced some famously bad rifles, the Revolution, the Knight Vision, and the Knight Shadow. These three rifles are three examples Tony Knight is quite proud to say that he had absolutely no hand in their design or release. It was these three rifles that cemented the downward spiral of the Knight brand, spectacularly mismanaged by EBSCO.
Smith & Wesson acquired Thompson, and now it looks like they have come close to a complete dismantling of the once-proud brand. The Rochester plant was idled, they have apparently thrown in the towel making sidelocks, and have decided not to promote their muzzleloaders. Whenever I hear that, it sounds like the kiss of death for the future of the T/C frontstuffer line. Time will tell.
Savage Arms had already dropped the 10ML-II from their catalog, but due to continuing demand, has continued to produce it. In October, 2012, Savage ceased taking new orders, however. While the 10ML-II has a strong following approaching cult status, Savage Arms is currently making 18,000 rifles per day, working three shifts six days a week, and still has a twenty-week or so backlog. That doesn't leave a lot of room for one specialty model that accounts for less than one percent of their firearm sales, despite its passionate following. Time will tell if the 10ML series will ever return, or not. Savage proved the viability of the modern smokeless muzzleloader. Right now, several companies offer custom smokeless models including Smokeless Muzzleloading Inc., Gunwerks, Ultra-Light Arms, Bad Bull, Robert Hart & Sons, Smith's Custom Guns, Swing-Lock, DSS Custom Guns, and so forth. These custom guns often start at $3500 - $4000 and up, however.
Many of the alleged "improvements" to muzzleloaders touted over the last few years, such as excessively long "quick release" breechplugs that steal usable barrel length, are of no advantage in the field and are anything but actual improvements. Added to that there are the "hand removable" breechplugs that invariably come with breechplug removal tools anyway. Really silly stuff, but the fundamental silliness of these features hasn't stopped the very low-quality, low-end Spanish companies of CVA-Dikar and Traditions-Ardesa from tripping all over themselves to copy them, anyway.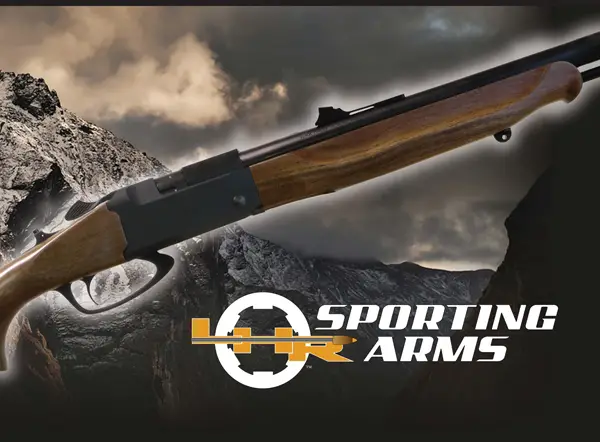 Many of the prior muzzleloading offering are types of rifles that would be considered either archaic or just totally unacceptable in any firearm. Noisy, exposed, slow-locktime hammers, actions that spew all over themselves and burn scopes, and so forth. There is currently a huge gap in the practical, user-friendly, high quality muzzleloader segment . . . a bigger gap than I've ever seen before. That's why I'm excited to see the LHR Redemption, the muzzleloader that looks to change all that, coming from a group of people with long and strong bodies of industry and field experience. I'll begin putting the Redemption through its paces within the next few weeks. If you can't wait and want the engraved "First Edition," you can reserve yours today at http://www.lhrsportingarms.com/FEPage.html .
Copyright 2012 by Randy Wakeman. All Rights Reserved.
---
Custom Search